The native Muscovite, history teacher, publicist, activist, and blogger Pavel Shekhtman appears in the list of Russian terrorists and extremists under number 3462. Shekhtman was included in the "honorary list" of the Federal Service for Financial Monitoring that among others performs "functions of the national centre on the assessment of national security risks" because of his radical statements about the Russian-Ukrainian war in Donbass.
Last autumn, a criminal case for "Arousing hatred and hostility with a threat of violence" was instituted against the activist. The cause for the criminal proceedings was Shekhtman's Facebook post, "Ukrainians! Hopefully, you will not release Stenin! Hopefully, you will shoot him. Kill all these whores from NTV and First Channel, kill them, kill them as mad dogs!" It was the Russian activist's reaction to the post of the Ukrainian blogger Roman Davidenko that "captive Ukrainian soldiers that refuse to give comments to Russian channels are killed by terrorussians." (Andrey Stenin was a press photographer of the Russia Today information agency headed by the odious TV presenter Dmitry Kisilev, he was killed not far from the town of Snezhnoye in Donetsk region in August 2014).
On February 14, 2015 Shekhtman fled from the house arrest to Ukraine where he sought political asylum. The activist shared the details of his flight in the interview to the GORDON and commented on Internet-"titushky" who monitor posts in social networks, and on why the Kremlin elite "are more afraid of a Russian riot than of Putin's inadequacy".
I was scared when the Ukrainian border guard said suddenly, "Now we will send you back to Moscow"
– Who was involved in the organization of your escape from Russia?
– I have been asked not to reveal details in order not to block the way for escape for other potential political refugees from Russia.
– I wonder more how you crossed the Ukrainian border?
– I came with my Russian passport and explained that I had escaped from the house arrest and was seeking political asylum in Ukraine. The border guard shook his head and said suddenly, "Now we will send you back to Moscow." To be honest, I was scared, especially when I was approached by a security guard with a face of a thug who dragged me out of the customs office. I started panicking and crying, I reached into my pocket for the phone, and the guard decided that I was pulling out a gun. As a result, an officer came, took me to a separate room, inquired about everything in detail, took the documents and carried them for approval of his chief.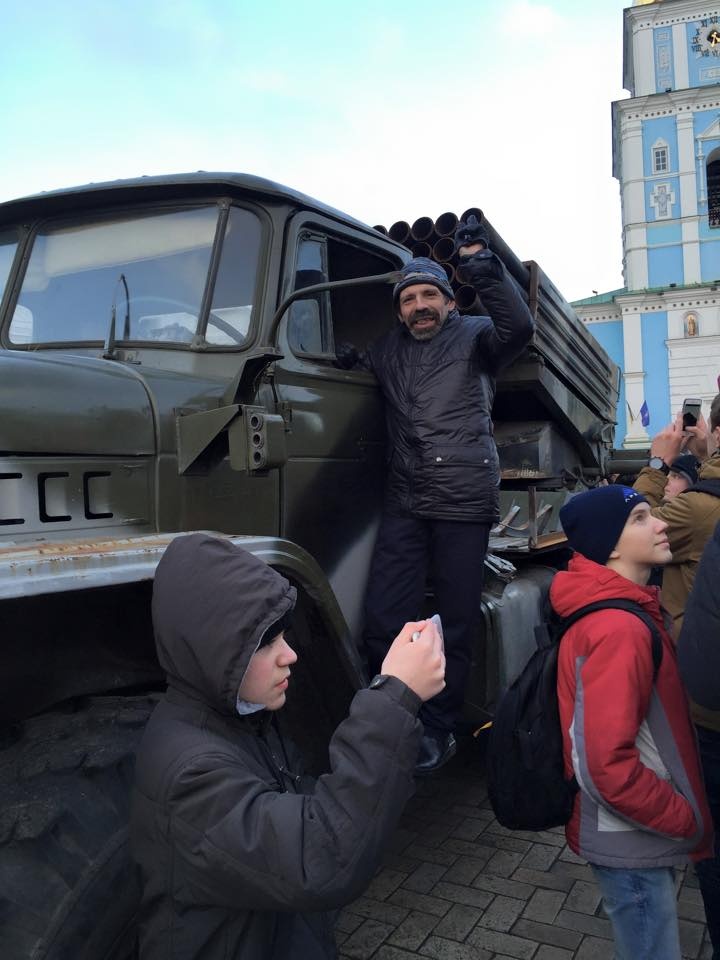 February 2015, Kiev. Pavel Shekhtman on Mikhailovska Square where Russian military equipment seized in Donbass is exhibited in the open air. Photo: Vladimir Malyshev / Facebook
– How did you remove the electronic bracelet worn by everyone under house arrest?
– The Russian law enforcement agents simply did not have time to attach the bracelet, I escaped sooner. The criminal case against me was instituted on September 30, 2014, I was arrested in my flat on October 7 and was sent to the pre-trial detention centre. The Court did not approve the arrest and I was released on bail. I realized that it was equally risky to stay in Moscow or to run away. I decided to lead a normal life and continue to write what I think about the Russian-Ukrainian conflict until I get a real knock.
– Apparently, you got it on February 10, 2015 when "polite men" knocked at the door of your apartment in Moscow?
– According to them, I was hiding from the investigation so I was put on the federal wanted list though I spent all nights in my apartment. I was arrested again, taken to the investigator, then I was brought to court that decided to put me under house arrest. Since the electronic bracelet is not put on immediately, I returned home quietly. But my lawyer Elena Romanova said that they will put on a bracelet in a day or two. I realized that if I did not decide to escape then, I would regret it later.
– Is it true that the police cut electrical wires to "smoke" you out of the apartment?
– That day I did not go to work, I felt sick. Suddenly, there was a knock on the door, "Police, door-to-door check for illegal housing rent". The guy behind the door did not look like a district officer at all, he was not wearing a uniform, but a usual fur jacket. I was not going to let anyone into my private space, I did not open the door. Guy knocked for some time and left. After some time the lights in the apartment went out, I went out to the landing to look at the switchboard, and they grabbed me. It was a mixed team of police officers and federal security agents. Later, they nearly fought with each other, arguing about who was responsible for my detention.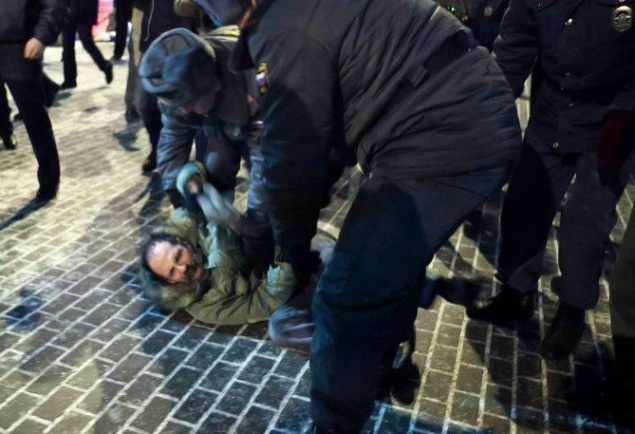 Shekhtman at one of demonstrations in Moscow. The blogger and activist has taken part in many protest actions since early 2010 and has been repeatedly detained by the police. Photo: Elena Rostunova / Facebook
There are a lot of "voluntary assistants" of the Federal Security Service that monitor social networks and knock where necessary. These Internet-"titushky" are connected to the Administration of the Russian President
– Did I get it right that the Russian security services are closely monitoring all posts of Russian citizens in social networks?
– In my case, vigilant fellow citizens helped the Federal Security Service. These "voluntary assistants" are numerous in Russia. There are specially created groups that monitor posts in social networks and knock where necessary. These Internet-"titushky" (thugs for hire) are connected to the Administration of the Russian President.
– What would threaten you if you had remained in Russia?
– Article 282 of the Criminal Code of the Russian Federation "Arousing hatred or hostility and humiliation of human dignity." I was charged with part 2 of this article, it is not simply arousing hatred, but doing it "with the use of violence or threat of violence." It means five years of imprisonment.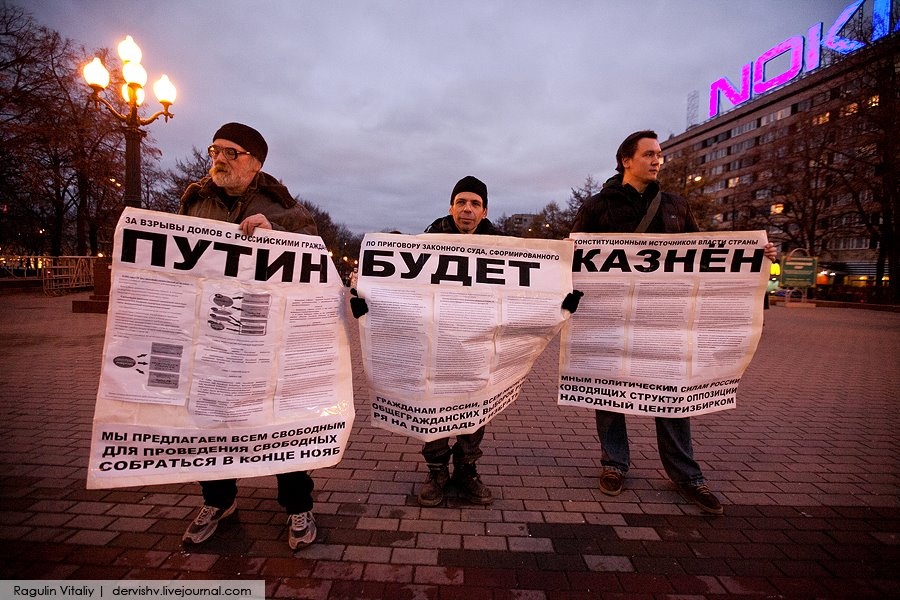 Pavel Shekhtman (in the centre) at a picket against the Russian President Vladimir Putin in Moscow. Photo: Cvetlana Levchishina / Facebook
I escaped not only because of the threat of getting to prison. I have been environmental, city-protecting and political activist for many years, I faced my first search back in 2012 on the Bolotnaya Square case. Now I am totally disappointed with the prospects of the opposition movement in Russia, especially in the context of the Maidan.
– Why disappointed?
– Because the Russian opposition has chosen completely insipid and safe way of agreed rallies instead of organizing real if not violent resistance to the Kremlin regime.
In Ukraine, people do not even understand what the agreed rallies are. It is when an area is surrounded with a fence allegedly for security purposes, metal detectors are installed and protesters are checked and nearly undressed to the underwear. It is suggested that people fight for freedom in such an enclosure, and the opposition agrees to it, thus actually bringing the protest to naught.
Moscow, March 2014. The Russian OMON detains Pavel Shekhtman at a demonstration against war in Ukraine. Video: Yaroslav Golovin / YouTube

Navalny's project was actively advertised by Medvedev's environment from among alleged Kremlin liberals who fought against Putin's security agents
– Do you agree with those who consider one of the leaders of the Russian opposition Alexei Navalny to be a project of the Kremlin?
– It is too naive to assume that the almighty Kremlin controls everything in Russia. In fact, there is constant fighting between the Kremlin elites, Navalny is only part of the game.
– Does it mean that Navalny lives on inter-clan fighting of the Russian power elite?
– The fight against the "party of crooks and thieves" (a term coined by Navalny to describe Putin's United Russia party. – GORDON) began in 2011 specifically for the then Russian President Dmitry Medvedev. Navalny's project was actively advertised by Medvedev's environment – alleged Kremlin liberals who fought against Putin's security agents.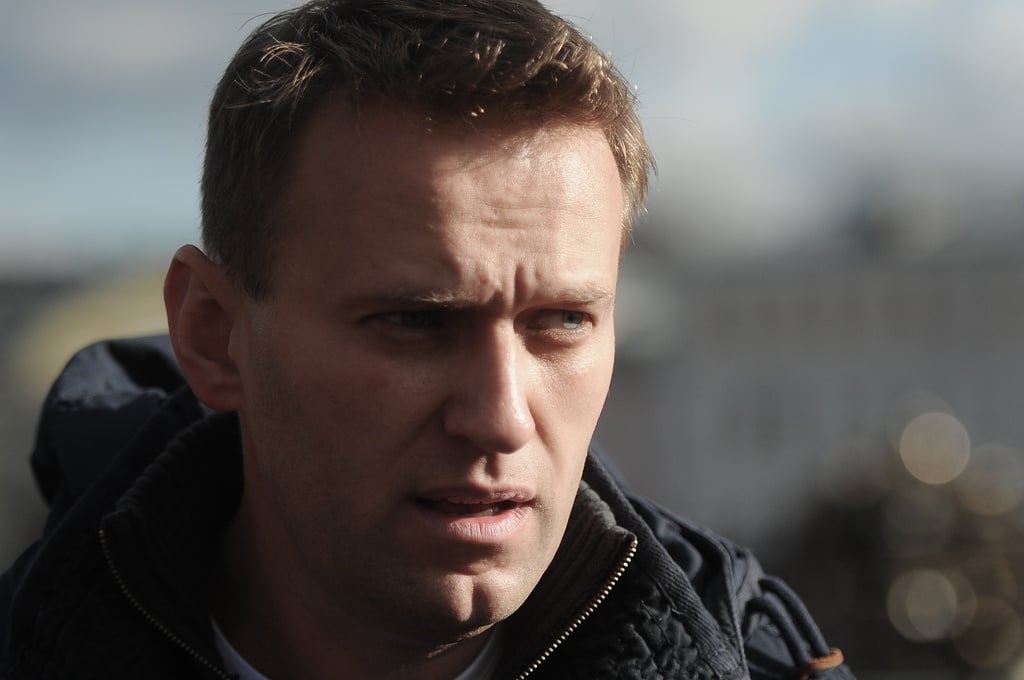 Alexei Navalny. Photo: Mitya Aleshkovsky / Facebook 
The aim of the project was to create a strong opposition bloc in the State Duma that would include the Right Cause party, A Just Russia party and even the Communists – in general, all those who were against the United Russia. The temporary head of this movement was the Russian billionaire and politician Mikhail Prokhorov. After the presidential elections, it was assumed that Medvedev would lead the opposition in the Duma and will play the tug-of-war games.
– A good plan, why did it fail?
– Who were these Kremlin liberals playing with? With a gambler! When Putin figured out the intricate game of Medvedev's environment, he... he appointed Medvedev leader of the United Russia. We must do justice to Vladimir Vladimirovich, it was a very witty and a mocking trick, Putin's only political decision that I adore. Generally, if one checks the opposition leaders, they are all connected to Medvedev's environment in one way or another.
– But why did the Kremlin liberals stake on Medvedev? Was not it clear from the very beginning that he was Putin's puppet?
– Medvedev was a king made by the suite. While he was on the throne, the courtiers had much influence. But Putin knew whom to let preserve the president's chair. When the crucial moment came, Medvedev could change the future of Russia with a single signature, he could just stand for the presidential elections in 2012. But he did not dare, and Putin knew that Medvedev would never run such a risk. Medvedev is too worthless to assume any independent role.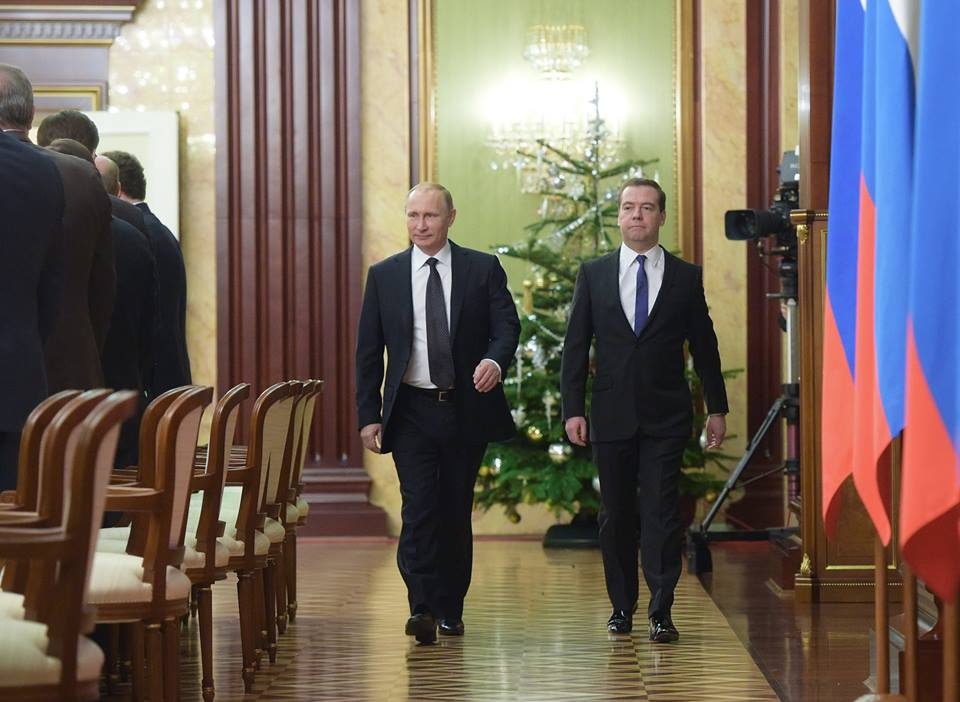 Russian President and ex-Prime Minister Vladimir Putin, Russian Prime Minister and ex-President Dmitry Medvedev. Photo: Dmitry Medvedev / Facebook
The Kremlin elite united around the Russian president because they are more afraid of a Russian riot than of Putin's inadequacy
– Who is able to unite the opposition movement in today's Russia?
– No one. At all. It's all over. Maidan in Russia is impossible in principle. Not because there is no leader – there is no mass social basis for a real struggle for civil rights. Euromaidan in Kiev was supported by the Ukrainian medium business that suffered from Donetsk bandits who came to power with Yanukovych. There is no middle class in Russia, people depend either on pittance from the state budget or from large oil and gas corporations that, in their turn, are absolutely dependent on the Kremlin. Having headed Russia 15 years ago, Putin signed a tacit agreement with society...
– ...Stability in exchange for freedom?
– Yes. While people feel oil splashes, no one will make a show of their feelings protecting civil rights.
– However, world oil prices dropped twice with the beginning of the Ukrainian-Russian conflict, the Russian business elite are losing millions because of Western sanctions. Will not it inspire at least one of the Kremlin towers to a small palace revolution?
– If Putin disappears, there will not be Maidan in Russia, but DNR and LNR with alcoholics at roadblocks. One of my friends is well in with serious business circles, he says that the Kremlin elite have united around the Russian president now because they are more afraid of a Russian riot than of Putin's inadequacy. The regime rests on this fear.
The Antimaidan march was held in the centre of Moscow on February 21. According to the organizers, the purpose of the action is to resist those who threaten Russia. Judging by the slogans, the Russian Federation is threatened by Obama, gay parades and the Maidan. Photo: Ilya Varlamov / zyalt.livejournal.com
– Where does this conviction come from – either Putin or a riot. Is there no other way?
– Putin has created a system in which he is indispensable: he linked everything to himself, the vertical of power rests on the Russian president. If Putin is removed, the system will collapse. The elite are perfectly aware that, with the current social tension, the system will not be able to re-adjust to another leader, everything will collapse immediately, as it collapsed in 1917 after the abdication of Nicholas II.
Russians do not understand the Maidan not because they are uninformed. In principle, they are not able to understand how one can die for rights and freedoms
– Are not you afraid to be disappointed in Ukraine on seeing it from the inside?
– I've never been fascinated by Ukraine. I had no illusions that this is the promised land. For me, Ukraine is first of all a living, active, and real civil society. Of course, you have enough shit here, too, but, unlike the Russian Federation, social actions have meaning and result in your country. Russia is a dead country.
– Why do intelligent, educated Russians blindly believe the Kremlin's propaganda?
– Because it is not the matter of propaganda! It successfully fitted the mass psychology of the Russians. There were much more educated people in Hitler's Germany than in Putin's Russia, however the Germans were fascinated by the Nazi propaganda that indulged their complexes and internal attitudes. Russians do not understand the Maidan not because they are uninformed. In principle, they are not able to understand how once can die for rights and freedoms. For them, the Maidan is something absolutely incomprehensible, terrible and anti-Russian. The idea of a civil union for controlling the power is absent from their minds.
– Do not you regret your Facebook post that forced you to leave your home country?