Tatiana OREL
The death toll in the war in Donbass amounts to dozens people every day. TV reports of the ATO press centre with terrible figures are perceived as almost usual, in a military way – and it feels even more frightening because of it. This means that we are getting used to the war. A long, brutal, and senseless war.
Just in the last two weeks, dozens people fell victim to the terrorist acts committed by the pro-Russian rebels in Donbas. These were passengers of the Donetsk-Zlatoustovka bus attacked from Grad rocket systems at the Ukrainian roadblock on January 13. And passengers of the Donetsk trolley that was purposefully shelled at the rush hour in the morning January 22. And residents of Vostochny district in Mariupol, where more than 30 people were killed and 108 people were wounded as a result of a massive bombardment on Saturday, January 24.
A family of four: a married couple, their daughter and grandson - were among those who died as a result of the terrorist attack in Mariupol. Video: Radio Svoboda / Youtube
The ex-Deputy of the State Duma and Chairman of the Western Choice Party Konstantin Borovoy believes that another act of Putin's aggression may take place anywhere – in the Black Sea, or, for example, in the Baltic States. In his opinion, Putin is obsessed with the idea of redivision of the world, he is unpredictable and ready for new military conflicts.
Konstantin Borovoy is currently in the USA where he launched the project "Political Information", which he calls "counter-propaganda" at the Russian-language Premier Radio.
"The USA spends hundreds of millions dollars to stop the war and casualties in Ukraine," he said in the program. "The sanctions against Russia, according to Barack Obama, cause enormous damage to the U.S. economy. But the principles are above everything... Even China that supported Russia some time ago has a different position now. If the Russian aggression is not stopped, it will start taking territories away from other countries tomorrow."
One of the releases of "Political Information" ended with the Ukrainian anthem, and, according to Borovoy, this caused enthusiastic feedback from Ukrainians living in the USA.
There is no crime Putin would not commit for the sake of his personal survival. He is former head of the State Security Committee (KGB), the most cynical intelligence service in the world
.
– Konstantin Natanovich, you mentioned more than once that Europe and the USA have many problems of their own, no matter how much they sympathize with Ukraine. We Ukrainians understand it, too: what hurts so badly here is only an echo in other countries. But the recent events with regard to the series of terrorist attacks in Donbas show that Putin challenges the West from the Ukrainian territory...
– While at the beginning of the war it could be a question of a corridor to Transnistria that Putin wanted to break through Ukraine, he is now obsessed with a much more global idea of world domination and re-division of the world, and he cannot check himself any longer. Putin has two main objectives: to retain power and to return "what belongs to him". If you do not want to give it, you will get a conflict.
In Ukraine, Putin expected a scenario like the one he staged in Abkhazia and South Ossetia: it is up to you whether you recognize "Crimean People's Republic" or not, you may even disagree, but it is an accomplished fact.
However, it turned out in a different way. Sanctions are getting tougher, a proposal to disconnect Russia from the SWIFT system of interbank communications is under consideration in the United States, which could be a disaster for the Russian economy. Russian banks will have to go back to the teletype and postal services, as it was half a century ago. The decision to disconnect Russia from the SWIFT system would be a powerful step...
– ...that will probably be followed by further escalation of the war and acts of terrorism. Medvedev has already said in this respect that Russia's economic reaction to the disconnection from the SWIFT system, "and any other reaction will have no limits."
– The situation around Russia is so bad that it cannot be worse. As for the terrorist attacks ... Downed Boeing, shelling in Mariupol, other tragedies – these are "contingencies" that become regularity.
---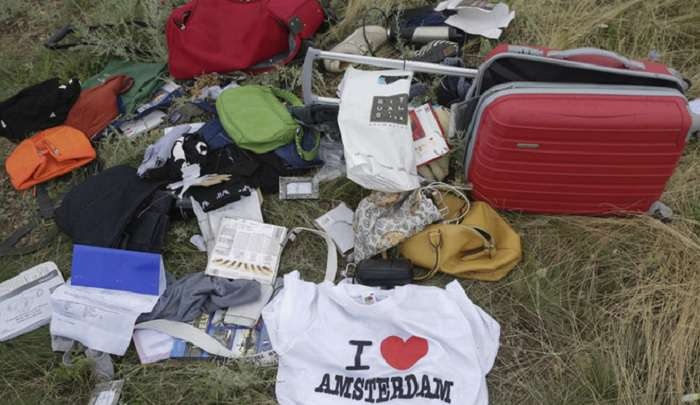 The crashing site of the Malaysian Boeing-777 shot down by the terrorists in Donetsk region on July 17, 2014. 298 passengers died on board. Photo: uapress.info
---
Yes, it is hard to believe that a responsible head of the state can make decisions on extermination of so many people. But there is no crime that this cynic would not commit in order to survive. He is former of the State Security Committee (KGB), the most cynical and aggressive intelligence service in the world. Both he and his associates understand that it is not the matter of saving their capitals but of their personal survival now.
---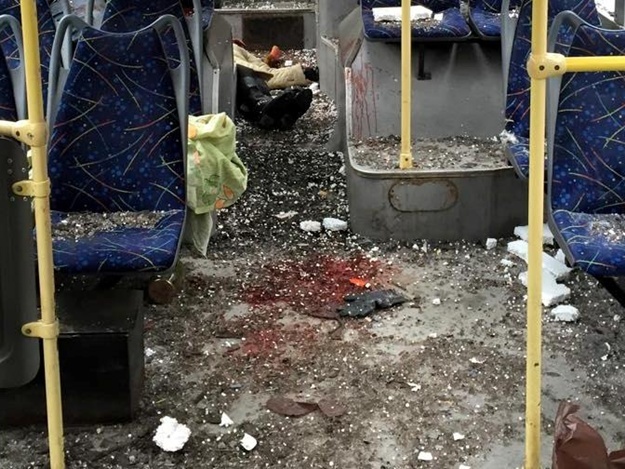 13 people were killed at a station in Donetsk as a result of a terrorist attack on January 22, 2015. Photo: dn.vgorode.ua
---
Igor Sechin and Sergey Ivanov will sit beside Putin during the trial at the International Military Tribunal (Sechin is President of Rosneft State Oil Company close to Putin, Ivanov is Head of the Presidential Administration. – GORDON). Very many people from Putin's team will be there in case of a fair trial.
– The Foreign Minister Lavrov will probably be one of the first after he openly lied to the whole world that there are no Russian troops in Donbass, as he told the reporters before the meeting with his fellow diplomats in Berlin. I wonder what he would have said if the meeting of Foreign Ministers had begun with showing photo and video evidence of his lies?
– Everybody knows that Lavrov is lying openly and blatantly, and he knows that everyone knows it. But he serves Putin, and there is no way back. Diplomats are also responsible for their actions. By the way, several German diplomats were convicted at the Nuremberg trials in 1946, and Ribbentrop, Hitler's adviser on foreign policy, was sentenced to death.
Russian Foreign Minister Sergey Lavrov, "Show Russian troops in Ukraine" (video fragment from 1.15). Press conference before the meeting of Foreign Ministers of the "Norman four" in Berlin. January 21, 2015
– Can you explain why Putin multiplies the number of volumes with descriptions of his new crimes for a possible litigation?
– Remember the classical examples of dictators who refused from negotiations with the opposition and the United States until the end: Muammar Gaddafi, Saddam Hussein, who arranged rallies in his own support when the Americans were approaching Baghdad, he was shouting that he would destroy them all.
Russian society today is a poisoned generation
– If we imagine that Putin, aware of his shame or unavoidability of punishment, suddenly shoots himself tomorrow, can Russia's imperial policy change overnight?
– Putin is not the only one to blame, the question is what to do with the Russian society after the terrible nationalist and fascist promotion. It is a poisoned generation and it will elect a new president in his image and likeness after Putin. The reason is not the people itself, but the fact that it has been persecuted for many years.
Judging by German example, it is very difficult to cure such a society. In fact, the Germans who supported the Nazis did not even repent after World War II. They just passed away. Sociological surveys of 1948, when the democratic constitution was adopted in Germany, showed that 72% of Germans were ready to vote for Nazis again.
The history of Russia's transformation into a non-democratic state started in 1995, five years before Putin came to power, when it was for the first time the Russian Foreign Minister Yevgeny Primakov spoke about the construction of a multipolar world in which Russia would be one of the poles. It was then that this program was launched that has led Russia to almost fascist dictatorship.
Video for Andrey Makarevich's song "My country has gone mad". Video: Sergii Omelchuk / Facebook
Putin is a natural final of the gradual transition of the country to a nationalist, authoritarian state. As in Germany in 1933, when Hitler came to power, the military budget in Russia increased each year. So The objective of strengthening internal power by expanding the living space was implemented this way. The nation that was offended after the collapse of the USSR is now returning "what belongs to it".
– The USA, to which Putin has attached the role of the main political opponent and the cause of all Russian misfortunes, as well as the West seem to hope that Putin will stop himself. But it is obvious for the Ukrainians and Russians who understand his mentality better than foreigners that Putin, with his stubbornness, ambitions, and apparently disturbed mental health, will continue the war - without regard to sanctions, the threat of disconnection from the SWIFT system and the international isolation of Russia...
– It is clear that the EU does not want war. Moreover, the situation within the EU is changing. The ultra-right National Front party won the elections in France; its leader, Marine Le Pen, has received a loan for 9 million euros from Russia. Radicals came to power in Greece with the help of Russia, and both leftists and rightists are pro-Russian parties. Apparently, Russia has been engaged in the split of the EU for a long time and not free of charge.
– The OSCE is going to raise a question of an international peacekeeping operation in Donbass. If this decision is made, how can it change the situation in Ukraine?
– I think that it would be the right decision. The OSCE has proposed Russia to block the border with Ukraine, although Russia's participation is not necessary for the closure of the border. However, in this case it is inevitable that there will be a military conflict with Russian military units that would not have enough time to leave the territory of Ukraine.
Putin is unpredictable. Moreover, he is looking for causes for a conflict and is advancing very aggressively. He must be stopped only using force
I think that the Europeans will do everything possible to avoid bloodshed. Military experts say that the Americans and Europeans have the latest weapons that can stop the aggressor with a few high-precision shots, which, of course, may result in more casualties and a new aggression from Russia.
It is the danger of a conflict development that stops the West and the United States. Russia does not have such weapons, but Putin's reply may be most unexpected. For example, blow at ships in the Black Sea or at the allies in the Baltics. Putin is unpredictable. Moreover, he is looking for causes for a conflict and is advancing very aggressively. He needs to be stopped only using force. But will is required to show force, and there is lack of it.
Poroshenko demonstrates patience, which is fine, too. But the only excuse is his inability to respond. If he is able to respond but does not do it – it is a sign of carelessness, I would say.
– Poroshenko sent Putin an open letter demanding to liberate all hostages, including Nadezhda Savchenko. But the head of the Russian delegation to the Parliamentary Assembly of the Council of Europe Pushkov said that not only Nadezhda will not be released, but the PACE delegation will not even be allowed to see her. The refusal is allegedly connected with the fact that Russia was denied the right to vote and participate in the governing bodies of the Assembly until April 2015. Though Savchenko was kidnapped and taken to Russia in July. She has been on a hunger strike in a Moscow detention centre for more than 45 days, which threatens her life. What do you think, will she finally be release?
– Poroshenko is the very person who will try Putin or at least testify against him in the Hague court. Putin must take this into account, so I hope that he will listen to Poroshenko.
The Russian government continues to conceal from the relatives of servicemen that they are fighting in Ukraine. Relatives find out the truth only when "cargo-200" arrives in Russia from Ukraine. Video: Dozhd Channel / Youtube
– Putin has already demonstrated unprecedented "generosity", offering Ukrainian recruits to stay in Russia for the period of mobilization...
– Well, this is informational warfare. I think that Poroshenko should in his turn address mothers of Russian soldiers and explain to them that execution of criminal orders is also an offense and can be punished by law. But what may be a punishment worse than death? Russian soldiers are not protected by any laws. Russia turned them into terrorists that may not even be taken prisoners but destroyed immediately, which the Ukrainian army is doing to defend the country.