by Elena POSKANNAIA
Khatia Dekanoidze started to work in a team of Georgian President Mikheil Saakashvili at the age of 24. At first she was the head of the administration of the Ministry of Interior, and then, after studying in the US, led the new police academy in Georgia. The graduate of the Faculty of International Relations and Law of Tbilisi State University believes that to work in the police forces you do not need any special higher education. Much more important to be a patriot and understand that the main task of the police - to help people.
After the transformation of the Police Academy Dekanoidze began to work with higher and secondary educational institutions, worked as director of the National Examination Center, and then headed the Ministry of Education and Science of Georgia. After the change of government and the arrival of the team of Ivanishvili took up teaching, and then moved to Ukraine.
In Kiev Dekanoidze established social and political school (CAPS), where students learn the experience of Georgian reforms and prepare to become politicians and public figures to work in public institutions. Dekanoidze is convinced that now the Ukrainian authorities need new people. And the more there are, the faster it will be able to develop the country
Maidan formed a significant dividend of expectations. People thought it was such a great event so it in itself promises a lot of things. That's not true
- After Maidan Mikheil Saakashvili, Kakha Bendukidze and many Western politicians more than once urged Ukraine to begin urgent reforms. A year has passed, and the reforms haven't been staerted yet. Is this disastrous?
- You can say that the year - it's a lot, but we can say that the year – is very little. Bendukidze during each meeting in Ukraine said that reforms should be done today, but better - yesterday. Here in Georgia, it was the motto, the motor that moves reforms. When we were discussing something, Saakashvili said it should be done "not tomorrow, but yesterday," which meant - to start immediately.
Maidan was a landmark event not only for Ukrainians, but also for residents of other countries. We have seen what man can really do for the freedom. Nothing of this kind in the world has not yet happened. At the same time Maidan has formed a large supply of expectations. People thought it was such a significant event that it in itself promises a lot. That's not true.
Georgian politicians working in the Ukrainian government, said that the country's leadership understands the state system that has to be established. But there is a big problem for all of us - it is a war in the east and a powerful enemy in the face of Putin.
---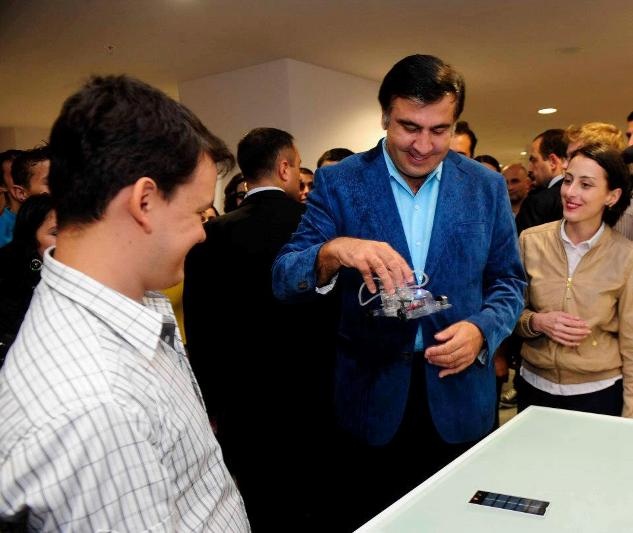 Dekanoidze: Saakashvili's motto -- is to make reforms not tomorrow, but yesterday. Photo: mes.gov.ge
---
Russia wants to occupy the Ukraine. This is obvious. To resist a large country with such a large military capability is difficult. 20% of the territory of Georgia is still occupied by the Russian Federation. To talk with Russians is difficult for both the West and Georgia and Ukraine. Putin, like a big black hole, a great evil in the civilized world. We will win when only destroy this evil. And this is possible only if we are going to develop and become a modern state.
Putin is in a hurry because he understands exactly if Ukraine establishes reforms and sets free from bureaucracy and corruption, it will become strong State. Then he will have hard times.
- How during a wartime, despite huge losses and military action to develope the country?
- It is necessary in any case to remember about the lost territories. Abkhazia has been occupied for 25 years already, but Georgians know that this is our territory, and we will sometimes repay her anyway. The same must be in Ukraine. We must move forward even during the war.
Maidan created a new identity of Ukrainians. I'm sure, for people who have gone through so much and survived under such pressure, nothing is impossible.
- It is believed that the reforms are expensive. Has transformation in Georgia demanded large investments?
- The public sector should be optimized, then the cost will not be that large. It is important that the government orient itself to the service. If, for example, to create a House of Justice, as in Georgia (I think our colleagues are developing the concept of a similar system for Ukraine), the money that had previously flowed into the pockets of officials, will go to the treasury. When the economy comes out of the shadows, taxpayers will know that the money goes to the budget, not the oligarchs or corrupt, we will win. Taxes will be a resource for reforms.
There are wonderful laws in Ukraine, just no one believes them. One law regulates another one, it regulates the third one and so on to infinity. And there should be one law with a single meaning. The simpler system, the better.
---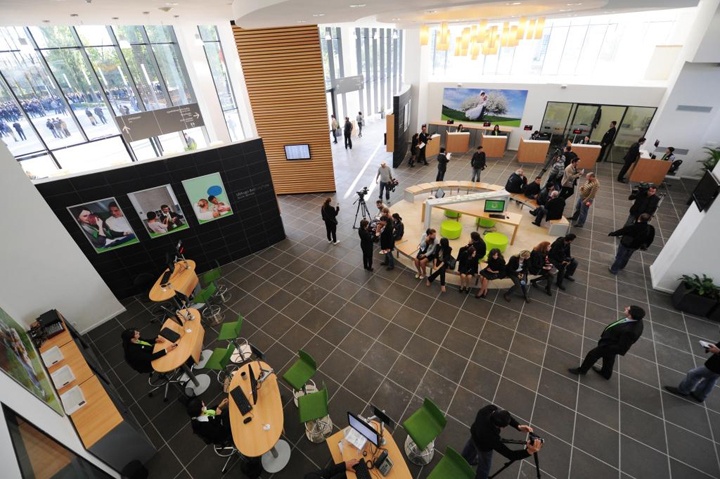 You can easily to register the bussiness during 15 minutes in Gergian House of Justice. Photo: imereti.gov.ge
---
Read the full version of the interview here