Fesenko: "Republics" in Donbass will try to increase the sphere of their influence so the risks of conflict recommencement are high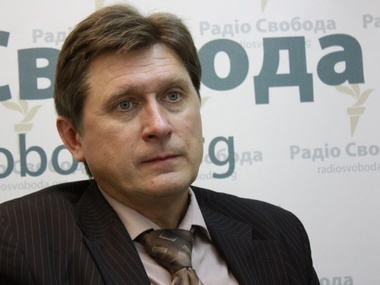 Photo: Andrey Bashtovyj/Radio Svoboda
The political scientist Vladimir Fesenko considers that "elections" in Donbass are organized by Russia for legitimization of unrecognized "republics".
It is not a matter of separatists' independent game in Donbass, and the so-called "elections" is a process managed from Moscow. The political scientist Vladimir Fesenko said this in his comment to the GORDON .
"First of all, they will lead to a deadlock in the Minsk negotiation process. Russia's position is clear. It has become clear for the last week that these are not separatists' independent actions. It was a double game from Russia in the negotiation process concerning the settlement of conflict in the east of Ukraine. Russia wants to use these "elections" to force Europe, and then Ukraine via Europe to hold negotiations with the separatists. So it is a way to legalize the separatist republics," Fesenko considers.
"It is an unacceptable option for Ukraine. As a result, there appears a deadlock and the best solution of this situation is de facto acceptance, that is freezing of the conflict. However, in fact, elections in these republics will not lead to the freezing of this conflict immediately. A second risk related to these elections is that they will be a detonator for the subsequent recommencement of the conflict. Ukraine will not recognize these two republics and, they will try to increase the sphere of their influence later if not now, therefore, unfortunately, the risks of conflict recommencement are rather high," the political scientist noted.
According to Vladimir Fesenko, it is possible that there will be a new outbreak of conflict in Donbass initiated by Russia to improve its position in negotiations.
"An outbreak of conflict can occur before the freezing, during the following weeks. But it can be Russian tactics to force Europeans to resume negotiations. Europeans and us. Conflicts may be activated, for example, attempts to attack Mariupol or to advance in separate areas of Donetsk and Lugansk regions in order to force us into negotiations as it has been since the late August – early September," Fesenko considers.
"The conflict will be frozen by winter. In the winter, large-scale active military operations are hardly possible for various reasons. I think that both parties will hardly do it. However, there might be some fights and local skirmishes. And a renewal of conflict in spring is very probable," the political scientist declared.
In his opinion, Russia can recognize the "elections" on November 2, but will delay recognition of the republics as it is interested in an uncertain status of separatists.
"Russia will recognize the elections, but, probably, it will not hurry to recognize these republics because such an uncertain status will be necessary to it for negotiation games. However, it is an unacceptable option for Ukraine, it is a deadlock. The status of unrecognized republics – at least, Russia will begin with it. They will follow the examples of Abkhazia and South Ossetia in this plan," thinks Fesenko.