General Romanenko: There are enough forces in Mariupol to repulse possible assault of the terrorists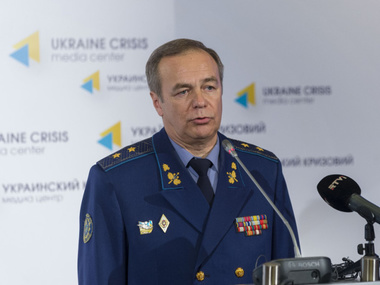 Romanenko is sure that Mariupol will hold out


Photo: uacrisis.org
The former Deputy Chief of the General Staff of the Armed Forces of Ukraine Lieutenant General Igor Romanenko considers that Ukraine has to expedite mobilization as the military actions have intensified.
Lieutenant General Igor Romanenko thinks that the shelling in Mariupol is part of the plan for intensification of military operations adopted yesterday at the meeting of the Security Council of the Russian Federation. He declared it in the comment to the GORDON .
"Mariupol was shelled from the Grad rocket system today from the morning till the afternoon. Presumably, six systems were "working". The terrorists attacked Ukrainian roadblocks first, then they struck at the residential areas of Mariupol. According to the official data, 30 people were killed, including children. I think that the shelling in Mariupol is implementation of the decision on the offensive in the east of Ukraine adopted at yesterday's meeting of the Security Council of the Russian Federation headed by the President Vladimir Putin," Romanenko considers.
"There are enough forces to repulse possible assault of the terrorists in Mariupol now. There are three lines of engineering military constructions in the city, forces are drawn up there. Of course, the terrorists can continue attacks at residential areas and intimidate civilian population, but Mariupol will hold out," the lieutenant general noted.
According to Igor Romanenko, Ukraine should improve military supplies and expedite mobilization.
"We cannot gain a victory in Donbass by military methods, the correlation of forces is not to our advantage. Therefore, the most important thing for Ukraine is to supply the zone of military operations with manpower and equipment. At least three-shift operation must be introduced at the plants assembling and repairing military equipment, military experts must be called up, people must be sent for training immediately. The fourth wave of mobilization began only on January 20, we are late once again as intensification of military operations has already begun and they will only get fiercer. Ukraine needs real forces for the fight, simply distributing the call-up papers is not sufficient. Mobilization must be carried out quickly, notification of people does not work anymore," the general pointed out.
"Along with supplying the zone of military operations, it is necessary to set the Ukrainian diplomatic corps to the operation in the state of war and more actively deal with the issues of recognizing DNR and LNR as terrorist organizations. Besides, it is necessary to toughen sanctions against Russia to undermine its economy. Only serious sanctions and serious military losses can stop the Russian Federation," the lieutenant general added.