Klitschko and Gordon were the first to transfer money for the restoration of "Zhovten"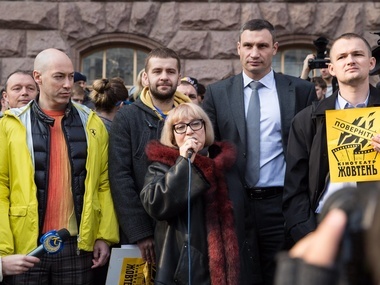 Photo: Rostislav Gordon/ gordonua.com
Kiev authorities have created a special charity foundation for reconstruction of the burned-down Zhovten cinema; the mayor of the capital Vitaly Klitschko and the deputy of Kiev Council Dmitry Gordon have already transferred UAH 10 000 each.
Kiev authorities have decided to create a charity foundation for restoration of the burned-down Zhovten cinema. The mayor of Kiev Vitaly Klitschko declared this on Friday, October 31, at the extraordinary meeting of Kiev Council, reports the correspondent of the GORDON .
The managing director of the cinema Lyudmila Gordeladze was offered to head this foundation.
According to Klitschko, he has already donated UAH 10 000. The deputy of Kiev Council from Podol district Dmitry Gordon supported the initiative of the mayor and reported that he has transferred the same amount to the foundation.
Speaking at the meeting of deputies, Gordon declared that the only way to save "Zhovten" is to provide it with a status of an architectural landmark of national importance, which will prevent building of floors on the top of the building and its demolition and will discourage raiders.
"In my opinion, the fire in "Zhovten" was an attempt of raider capture: someone wants to seize the building in the center of the city very much. As a rule, cinemas are built in very favorable places and they are low. Probably, a developer wants to build a shopping mall on this place and to make a cinema on one of the floors. Therefore, it is necessary to grant "Zhovten" the status of an architectural landmark," Gordon emphasized.
The deputy addressed Klitschko with a relevant inquiry and reported that there will be volunteers at the entrance of the cinema who will collect signatures for granting "Zhovten" the status of an architectural landmark. If they manage to collect 1000 signatures, the deputies will have to consider this question at the next meeting of Kiev Council.