Kikabidze: Do I look like a prostitute? How can I accept offers from Russia?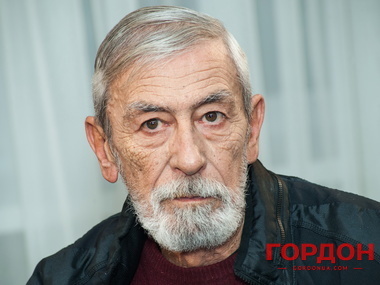 Vakhtang Kikabidze
Photo: Feliks Rozenshtein/ gorodnua.com
The Georgian singer and film actor, star of the movie "Mimino" Vakhtang Kikabidze, having heard a call from Ukraine, found an opportunity to dedicate several minutes to the " GORDON" between his treatment procedures to say words of support to the Ukrainians and to urge them "to join hands" in this hard time.
The home museum of the people's artist of the Georgian Soviet Republic, winner of the State Award of the USSR, winner of the State Award of Georgia, the holder of honorary orders, third-degree Tsar Vakhtang Gorgasali Order, Order of Saint Nicholas the Wonderworker and a knightly Cross of Saint Constantine the Great could also feature the Order of Friendship. But in August 2008, Kikabidze refused to accept it from the Russian President Dmitry Medvedev as a protest against the Russian military aggression during the events in South Ossetia.
He could not forgive "the big orthodox country" which invaded "the territory of small orthodox Georgia" in order "to force it to the knees".
He has never been in Russia ever since.
"I miss the Russian audience so much," Vakhtang Konstantinovich says. "Many letters come from Russia, I could shoot a separate show based on them. People and politics are different things."
But the actor has been refusing numerous offers to perform in Russia for many years.
"Do I look like a prostitute? How I can accept these offers if there is wire entanglements 30 kilometers from Tbilisi?!" he says, meaning the border that now divides Georgia and South Ossetia.
He perceived events on Maidan as if there were taking place not in the center of Kiev, but in his native Tbilisi – on Republic Square where the "Revolutions of Roses" took place under the leadership of Mikheil Saakashvili and his supporters in November 2003 marking the era of reforms in Georgia. Kikabidze kept saying that only his age prevented him from standing near Ukrainians on Maidan.
He visited Ukraine with a concert for a company corporative occasion the other day. He spent the night in a hotel on Maidan.
"Georgians, as all good people, support Ukraine," Kikabidze says. "All Ukrainians must join hands in this hard time."
He considers that Russia will not leave Georgia in peace for a long time:
"Our politicians refuse to recognize that they are trying to improve relations with Russia, but one can feel that we are being pressed upon again".
Earlier, Vakhtang Kikabidze reported in an interview to the Ukrainian edition "Vysoky Zamok" : "I think, such a big country as Ukraine has to have its own nuclear weapon. Who knows, how long Putin will rule in the Kremlin; he scares everybody and he can never be trusted. It is difficult to remain kind in the cruel world with godless people in power. Maybe, it is simply impossible … If it is not the case, the same thing will happen again: a Russian soldier will come, followed by a Russian tank, and then – the Russian kersey boot. I do not want Russian boots in my native Georgia. I do not want them in native Ukraine".
He considers Putin "a politician of evil force". Having learned that the Forbes magazine recognized him as the most influential person leaving behind Barack Obama and Angela Merkel, Kikabidze, understanding the way ratings are made, joked, "It means that Putin this magazine a good table".
Kikabidze said what he would tell Russian actors and pop stars who willingly entertain "Novorossiya" terrorists,
"They would not discuss this subject with me. They know what I think about it. Each person has to decide who he is".
"Sorry, I cannot speak any more," he suddenly told, "I am in hospital, taking treatment. I wish Ukraine good luck."