Kravchuk: All these summit meetings cut off some parts from Ukraine. They can reach Kharkov in this way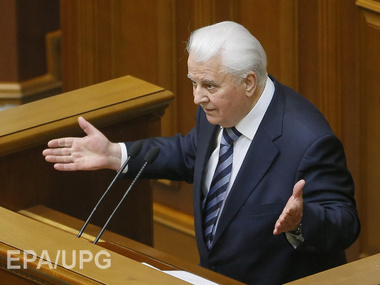 Kravchuk: Fighters help ethnic Russians in a particular manner by killing them


Photo: EPA/UPG
The former president of Ukraine Leonid Kravchuk supports deployment of the UN peacekeeping contingent.
The question must be solved how exactly the idea of deploying UN peacekeeping forces to Ukraine can be realized, the first Ukrainian president Leonid Kravchuk said in the comment to the GORDON .
"The idea of peacekeepers should be supported. Another thing is how to start realizing it? There have been many meetings and they give quite an opposite result. All these meetings cut off some parts from Ukraine. They can reach Kharkov in this way. Even now all these separatists keep squealing at all Russian channels that they will stop at the Polish border," he said.
Kravchuk believes that there is nothing impracticable in the idea of deploying peacekeepers.
"It is possible to realize the initiative of inviting UN peacekeepers. There is global experience and positive consequences. By the way, Ukraine as a state has also taken part in peacekeeping affairs. However, there are certain conditions. First of all, Ukraine's wish is required. Secondly, Ukraine must be supported by the states that have been long participating in negotiations in different formats – Minsk, Geneva, Norman, etc. If there is such support, there will be no problems. In this case, peacekeepers are deployed, and, among other things, we get objective information, and peacekeepers become a shield to prevent escalation and movement of Russian troops," the ex-president stated.
According to him, only fighters of the unrecognized states will object to this decision.
"I support this idea, but I am convinced that the leaders of the so-called republics will object to it. They have another mission from the Kremlin. They expect Russian peacekeepers, and there are already plenty of these "peacekeepers" there. There are already more than 10,000 "peacekeepers" according to unofficial data. How many more "peacekeepers" do we need?! However, they perform different functions. They are standard bearers of the "Russian world" with the capital in Moscow. But they spread this idea in a particular manner. They have received a task according to the "Russian world" charter to help ethnic Russians and Russian-speaking people. So they simply kill them. They become less numerous, and there is nobody to help. They carry out their mission through murders. It is Stalin's philosophy – "no man, no problem," Kravchuk said.