Kuzhel: It is hard to live solely for a deputy salary, but we cannot complain at the time of general poverty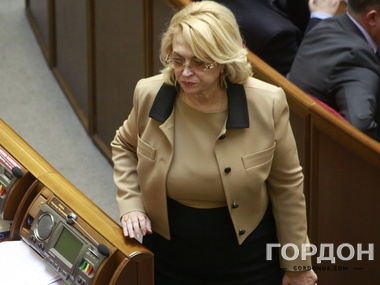 Aleksandr Kuzel
Photo: Aleksandr Khomenko/ Gordonua.com
The People's Deputy Aleksandra Kuzhel considers that it is really hard for people's deputies to execute all their functions living only for the salary, however, many deputies are not even interested in what they receive at the accounting department of the Verkhovna Rada.
The People's Deputy from Batkivshchina Aleksandra Kuzhel said in the comment to the GORDON  that people's deputies' financing had been cut recently.
"For example, I live for such a salary. I have no other income. I can say that it is certainly hard because there are requirements you have to meet. Well, for example, people turn to you for financial support. We used to have the so-called "financial support". It was a fund that could be used for helping someone. It was abolished. Then deputy's fees were reduced, as well as the salary," Kuzhel noted.
"Except UAH 4 000 of salary we still have deputy's fees that I use for traveling, meeting people, buying paper and envelopes. If I need to send 250 letters every week, you can imagine how much is spent on them. You have to buy computers, there is no Wi-Fi in the Verkhovna Rada. All this is what you pay for. Besides, from these UAH 4 000 of deputy's fees you have to pay for offices in other regions. It means that if you have opened a reception of the people's deputy, you pay for the office from these fees," the people's deputy stated.
According to Aleksandra Kuzhel, even in the conditions of limited financing, deputies should not complain about the low salary while they live in a country where most people receive much less.
"Can we complain about it? Of course, not. We cannot complain because most people live for a salary of 2 000 UAH. And is it an average salary? No. Those who were passing this resolution, do not live for the salary. I can see that most of the deputies do not receive the salary, it is their assistants who receive it. I know only a few – me, Lilya Grinevich – who live from salary to salary, asking each other, "When can we get it?" I noticed that the majority do not even notice this figure. They have business. Many people give money to their assistants. Therefore, what Mustafa stated was stated from the point of view of law. When there are other sources of income, they certainly play these games. Of course, it is not the right time to raise this question, understanding the general poverty," Aleksandra Kuzhel declared.
According to the people's deputy, salaries in other authorities is higher than in the Verkhovna Rada, however very few people pay attention to it.
"If we check the Presidential Administration, we will see that a department director receives more than a people's deputy. It was done on a wave of hatred to the Verkhovna Rada. The Administration, ministers, heads of administrations receive a decent salary and deputies were cut their salary 2-3 times," Kuzhel noted.