Lanovoy: You should not perceive the receiving of a loan as a victory or heroism: the more debts, the more percent you have to pay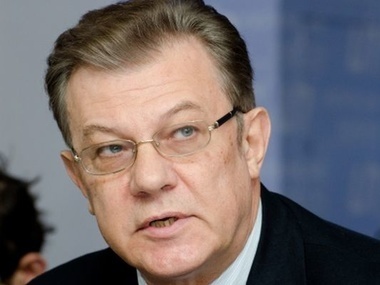 Ex-Minister of Economics Lanovoy: It is already clear that the budget is antisocial and unacceptable to society.


Photo: telegraf.com.ua
Until heroism in the government is directly connected with growth of an external debt, the situation with the budget and opportunity to contain the state and segments of the population will become more terrible, the Doctor of Economics Vladimir Lanovoy declared.
Mission of the International Monetary Fund (IMF) arrived to Ukraine to specify positions of the budget adopted for 2015, new tax provisions and other nuances. Then her representatives will return to Washington and will look through the credit documents already there.
Such opinion in the comment to the GORDON   was expressed by the ex-Minister of Economics of Ukraine, the president of the Center of market reforms Vladimir Lanovoy.
The ex-Minister of Economics of Ukraine hopes that the decision will be made in favor of issuance of credit as it is connected with the urgent external  payments , in particular, with purchase of gas which, according to the expert, is being paid on credit now.
"Ukraine is in a predefault state. We have no currency reserves – they fell to a minimum level. But the current payments on gas and the credits obtained earlier monthly make about $2-3 billion. In other words, for maintaining our solvency, reserves will be enough only for one-two months", – the economist summarized.
At the same time the expert noted that he practically does not doubt in granting the credits to Ukraine. "A question only in that, how budgetary and other legislations adopted the day before for service of these credits will help balancing of a financial system of Ukraine and how much it will be debalanced", – the former head of Ministry of Economics explained.
According to Lanovoy to perceive receiving of an external loan by the government as a victory or heroism is thoughtlessly.
"Now the task consists in receiving $20-30 billion. We shouldn't perceive it as heroism or a huge victory: the more debts, the more percent we pay of the credits and compensation of an internal debt, and the less budgetary funds we can give on social needs of the population", – the expert noted.