Minister of Social Policy Rozenko: Information about the economy plans of the Cabinet of Ministers is working material rather than a document. These issues are being discussed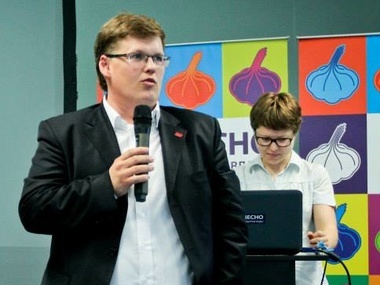 Rozenko considers that it will be difficult to break the old social security system
Photo: Civic movement "Chesno" / Facebook
The Minister of Labour and Social Policy Pavel Rozenko declared that he sees his main mission in creating a just pointwise social security system.
The governmental social policy will be built based on the principle of providing assistance to those who need it and adequate remuneration of those who work. The Minister of Labour and Social Policy Pavel Rozenko stated it in the comment for the GORDON edition.
The state should not have the mission of economizing. I see my ministerial mission in creating a normal social security system. Not giving everyone a little, some 10 kopecks, with state expenditures remaining colossal, but bringing everything in conformity with common European standards. And the principle is that if you work you get an adequate salary rather than benefits and compensations. Only people who are not able to work should be eligible for social aid: pensioners and seriously disabled people, that is categories of people who are physically unable to work," Rozenko noted.
"It will be difficult to break the old system, it has been imposed in Ukraine for the last 23 years and cultivated by populism methods. But there is no other option, we have to go this way. We have to break through this weak Soviet system of social security. That is why we do not discuss how to economize. We face a question how to make social policy just, focused and pointwise," the Minister stated.
Pavel Rozenko added that information about the plans of the Cabinet of Ministers concerning the economy plans published in mass media is subject to discussion in the government and is not an official document.
"It was not a document that was published in Zerkalo Nedeli (Weekly Mirror) yesterday. A document is when the government considers and adopts a decision. It is a different thing here. These may be working materials, analytical notes, and recommendations of consultants, specialists, and experts. These are working materials of a working group. Part of these issues are being discusses in the parliament, but these are not a document," the Minister pointed out.
"It is not an official position of the ministry, so it is not correct for me as a minister to comment on something that is published in the Internet or taken from the table of an expert or a public servant. I will be ready for the discussion, nobody will hide when the government adopts a decision and addresses the Verkhovna Rada of Ukraine with a concrete legislative initiative. In this case it will be a document and a position of the government. I realize that a wave has been raised, but, in my opinion, it is too premature to draw conclusions from ambiguous materials so far," Pavel Rozenko declared.