Ogryzko: It is impossible by definition to implement the decision on deploying UN peacekeepers to Ukraine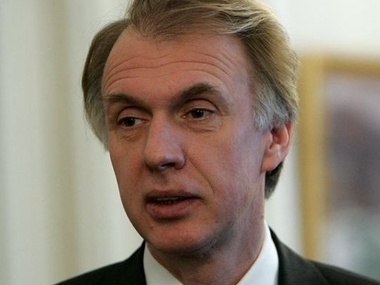 Ogryzko: The decision on the deployment of any peacekeeping mission is made by the UN Security Council, and Russia is part of it


Photo: telegraf.com.ua
The request to deploy UN peacekeepers in Ukraine is a diplomatic and propagandist step rather than a practical one, considers the former Foreign Minister of Ukraine Vladimir Ogryzko.
Ukraine's request to deploy UN peacekeeping contingent to the territory of the country is impracticable, the former Minister of Foreign Affairs Vladimir Ogryzko said in the comment to the GORDON .
"These things are impossible by definition in practical terms. It is a diplomatic and propagandist step rather than a practical one. It is another attempt to demonstrate our infinite peacefulness that will not result in anything," he said. 
Ogryzko believes that it is impossible because a Russian representative is also a member of the UN Security Council.
"The decision on deploying any peacekeeping mission is made by the UN Security Council. We perfectly understand that the Russian Federation is part of the UN Security Council. If it objects, this idea will not be realized. And even the first reactions of Russia are quite interesting in this respect," the expert reported.
According to Ogryzko, the idea with the EU police mission will not work, either.
"Can a European Union police mission be deployed to the border between Russia and Ukraine? It is even a more rhetoric question because the terrorists will say that they do not want to see any NATO henchmen. And Russia will say again that the terrorists control everything and that there is a civil war and a conflict inside Ukrainian, and that they have nothing to do with it," Ogryzko said.