Semenchenko: Everyone who is wondering about how long the truce will last, I recommend just to go to the front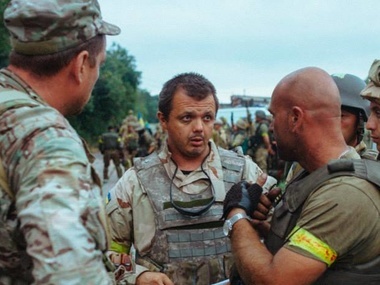 Semenchenko does not believe in the truce


Photo: Maxim Dondyuk / Facebook
The battalion commander "Donbass" Semen Semenchenko believes that in order to achieve the real peace, the state should not rely on the Minsk Agreement, and to prepare for war.
Agreements concluded in Minsk give no reason to rely on the peaceful resolution of the conflict, because the previous agreement was repeatedly disrupted, and we can not trust the representatives of the parties. This is the people's deputy commander of "Donbass" Simen Semenchenko said in the comments to "GORDON" .
"It is necessary to prepare for war, because there is such an age-old wisdom: If you want peace - prepare for war. To prepare for war the state is obliged at all times. For this, there is the Ministry of Defence and the General Staff. Now we need to prepare for war, due to the fact that it is unclear who agreed to what. Retired Kuchma signed some document on behalf of Ukraine, individuals terrorists signed it on behalf of the terrorist gangs, and on behalf of Russia signed someone else. These people do not have confidence. They deceived others many times, "- said Semenchenko.
"If we analyze the words of Merkel, then she says she does not really looking forward to these agreements and not wearing rose-colored glasses. Look at the statements by other leaders, the same Dalia Grybauskaite (Lithuania's President. -" Gordon ") - she, too, doesn't believes in. Let's say really. Don't we have out own experience, your own eyes? Don't we see how many funerals take place every day? Every time there is a truce, the enemy only strengthenes. Why is it necessary? "- Said the battalion commander.
"I recommend to all people who ask questions about how long the last truce can last, just to go to the front. Yesterday during the assault of Logvinovo during the truce three men were killed, and another 6 people were injured. It is only in the "Donbass ". More 12 soldiers were killed in the VSU. Several tanks were destroyed and they took more than 15 prisoners. They lost half of the FSB special forces, which was to throw attempts to prevent the assault. Today, all this is going on. The question is: What truce? What are you talking about? We have a war going on. Praise and honor to the president, who is trying to stop this by diplomatic means, but it is impossible to negotiate with Hitler "- says Semenechenko.