Journalist Tsimbalyuk: Putin did not deny presence of the Russian military personnel in Ukraine. Things were different before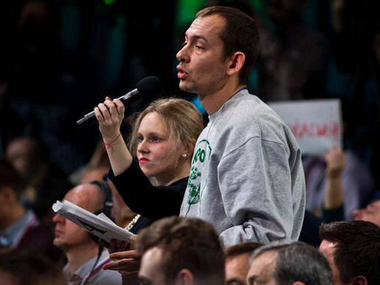 According to Tsimbalyuk, Russia will not follow the line of de-escalating the conflict.


Photo: Mark Feygin / Twitter
The journalist of the UNIAN agency Roman Tsimbalyuk, who asked Vladimir Putin a thorny question about Russian soldiers in Ukraine at yesterday's press conference, considers that the Russian President made it clear that he was not going to change his policy.
The Russian President Vladimir Putin will not change his external and internal course even despite the difficult economic situation. The Ukrainian journalist Roman Tsimbalyuk stated it in the comment for the GORDON  based on the results of the Russian president's press conference.
"It seems to me that the most important thing that Vladimir Vladimirovich made clear is that he will not change anything. He said that his policy, both internal and external, is correct – there are enemies all around who want to chain the bear. It is his main message to be taken into consideration that, despite all difficulties in economy, he is not going to change his policy," Tsimbalyuk considers.
"He kept saying, "I am right, we made the only correct decision…" and so on. He tried to legitimize his policy in this direction all the time. And he said a lot about Ukraine anyway. He did not deny presence of the Russian military personnel. It is definitely something new, and it has not been expressed before. They said that it is nonsense, and now they simply keep silent. He said that he is responsible for all Russian military personnel, which also confirms their presence indirectly," the journalist noted.
According to Tsimbalyuk, Russia will not follow the line of de-escalating the conflict.
"There were negotiations behind Putin's words. These negotiations are held almost every day at the highest level. Russia occupied part of Eastern Ukraine and it can hardly be expected that they will change their mind. It is loss of image for them, they allegedly rescue Russians there. Though all these actions of Russia actually brought the Russian-speaking population death, poverty, war, hunger, and cold instead of "the Russian world," the journalist declared.
Tsimbalyuk also mentioned that despite the fact that he was given floor at Vladimir Putin's major press conference, it does not mean that the Ukrainian journalists feel free in Russia.
"I left immediately after the press conference and did not feel any oppression, but I think that things may change. I was surprised to read Alexey Pushkov's (Head of the State Duma Committee for International Affairs) message, who wrote in Twitter yesterday that the Ukrainian journalists feel too free in the territory of Russia. And he asks himself why we dare do it. In fact, it looks very ridiculous and even silly because Ukrainian journalists do not feel free and it will be absolutely ridiculous if you do not invite them to a large-format press conference. It speaks about local orders more than anything else," he declared.