Tymchuk: Buying arms from the UAE is a psychological step to move American and European supplies from dead point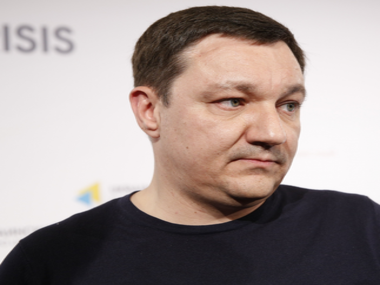 Tymchuk: It is easier for Obama to declare

about the supplies of American arms to Ukraine than if it is sold through Arab states and appears in Donbass later


Photo: ru.slovoidilo.ua
Ukraine has to use all engineering equipment to create a defensive zone along the whole contact line in order to form a local Mannerheim line, reported the Head of the Informational Resistance group and People's Deputy from the People's Front Dmitry Tymchuk.
The statement about buying arms from the United Arab Emirates is rather a psychological step, the Head of the Informational Resistance group and People's Deputy from the People's Front Dmitry Tymchuk said in the comment to the GORDON .
"Arabs purchase much from different suppliers, but they produce little. I think it is rather a psychological step. Ukraine has to show now that it is supported and that someone wants to supply it with arms in order to move everything from the dead point, speaking about both American and European supplies. There is the offensive in several sectors. Parubiy is in the United States now where he is trying to solve the issue of American arms supplies by providing Obama with a list of necessary items. Last week, a delegation of British parliamentarians came to Ukraine. We met them and discussed the issue of armament. It is important from the psychological point of view to move the West from the dead point," Tymchuk reported.
According to him, the world is very careful about supplying arms.
"There is a notion of the end user certificate in the world. For example, if the Arabs resell us the arms of the manufacturer that they purchased it from, they must provide information on the country that will finally obtain it. There are ingenious manoeuvers in grey or black schemes of arms export. American suppliers are rather conscientious about this. Unlike Russia or Ukraine, the West cares much about its reputation and does everything to avoid such schemes," the expert said.
In Tymchuk's opinion, Americans will not sell arms to Ukraine using "grey schemes".
"In the case of Ukraine, I do not think that Americans will take such a step, I mean receiving an end user certificate from Ukraine bypassing the Department of State's decision, or manufacturing these arms in the USA. It is easier for Obama to adopt the resolution of the Congress and declare about the supplies of American arms to Ukraine. It will be much less scandalous than if this American arms sold through Arab states will then appear in Donbass," he noted.
Ukraine must be engaged in building a blind defence line now, the expert considers.  
"One thing must be done, and I mentioned it in September, we have to build blind defence. Our brave General Staff has introduced a notion of manoeuver defence now. It means that platoon strong points are equipped at best, and a line of blind defence does not exist, whatever the military may say. That is why we frittered away Debaltsevo. I understand that the soldiers do not want to do engineering works. It is thankless work, and there is lack of engineering units after the mass reduction. But the mobilization law concerns not only mobilization of citizens, but also mobilization of enterprises, state bodies and equipment," Tymchuk stated.