Mikhail Gorbachev's adviser quashed rumors about the death of the ex-president of the USSR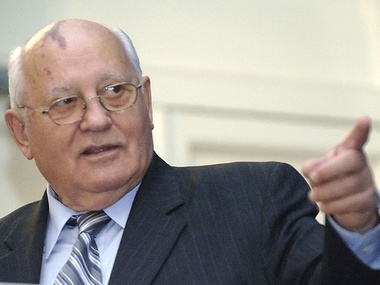 Mikhail Gorbachev
Photo: zn.ua
The special adviser of the president of Gorbachev Foundation Victor Mironenko disproved information about the death of the ex-president of the USSR in the exclusive comment
to the GORDON
and told that tomorrow, October 21, Mikhail Gorbachev is planning to take part in the conference timed to the 25
th
anniversary of the Fall of the Iron Curtain.
Russian and international press has recently published repeated messages that the ex-president of the USSR Mikhail Gorbachev, who has been treated in one of Moscow clinics since October 9, has died.
These messages were disproved by the special adviser of the president of the Gorbachev Foundation, his brother-in-arms during perestroika, former First Secretary of the Central Committee of All-Union Leninist Young Communist League of the USSR Victor Mironenko.
"Mikhail Sergeyevich is alive, he feels according to his age, nothing special did not has occurred. He jokes concerning the messages about his death, "Don't count on it". People, including familiar journalists often call him on the cell phone and ask how he feels and where he is. Mikhail Sergeyevich answers, "I am in my bed, in hospital". That is where the rumors begin," Victor Mironenko said.
He reported that tomorrow, October 21, a conference timed to the 25th anniversary of the Fall of the Iron Curtain will be held at Gorbachev Foundation where Mikhail Gorbachev is also planning to participate.
The adviser of the ex-president of the USSR mentioned that Mikhail Gorbachev worries about Ukraine very much,
"He is Ukrainian on the maternal side, I am Ukrainian on the paternal side. Believe me that this war ran through our hearts. It is not somewhere far away, it is inside us."
Mikhail Gorbachev, reflecting on the reasons of the events that took place in the Crimea and resulted in the annexation of the peninsula by Russia, earlier said that the reasons lie "in the failure of perestroika and in thoughtless and adventurous "dissolution" of the Soviet Union." He assured that "he fought for the preservation of the unitary state by all available means."
"Unfortunately, my warnings were not followed," Gorbachev said implying the Belavezha Accords on the creation of the Commonwealth of Independent States (CIS) and the termination of the USSR signed by the heads of the Russian Federation, Belarus and Ukraine in Belovezhskaya Pushcha in December, 1991.