Illarionov: If a deficit-free budget is approved in Ukraine, the dollar will cost UAH 12 in February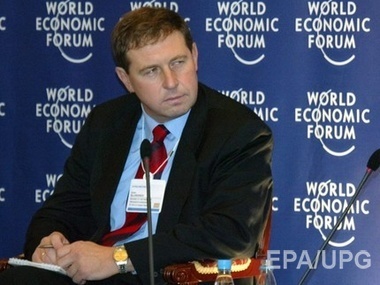 Illarionov has a recipe for reforming of the Ukrainian energy system




Photo: EPA
Former advisor of Vladimir Putin and economist Andrey Illarionov told the GORDON that Ukraine has a chance to survive the winter, if it takes measures for reforming the economy immediately. He also said that, together with the late Kakha Bendukidze, he suggested the Ukrainian government should have initiated the process of energy market deregulation in spring, not waiting for the cold winter.
Ukraine is fairly rich in energy resources. Ukraine as a moderately developed country is also able to get the required energy resources from other countries besides Russia. The only problem is that the price for energy resources in Ukraine are not equilibrium prices both now and during the last years.
It should be noted that all countries which were in transition to the market and carrying out economic reforms, perhaps, except for energy exporters, had problems during the transition period. The Baltic countries experienced great difficulties in the first two winters of 1992 and 1993. However, even though they do not have any energy resources in their territory, they completely adapted for new conditions during the third year and have not had any problems with energy supply ever since.
For Ukraine, it is the same story with the adaptation to new conditions. From this point of view, even though it was not the decision of the Ukrainian authorities and the Ukrainian society, the result will be definitely useful. Energy consumption will become efficient, it will be reduced in terms of absolute volumes, but there will be no excess losses as it was before.
The major share of energy is consumed by Naftogaz, which imports gas. Naftogaz is a state company. The state tariffs for internal consumption of gas are set at a very low level. As a result, subsidies for energy consumption in Ukraine reach fantastic levels – up to about 10% of GDP. It is different in the rest of the world. In terms of energy wastefulness, Ukraine is at the level of the richest Gulf States. There is no European country where energy resources would be wasted so much as in Ukraine, except for several Gulf States whose GDP and income per capita rates are dozens times higher than in Ukraine. It is simply too expensive.
For more than 20 years of independence, the task has been that the state should stop regulating energy and that energy should become market-regulated. It should be market-regulated from the point of view of free pricing and so that Naftogaz would not have monopoly even if it became a private company. If it becomes private, such a monopoly is no better than the state own, it is often even worse.
Two things need to be done simultaneously: to liberalize the market from the point of view of any companies: Ukrainian and foreign, working with oil, gas, coal, peat, or alternative energy. And to release prices, that is to eliminate tariffs and state control. Neither the government, nor the Deputy Prime Minister, nor the Minister of Energy should not set prices or establish tariffs for gas, for example. On the other hand, those who want and can must have the right and opportunity to be part of the energy market. Then the optimum price will be established soon, and there will be optimum inflow of energy resources both from within Ukraine and from abroad.
We suggested making complete liberalization of the market from April 1 so that the process would be completed during the warm spring and summer months
This adaptation process will take several months, that is why we suggested making complete liberalization of the market from April 1 so that the process would be completed during the warm spring and summer months, and Ukraine would approach autumn and winter with a well-shaped energy market. 
Unfortunately, neither the Prime Minister with whom we spoke together with Kakha Bendukidze, nor the Deputy Prime Minister, with whom we not only spoke, but Kakha, for example, worked on a day-to-day basis and provided him with all necessary calculations, did not accept the decisions that we recommended. These were decisions for liberalization of the energy market and elimination of energy subsidies.
If the newly created government does nothing, it will contribute to the realization of Putin's plan. On the contrary, if the new government will immediately undertake a set of measures (they should have started yesterday) that was prepared, developed, and offered this March, the disaster can be avoided, the Ukrainian economy will become much more vigorous, enterprising, and stable, this difficult situation will be over, and most of the people will not even notice it. 
It is impossible to predict with 100% certainty the level of gold and forex reserves in the end of winter or if there will be a default because there are three major factors that I keep pointing out. If the policy pursued in September, October, and November is maintained; if the rates of currency reserves continue falling at the same rate, which was, for example, about $4 billion in October; if the government does nothing to stop the crisis, then the currency reserves will reached their absolute minimum no later than at the end of winter, and the government will have to declare a default. It can be predicted if these factors remain unchanged.
However, if the government takes the necessary measures within the next week or two, then Ukraine will survive the winter. Not without problems, but there will be no crisis and the hryvnia can remain at the former level, and, under certain circumstances, it can even rise if, for example, to a deficit-free budget is approved. Once when I was in Kiev, I met a large group of economists, and we worked through different options. If the government makes a decision on elimination of the budget deficit, which now makes 10% of GDP and part of this deficit is the deficit of Naftogaz, I can guarantee that the hryvnia exchange rate will be better in February – it will not be 15, it will be at least 12, or, maybe, even 10 hryvnias.
Deficit of Naftogaz makes 7% of the Ukrainian GDP. It is an enormous figure
The deficit of "Naftogaz", according to the data I saw, makes 7% of the Ukrainian GDP. It is an enormous figure. Why? Because of subsidies. If subsidies for energy resources are eliminated, the budget deficit reduces by 7% in favor of the GDP. If you reduce pensions, not to all people, but only to the rich bureaucrats of Yanukovych and the previous administration who are enjoying huge pensions, you can win another 2-3% for the GDP. If Ukraine reduces part of public purchases, it can account for another 4% of the GDP.
At the same time, you will increase expenses for military needs because now, according to the latest data, Ukraine spends 0.8% of GDP for military expenses – it is absolutely insufficient. In the conditions of war, voluntary battalions are financed by people rather than the state, which is inadmissible, too. Suppose you increase military expenses to 4% of GDP. In such conditions, 4% can be a fairly acceptable level. If all these conditions are observed, the budget deficit equals zero, military expenses increase, a considerable part of inefficient public expenditures is liquidated, energy market becomes more liberal, which is the most important thing, prices for energy become more liberal as this market can be accessed by any participants.
As a result, in two or three months, roughly speaking, you will get zero budget deficit; currency reserves will inevitably grow up because imports will fall; exports will increase, and currency earnings will increase, too; currency reserves can make 15 billion; the exchange rate will be around UAH 12 for a dollar; and pensions of 80-85% of the Ukrainian population will remain unchanged.