Nemtsov: Savchenko is necessary to Putin for the television picture to show on her example what a rabbles Ukrainians are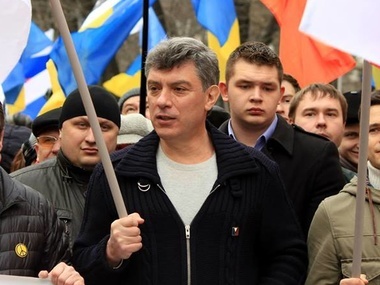 Nemtsov considers that courts in Russia work only for Putin


Photo: Movement "Solidarnost" / Facebook
According to the leader of the Russian opposition party of "RPR-PARNAS" Boris Nemtsov, personal negotiations between heads of Ukraine and Russia are necessary for Nadezhda Savchenko's release.
There no other options for Nadezhda Savchenko's release, except for the personal pressure upon Putin, because courts in Russia are completely under president's control. The Russian oppositionist Boris Nemtsov declared it in the comment to the  "GORDON'' .
"Direct conversation of Poroshenko with Putin is necessary. It is obvious that Putin keeps her in hostages. He spoke about it at a press conference, he knows details of this business. He knows how everything occurred therefore it is necessary to solve it. It is necessary to speak. And what to do? We have no vessels. It is possible to have legal proceedings, of course, but there is no such institute. The court has purely speculative formal character. People in cloaks follow political instructions of Putin. These are not courts"— Nemtsov considers.
According to the Russian oppositionist, Nadezhda Savchenko is necessary to Putin in order that on her example, having accused of murder, it was possible to show how bad Ukrainians are.
"She is necessary to Putin purely for the television picture. Like, look, she seems a woman, but she is the murderer. She directed shooters somewhere, she did something else. It is a dark PR, to show what a rabbles Ukrainians are"— Nemtsov noted.