Ogryzko: Any sober-minded politician will think twice before continuing the war. But there has been a problem with logic in the Kremlin recently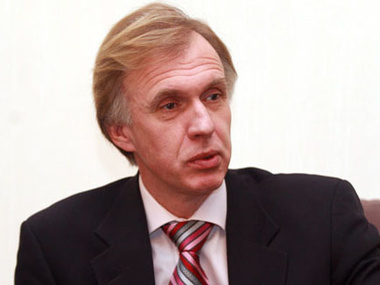 Ogryzko:

Putin will have to make a decision, otherwise he will simply collapse


Photo: day.kiev.ua
The rouble crash is a signal that the Russian economy starts going to pieces, believes the Ukrainian diplomat and former Minister of Foreign Affairs Vladimir Ogryzko.
If the Kremlin continues aggression in the east of Ukraine, it can end with a third round of sanctions that would lethal for the Russian economy, the Ukrainian diplomat and the former head of the Ministry of Foreign Affairs Vladimir Ogryzko stated in the comment to the GORDON .
"Let's imagine that Putin continues the war and sanctions amplify, he takes another part of Donbass, and Europe and the USA embarked on the last, third, lethal I would say round of sanctions against the Russian economy. And what does he win? He wins, he so-called wins another piece of territory, but he loses economy. Any sober-minded politician will think twice before making such a foolish thing. However, we understand that there has been a problem with logic in the Kremlin recently," the expert reported.
According to Ogryzko, statements of the Foreign Minister of Russia Sergey Lavrov can be interpreted in different ways.
"Concerning Lavrov's statements, it is the same thing, it may be called different names – federalization or not federalization. And if they say that each region will live its own life, it means that they do not go back on their words. It is his statement that the Russian party insists that Kiev should carry out a dialogue with "Novorossiya" after trilateral talks. It is necessary to be twice as careful as before giving some positive estimates to what is told in Moscow," the diplomat declared.
Ogryzko thinks that the collapse of the rouble is a signal of the crash of the Russian economy.
"The rouble crash is not just a rouble crash, it is also a signal that the Russian economy starts going to pieces. This is the most terrible thing. They say that the hryvnia is falls at the same rates as the rouble, but we must understand that the conditions of the Ukrainian and Russian economies are absolutely different. For our economy, actions carried out by Russia cannot but affect the hryvnia exchange rate, and what is happening in Russia means that the Russian economy starts going to pieces because of the economic sanctions imposed by Europe. I think that Putin will have to make a decision, otherwise he will simply collapse," Ogryzko pointed out.