Paskhaver: It is necessary to replace collective irresponsibility with personal responsibility of the certain person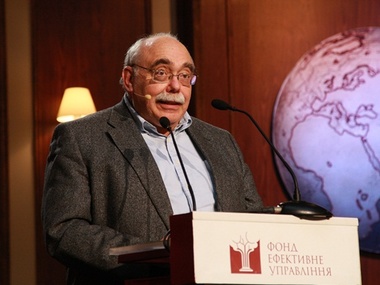 Aleksandr Paskhaver
Photo: lenta-ua.net
"The text of the coalition agreement looks rather fresh on the whole. But I would like to focus on another question: who will do it and with what money? It has no answer to these questions", commented to the "GORDON" Aleksandr Paskhaver, Candidate of Economic Sciences, President of the Center of Economic Development.
The text of the coalition agreement looks rather fresh on the whole. Involvement of post-Maidan experts can be traced. It contains many things that we have often talked or even dreamt about, so I have a rather favorable impression from this document. However, in my opinion, it does not have accurate formulation of strategic objectives. And the formulations are not always systemic – it is rather a set of actions that it is desirable to implement. But I would not like to praise or criticize it from this point of view as I want to focus on other questions. After reading this big and serious document, I want to ask: who will do it and with what money? There is no answer to these questions.
It was thought that ministers and ministries will have to deal with it. This answer is obvious just because no other option is specified and there is actually no other option. This deal does not provide for new positions or people who will be responsible for the implementation of these reforms. It means, that ministers and ministries are supposed to deal with it. We have enormous experience of charging ministers and ministries with reforms. But it is unsuccessful all over.
If I were asked, "And how do you want these reforms to be implemented?" I would answer, "I need a minister for reforms who would be subordinate to the prime minister who, in his turn, will enjoy high political status and trust of people. It is a temporary position (though the term can be long because many reforms can last rather long). His deputies, conditionally speaking, should be commissioners for certain reforms, and the range of their powers is accurately specified and limited by the term of the beginning and completion of reforms. Their powers should be limited by the plan of the reform and his personal responsibility rather than support from some public structures. Of course, he can consult whoever he wants and, first of all, with the office of the ministry and ministers, but they should not have the right of veto on these changes. Otherwise ,"the widow of a non-commissioned officer will have to whip herself"…
It is necessary to replace collective irresponsibility with personal responsibility of a certain person. It is very important that this person will be engaged only in this during the certain period for which reforms are planned, and he would not be charged with anything else. If it is absent, people who plan it do not seem to be going to implement these reforms.
Taking into account what I told, I do not see any sense in discussing concrete facts though I analyzed two or three fields professionally. If there is a commissioner on decentralization reform who will have a high status and be protected by the law, if he receives concrete financing, then it will be possible to discuss details with him. He will have to adopt a certain model of reforms because it is not a technical model where you can come, make a detail and leave. It should be a person who has adopted this model inside himself and is ready to protect it. It is a very stressful and difficult job. But it makes no sense speaking about serious reforms without precise personalization of responsibilities and resources.