Shenderovich: I went to Lviv as an old friend of Kiev junta and a Ukrainian fascist in law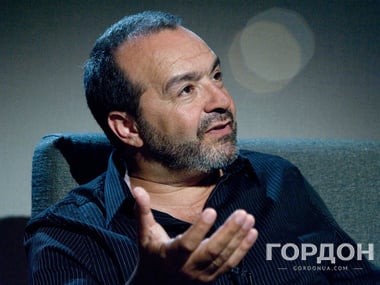 Viktor Shenderovich
Photo: Oleksandr Rozenshtein/ gordonua.com
The columnist
of the "GORDON"

and famous Russian satirist Viktor Shenderovich shared his impressions from the trip to "the citadel of Ukrainian fascism".
As an old friend of Kiev junta and a Ukrainian fascist, I express my deep anxiety and bitter disappointment over the results of my inspection trip to Lviv (Western Ukraine).
Russian speech can often be heard in the streets of the citadel of Ukrainian fascism. Excursions for Russian-language groups are organized in broad daylight. No cases of mob law have been recorded.
Russka Street has not been renamed Vashingtonska Street yet; there is Tchaikovskoho Street, but no Wagner Street. There are only few flags of the Ukrainian Insurgent Army (UPA), there are no swastikas at all. In Copernicus Street, there is a notice on the wall in pure Ukrainian reading, "Nazism belongs to the dump of history". A woman with a dark-skinned child in the pram greeted me in Staroyevreyskaya Street. Students of the Polytechnic University walk up and down Bandera Street.
The exhibition "Sketches of the Jewish Quarter" works in the museum on the central Market Square. On the "patriotic" book bazaar in Shevchenko Boulevard, there are couple of dozens volumes about the history of Bolshevist occupation of Ukraine for each one pathetic anti-Semitic brochure. On holidays, elderly fighters of UNA-UNSO recollect days gone by near this outlet under a black-and-red flag, but they are fewer than people playing chess on the bench nearby.   
Roubles are accepted in exchange offices (though people are surprised if someone wants to buy roubles). Citizens are relaxed and benevolent, the weather is sunny, the coffee is tasty. There is Cheburashka toy store and another one with a lion cub at the entrance – the lion cub who was singing a song together with the turtle …
There is a practical offer to film the embittered anti-Russian West of Ukraine in Lyubertsy for the current needs of the Russian propaganda. It is closer, there are more swastikas, and it is much easier for a Russian person to get hit there.