Historian Solonin: Transformation of the Soviet Ukraine into a European state is a wooden stake for Putin's regime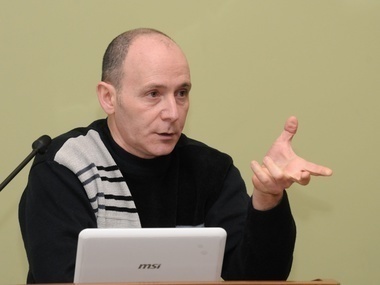 Solonin:

Russia does not need a reason for aggression

--- Stalin was attacked by fins soldiers, Gitler was attacked by the Polish


Photo: samtime63.ru
Ukraine has three options in the struggle against the Russian aggression – to become a member of the Customs Union, to fight against Russia alone or to join the NATO, the Russian historian and publicist Mark Solonin considers.
The Ukrainian question became a matter of political survival for Putin's regime, the Russian historian Mark Solonin said in the comment  to the GORDON.
"Ukraine is suffering from external aggression from Russia. This aggression may take different forms, but it will not stop because transformation of the Ukrainian Soviet Socialist Republic, the most Soviet region of the Soviet Union, into a democratic constitutional European state is a wooden stake for Putin's regime. Therefore, they will not leave you in peace. They cannot leave you in peace because it is a matter of political survival for the regime, and, considering features of this regime, political survival also means their physical survival," the expert reported.
According to Solonin, Ukraine has three options in the struggle against
the
aggressor
"Ukraine has three options: the first option is to quit moving towards a European democratic state and to become part of the Customs Union; the second option is called "fight alone", that is trying to repulse various aggressions from Russia by its own forces for many years. It is a possible option, but it is extremely difficult and very costly. And, finally, the third option is to join the powerful defensive alliance that will probably agree to help Ukraine when it becomes a member of this union. The choice is obvious, so I do not see any special difficulties in this matter," the historian declared.
Solonin considers that Russia does not need a reason for aggression
"The expression "to give a reason for aggression" is very familiar to me personally because I have been intensively studying the initial stage of World War II for the last 15 years, I have written many books about it. It may be called a bad or malicious joke if we forget that such a "joke" was followed by tens, hundreds and thousands of people killed. The aggressor does or does not do certain actions based only on his own interests. Aggressors never needed special reasons, neither in the modern world, nor in the past. If there were some, they were revealed. Comrade Stalin was shot by Finnish military men; Hitler was attacked by enraged Polish soldiers. This was done very easily, and in the modern world we immediately see journalists of absolutely "objective" "Russia Today", "Life News", etc. We should forget the meaningless expression "to give a reason for aggression" because it is a senseless stack of words," Solonin summed up.