Blogger Stepova: They say in Donbass: Damned Putin promised to take us in, so why does not he pay salaries and pensions?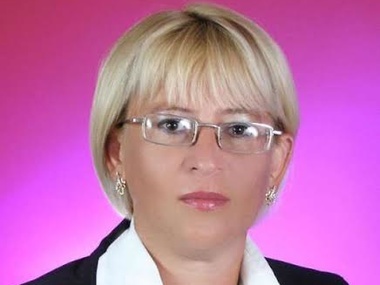 Olena Stepova
Photo: from the personal archive
The resident of Lugansk region blogger Olena Stepova commented in an exclusive interview for
GORDON

how the war in Donbass began and what inhabitants of the region have now.
By Ksenia Putovaya
Olena Stepova is one of the most famous Ukrainian bloggers who was observing the origin of the war in Donbass and sharing her impressions about the events on the Facebook; she told the GORDON edition about the real reasons of pro-Russian sentiments in depressive cities.
Lyudmila Ulitskaya immediately took to taking care of me
– Those events that you describe in your blog – is it fiction or a diary?
– When I started writing about the ATO, these were documentary notes and personal observations. It is not about Ukraine, Lugansk region or Donbass, but about my environment, about people whom I know personally, who died or survived.
– What was the reaction of the fighters from your region to your posts? Did they try to find out who stands behind the alias of Olena Stepova?
– The stories enraged them. And they found it out rather quickly – I was let down by my godfather. A clever and competent IT-specialist who at some point became very religious and took to Orthodoxy.
– Why such extremes?
– Because of juvenile justice – there was a horror story two years ago: allegedly, children will be taken away and adopted in the West where they will be raped by the guardians. This gossip came from the local church of Moscow patriarchy; a group of mourners were walking about the town raising money for the fight against juvenile justice. And my godfather fell under this influence, he did not even listen to any arguments, that the Verkhovna Rada was not even going to draft such a law. And he was one of the first to join volunteers, having decided that Russia is a stronghold of Orthodoxy. After it our families lost touch because all meetings ended with quarrels, but the godfather knew who was behind the alias of Olena Stepova.
– Did not he disclose you?
– He regularly called after each post and said, "You had no right to write it." Once he informed against me at the commandant's office. But I am well known in Sverdlovsk as a human rights activist, I helped with pension formalities for 90% of miners and war children. People recognized me and stood up for me.
– Thank God, separatists did not beat you …
– Well, nearly … I got some. We have not talked to my godfather ever since, we did not tell anybody about the treachery, we just cried a little with my family and it passed. Then it turned out that the godfather was brought products from Ukraine at the time of hunger, then he and his wife went to Kharkov to apply for financial support as a large family. As a result, he runs about with a machine gun defending Russia, but receives money from Ukraine.
– Who helped you to publish the book "Everything Will Be Ukraine"?
– The writer Lyudmila Ulitskaya and her fan club. At some point I wanted to write only in Ukrainian as a protest, but Russians read my posts hysterically, and I decided that, probably, it is my mission. I wanted people there find out what was happening in our country.
– Did Russians read your posts?
– They are more active than compatriots, they comment and attack in personal messages more aggressively. Once I received a message from Lyudmila Sum, the head of Lyudmila Ulitskaya's fan club; she reported that the famous writer read my posts. She was surprised that there is another city of Sverdlovsk, except for nowadays Yekaterinburg. And my manner of describing images was close to the popular author. "They are very lively, as in the cinema," Ulitskaya said. The writer immediately took to taking care of me, Russians collected some help and transferred it to Gukovo. Then Ulitskaya's fan club paid for my book "Everything Will Be Ukraine" that was published with small circulation, only 1000 copies, and the Dukh i Litera publishing house made its layout.
– Do you cooperate with Ukrainian publishers?
– It has not worked out so far because most of the contracts suggested selling copyright for nothing, for three thousand hryvnias; the price was explained with the phrase "you still need to buy bread for something". My friends from the Facebook helped to publish the second book – "Everything Will Be Ukraine. Stepova's Stories from the ATO Zone".
Customs officers and frontier guards have let Russian weapon pass to Ukraine since February
– Why did you start writing about the war?
– I started soul-searching in July when I became aware of the catastrophe. It seemed then that if you find the first brick, you will manage to stop all the troubles. Everybody was looking for the reason of the war in the past.
– In the distant past?
– No, and I understand only now how blind we were. The daughter came from school with gifts from the Party of Regions on September 1, 2010. There were a ruler, a pen, a notebook, and a record book in the bag, but the point was that there was no Lugansk and Donetsk region on the map of Ukraine in the record book. Then we thought it was a typo. We laughed, children took pens and drew the missing territories and put dots for Lugansk and Donetsk. We should have cried then.
– Did you remember other events that made you think?
– The war has taught us to pay attention to signs, to analyze even minor events. Our border city lived on smuggling. Smuggling disappeared for some period of time, frontier guards and customs officers looked sad. Suddenly, on the eve of March 8, Sverdlovsk jewelers nearly went crazy: customs officers and frontier guards made orders for very expensive and exclusive gold jewelry – gifts for wives and lovers. And the amount was so big that jewelers had to rent special equipment! There was no smuggling, but security officers were all wearing gold. Only in June volunteer fighters told me that customs officers and frontier guards let Russian weapons pass to Ukraine since February.
– And what was the destiny of these frontier guards and customs officers who actually sold the country?
– There was a rotation, and they were sent far inland.
Blood of Donbass children is on Farion's conscience
– Observing the situation from inside, do you understand why people in Donbass massively took up the idea of separating the country?
– They took it up where people live in poverty. Snezhnoe and Torez is a gloomy, dusty, military, Soviet place. Poor Antratsit with very high unemployment rates became a Cossack stronghold. People in these cities have not seen progress for decades: killed cities, no prospects,    destroyed schools, bad roads. Miners working in a coal-face trying to pay for the child's higher education and to push him out of these places into a better life. Yes, there were very strong pro-Russian sentiments there and people met Cossacks as liberators.
– What idea pushed inhabitants of these cities to a revolt?
– Why does nobody notice that people in these cities did not speak about ideology? There dreamed of sausage, salary and stability. It was not ideology, but social vulnerability that was speaking in people. Residents of poor cities were attracted by an illusion of the great country.
– How was such a mirage formed?
– Regional TV in Donbass extensively broadcast Russian channels. People saw on TV that Putin flies with cranes, Putin dives, Putin dives out – a beautiful picture of the dawn and greatness of the mighty country. And residents of Donbass towns, who felt unnecessary in their home country and were often hinted that they were outcasts, believed that are needed in Russia after annexation of the Crimea. They waited that everything would pass as in the Crimea: a referendum, Russian soldiers, Russia, pension, and sausage.
– And who do you think staged the revolt?
– Party of Regions supported by the Kremlin, and Irina Farion. She is not even an irritant, she blew up Donbass like a bomb. Blood of Donbass children is on Farion's conscience.
– But for her spring attacks against inhabitants of Lugansk and Donetsk regions, would the reaction of Donbass have been more reserved?
– One should not offend the nation, one should not look for an enemy inside the country what Farion did. She began to divide Ukrainians into white and a little dirty. Yes, I speak Russian, but am I not a Ukrainian? I am a nationalist, too, I believe that Ukraine as a sovereign state has huge potential, both spiritual and industrial.
– Did Farion's speeches offend you, too?
– Donbass that Farion called lowbrows also includes Tanya Konoval, the honored Easter egg painter of Ukraine, Krinichenka international festival of Ukrainian songs, the poet Ivan Nizovoy, are all these people also eyebrows from Donbass? Russian mass media broadcast Farion's statements day and night, demonstrating fascism in Ukraine by this example. However, not a single Ukrainian deputy interrupted and said, "You should not speak like this, it is our nation!"
– How did the uprising evolve in your city?
– Separatism was supported by far fewer people in Sverdlovsk than in Antratsit or in Gorlovka. Many miners from Sverdlovsk went to earn their living in Russia in the 1990s when there was unemployment all around – it is only 15 minutes by car from us to Gukovo. When separatist disorders began in the spring, miners were the first to say, "You morons, have you been to Russia at least once, have you worked there? They do not treat us like people there – we were given the hardest and the most dangerous work and were paid less than locals. We have always been lard-eating Ukrainians there. Enterprises are in a worse condition than ours there, there is no modernization in Russia, while we have modern harvesters and Japanese equipment in the mines." And understanding of the real situation in Russia kept miners from mass revolts.
– How many miners took the arms?
– Only 8 out of 250 people became volunteer fighters.
– Did only miners estimate the "greatness" of Russia correctly?
– No, businessmen and doctors lived off Russian buyers in our border city. Russians called suppliers from Sverdlovsk on the pay day and ordered boxes of products. They bought socks and tights from Rubezhnoye, sausage from Rovenkovo, butter from Poltava, Roshen candies, not to mention vodka and beer. The reason was that our products were better and cheaper, and, what is the most important, of much higher quality, than in the "brotherly" country.
– Is it patriotism that speaks for you?
– No, the consumer. During the dead occupation when separatists prohibited businessmen from going to buy goods in Kharkov and layers in the shops and markets were empty, we had to buy up things from Russia. We bought everything for the most affordable prices, then all my fellow countrymen tastes Russian macaroni and toothpaste – it was disgusting not for patriotic reasons, but simply because it taste terrible. And the linen became dirtier and skin peeled off the hands after washing clothes with the cheapest Russian washing powder.
– Did Ukrainian doctors earn money from citizens of the neighboring countries?
– Many Russians came to Sverdlovsk dentists, the cheapest filling cost UAH 250 in Ukraine, and it  cost no less than $100 in Russia. That is why over 50 dental offices and clinics worked in the city before war. And our opticians prospered at the expense of Russians.
– Who originally took up the idea of separation of the country?
– Elderly women, half-drunkards, marginal people and fat women drinking vodka from the bottle initially came to the demonstrations. There were hardly 500 people coming to the square of a city with the population of 72 thousand. At first, all demonstrations beginning with the mayor's speeches about Vladimir Putin and "the Russian world" ended with the demands to dismiss the mayor of the city that does nothing in Sverdlovsk.
– And how comes that separatist sentiments spread out?
– One day all Ukrainian channels were switched off. Only Russian television was working, loudspeakers turned on in the streets as in the Soviet times, and there were announcements about great Russia. Local newspapers with provocative headings tuned in, "The Ukrainian government cancels pensions and benefits for miners", "Possible hunger in Ukraine" …
– Who was spreading panic and anti-Ukrainian sentiments?
– City authorities, the Communist Party, propagandists from the Party of Regions worked actively, heads of enterprises and mines owned by Akhmetov. They told employees that the oligarch Igor Kolomoysky formed and armed battalions to take away miners' property because people in Western Ukraine live in poverty. They also suggested creating self-defense units and to protect mines.
– Do fighters still believe in this myth?
– They are not alive, almost all of them were killed, only the most cunning ones remained alive who were not fighting but recruiting. Originally, "LNR" representatives were standing at check points without weapon and protected the Lenin monument. Once there was a rumor at the mines that Right Sector members were coming to pull down the leader of the proletariat. Miners rushed there immediately, they did not find any Right Sector members, only some strange drunk people in camouflages who were drinking vodka from the bottle, pissing on the lawn and the Lenin monument. Uninvited guests were dressed poorly, unlike local miners sparing no money for good jackets and footwear. Drunk and poor – obviously, Right Sector members. Miners beat them, pushed them in a bus and sent them home for treatment. It turned out that they were Russian Cossacks who arrived to protect Donbass from the Right Sector. Where do you see separatism? There was local patriotism warmed up from all sides.
– Could this uprising be suppressed?
– Yes, people from the first wave of volunteer movement acknowledged later that the disorders quickly would have come to an end but for Russia and its weapon. They were standing at check points with St.George's ribbons and bludgeons. And then they were given machine guns and guns – they were hired to volunteer fighters upon producing of a passport copy. Then Russia started bringing camouflages and heavy arms. It should be admitted that everything started as a civil war before invasion of the Russian army. After all, one people – citizens of Ukraine – took the arms and rose against other citizens of the same country.
All snakes from the region came to the gully with Chechen fighters
– I noticed your observation that even the land was against war …
– I have a very reverent attitude to the land instilled by my grandfather and grandmother from Poltava region. There is a vegetable garden, a garden, a kennel and even part of the steppe with wild herbs on my 0.06 ha plot. When the war broke out, strange things began to happen: water left those places where Russian soldiers were sitting in entrenchments. It was very hot in the steppe, Cossacks, Ossetians and Chechens fainted from thirst. And several days after shelling the ground suddenly started shaking, it was like an earthquake, there were strong landslides and landslips in mines.
– Did only land opposed war?
– And animals. Chechen fighters settled down near the village of Aleksandrovka in a cool gully with a well. Nobody saw the invaders, but they could see everything and open fire. All snakes of the region came to that gully. My godmother climbed to the roof out of fear, and then she told that the reptiles were crawling there paying attention to nobody. Chechens were alarmed and opened fire –then they left the village and did not even take three antiaircraft guns out of the gully.
The trouble of Donbass is that it does not admit its guilt for the war
– When did you understand that the Russian troops are fully involved in the war?
– First it was very hard to understand where the city and the settlements were fired from. But relatives and acquaintances from Russia suddenly started calling and writing in the social network that soldiers had arrived and Katyusha rocket launchers had been brought (they were civilians and did not understand what kind of equipment it was) and installed near old abandoned mines on the hills. How many lives simple Russians saved us! All inhabitants of the border village of Gukovo know that Russia was at war against Ukraine. And when I had to go there to buy products during the occupation – there was absolutely nothing in Sverdlovsk – average Gukovo residents, on learning that I came from Ukraine, said, "We prayed for you, we heard them killing you, it is our soldiers shooting at you."
– Do people in Gukovo largely support the policy of the Kremlin?
– No. When there was a separatist revolt, Gukovo residents were perplexed, "Why do you want to Russia if you live better?" There are hospitals, maternity hospital and schools with excellent repairs and modern equipment in Sverdlovsk. Then pro-Russian refugees rushed to them; they took humanitarian aid, sold them in the markets, and bought alcohol for the money earned. Refugees all wearing gold, driving luxurious cars, lived in grand style, and renting expensive housing.
– It is calm in Sverdlovsk now, there are no large-scale fights. What is happens in the city and with the people?
– A period of understanding began in the occupied part of Ukraine. People saw an abyss, not a virtual, but a real one. Those who were in a pro-Russian euphoria (pro-Ukrainians understood everything long ago and knew how it would end), "are waking up". They ask Cossacks, rebels and representatives of the commandant's office, "You promised that everybody would live better, and it turned out that only you and your families live well, and all the others starve and die, and old men hang themselves? What's next? Why did everything collapse?"
– Elena, did your pro-Russian fellow countrymen assume the responsibility for the events after they realized the scale of the disaster? It would not have happened if they did not call Russian troops and war as a result.
– They do not have understanding that they are to blame – it is the trouble of Donbass. Pro-Russian population makes surprising conclusions. Those who are completely zombified – they are not many – blame Ukraine, Poroshenko, Obama, Europe, and black people on the tanks. Others – and this is a majority – say, "Damned Putin is to blame. He promised to take us in from May. So why does not he pay us salaries and pensions?" And though nobody has heard such speeches or promises, many Donbass inhabitants drew such conclusions.
– Does the distorted perception of reality exist only there?
– Alas, no. Here, in Kiev, I am told myths about Donbass as we were once told tales about Ukraine. They do not correspond to the reality; there is no real picture of the events. For example, cancelation of pensions hit the poorest, old and disabled people, and it did not concern real separatists. Fighters still receive money in Sberbank of Russia, and miners of Akhmetov's mines receive it in the PUMB bank.