People's deputy from the People's Front Vysotsky: Reliable foreign experts should be invite to the government rather than "ski instructors"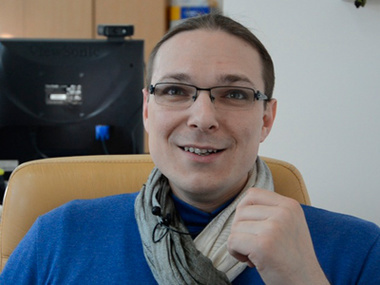 Sergey Vysotsky


Photo: telekritika.ua
The journalist and deputy from the People's Front Sergey Vysotsky considers that the idea of inviting foreigners to governmental positions will mean acknowledgment of our own infirmity but if there are no other options, they have to be qualified professionals.
The political analyst and deputy of the Rada of 8th convocation Sergey Vysotsky admitted in the comment  to the GORDON that he does not support the idea of inviting foreigners to public administration.
"Top managers, experienced in carrying out reforms, such as representatives of Georgia can probably become part of our government. However, from the philosophical point of view, I do not support the idea that Ukrainians will not be able to cope themselves. If we invite foreigners to positions in the Cabinet of Ministers, we acknowledge our infirmity unless the foreigners hold positions of consultants and strategic planners. However, if there is no choice and we admit that we will not cope ourselves, maybe, there is a kernel of sense in it if we speak about Georgians and Balts," Vysotsky considers.
In his opinion, it is worth inviting only prominent, experienced and qualified specialists to the government
"But they must be real foreigners with experience of carrying out legislative and complex reforms that are able to prepare a set of bills and codes. We do not need "ski instructors" a la Kaskiv anymore (scandal of 2012 when the Agency for National Projects headed by Vladislava Kaskiv signed a contract for construction of an LNG terminal with a representative of a Spanish company that later turned out to be a ski instructor. – GORDON). We already have such experience when a foreigner worked in the field of foreign investment, then it turned out that this "investor" was a ski instructor and a figurehead," the journalist stated.
"We had Hungarian investment into Naftogaz, and then it appeared that it was Gazprom. Now a Dutchman allegedly buys Stavitsky's chain of fuel stations, but it turns out that he is not a Dutchman, but just a dummy. If we have such foreigners, we'd better not have them. And if they are real people the level of Kakha Bendukidze and everybody knows that they are reliable people with rich experience, then they can be considered," Vysotsky noted.
"Certainly, foreigners cannot bear political responsibility. And there is a question how it will be presented. Frankly speaking, I am confused. These are not our candidates, but we seemingly have our prime minister. I think that all this will have to be explained to us first of all, and then to the citizens," the journalist considers.