Volynko: Miners in "DNR" are fighting for food. They have already got involved so they have no way out now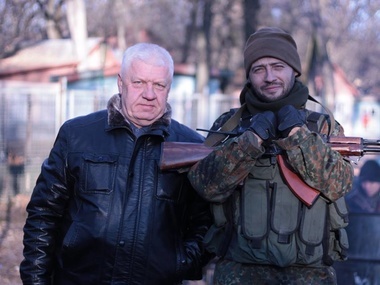 Nikolay Volynko with one of the fighters of the Tornado battalion in which the miners fight. But for these guys who fight in the battalions and military units, Donbass would have been surrendered like the Crimea.&a
Photo: Independent Trade Union of Donbass Miners / Facebook
The Chairman of the Independent Trade Union of Donbass Miners Nikolay Volynko explained in an exclusive interview to the GORDON who is to blame for the energy crisis in Ukraine, how mine directors support terrorists and why miners could not protect Donbass.

 by Tatyana Orel
The war in Donbass could have finished without even having started if miners, who are commonly considered harsh-tempered due to the difficult and dangerous profession, had shown their character. Many people think so because they remember miners' strikes that began during perestroika. Miners knew how to demand, and the power usually met their requirements: they produced real black "gold" without which the coal-based economy would not survive.
And it does not survive today. Due to the fact that the majority of Donbass mines are situated in the occupied territories, there is a huge lack of fuel in the country, and even Ukrainians who are far from economics could feel this. Today, with several emergency blackouts several a day Ukraine lives according to the schedule that is binding for everyone – both managing directors of large companies, housewives, and students.
Whereas economists have a counterargument to the hackneyed motto "Donbass feeds everybody!" they have nothing to say against the fact that it will depend on Donbass whether there will be light and heating in Ukraine. But the majority of state mines that remained in the occupied territories of Donetsk and Lugansk regions do not work, and the coal stored in warehouses was not taken out. Coal is now imported from the other end of the world – from the Republic of South Africa. It is expensive and very time-consuming. Besides, the South African coal was unsuitable for the Ukrainian thermal power plants according to the Prosecutor General's Office.
If the miners had known in the spring 2014 what turn their tacit approval of separatists will take… If they had found strong words that the proletarian lexicon is so rich in for the provokers who were shouting during the demonstrations that "the Kiev junta" will close mines and about high Russian pensions and salaries… Alas, history has no subjunctive mood. The mines are really closed and flooded with underground waters now. Houses are destroyed. People were killed in many miners' families. There are no salaries.
Donbass does not only "feed everybody", it cannot even feed itself now.
The leader of the Independent Trade Union of Donbass Miners Nikolay Volynko, who has headed it for 20 years, appealed to the Ukrainian government from the first days of disorders in Donbass that miners should be given guns to protect the region. Kiev did not dare do it. But miners took up arms all the same: they are fighting on both sides now. The destiny preserved them underground, but the war can multiply casualties among the miners.
Nikolay Volynko considers that the current Ukrainian government, as well as the previous one, is only busy with "the battles for parliamentary and ministerial chairs", but does nothing to finish war in Donbass.
The other day, the ITUDM published a statement on the Facebook ending with the words, "We do not want to believe in a corruption interdependence between the new and the old Ukrainian power but if the situation persists, there will be a third and a much more bloody Maidan that will "knock out" both the old and the so-called new government".
The trouble for Ukraine is that it is ruled by people who do not need it
– Nikolay Nikolaevich, there is so much to discuss with you, but let us begin with the most relevant topics. Can Ukraine do without Donetsk coal?
– I would begin with another question: who is to blame that Ukraine has remained without coal? We can import it from the Republic of South Africa, from Australia or from New Zealand but why did we lose our own coal? I warned officials at the highest level in the summer that it was necessary to get prepared for this situation. Coal should not be bought from the terrorists – it should have been taken out in time. The coal that was extracted and paid long ago, it is stored in "DNR" and "LNR" storages. Nobody listened to me. Who will be responsible for this blunder now? Besides, coal is not taken out even from the mines which are in the Ukrainian territory where there are 800 thousand tons of coal.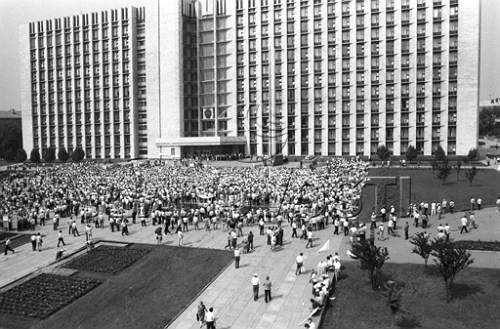 1989. Miners had numerous strikes in front of the building of Donetsk Regional Administration that is seized by the "DNR" terrorists today. Photo: Independent Trade Union of Donbass Miners / Facebook
– Why is not it taken out?
– You should ask the management of the Donetsk railroad. It is sabotage.
– Does not anybody except you understand it? If there were people responsible for the purchase of low-quality coal, such sabotage cannot be a secret, too.
– Do you know how much coal intended for Kurakhovsky thermal power plant is stored in Selidovugol? And for some reason they refused to take it. It is common for us: when you say that a person behaves as an enemy, you must still prove it.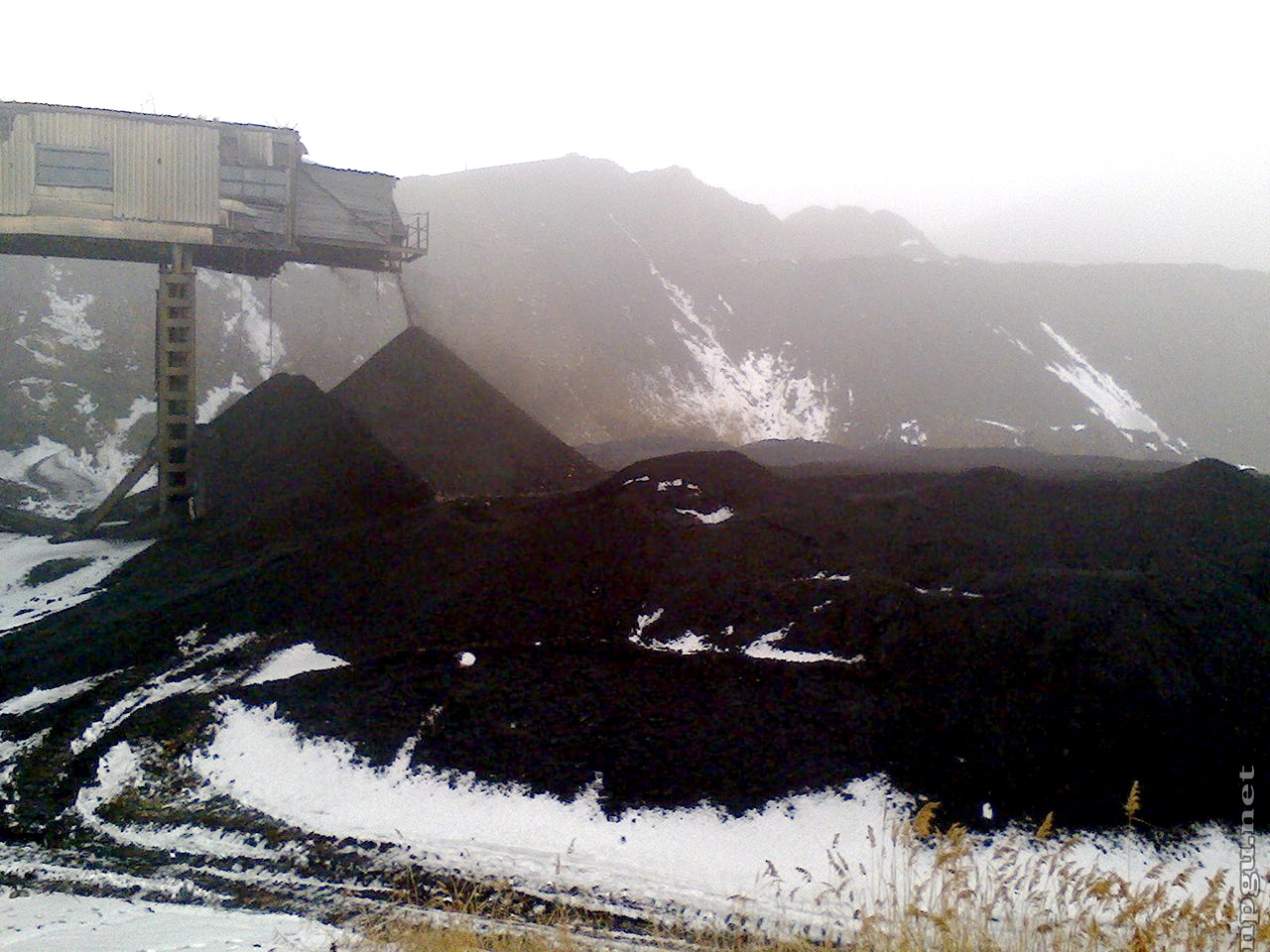 Nikolay Volynko: "Coal should not be bought from the terrorists – it should have been taken out in time. The coal that was extracted and paid long ago, it is stored in "DNR" and "LNR" storages. Photo: Independent labor union of miners of Ukraine / Facebook
– Can it be that the coal from the Republic of South Africa is absolutely unsuitable?
– Only power engineers can tell it. There are certain indicators that determine whether coal is suitable for a thermal power plant or not. But I understand that the decision on the purchase was not made by one person, and they are now looking for a scapegoat. They did not want to take out our coal that is so near, and they wasted a lot of money. Let the president and the prime minister be held responsible for it. The trouble for Ukraine is that it is ruled by those who do not need it. It is the nation that created the army, it arms, feeds, and dresses it. And where is money allocated from the budget?
– Our budget was not ready for war …
– People are ready for everything, and the government was not ready? They are even afraid to say that we have war. They are afraid to offend Putin.
– But Maidan trusted these people, voters elected them at the presidential and parliamentary elections. Ukrainians had a bitter lesson with Yanukovych and they cannot be fooled anymore.
– And is the country in such a mess? We warned in the recent statement of the Independent Trade Union of Donbass Miners that people's trust credit to the government is almost exhausted. Why are Yanukovych's people still not deprived of their mandates? Why are Efremov, Kolesnikov, Levchenko, and Ivanyushchenko not arrested yet? Members of the Party of Regions raise their heads again. Some mine directors finance "DNR" and "LNR".
There are many examples when miners who fight for the terrorists are paid their sick-lists. I said in the Ministry of Fuel and Energy long ago that, in particular, the director of the Russia mine that is part of Selidovugol State Enterprise is involved in it, but this person has not been dismissed yet. When the war is over, I will do my best to check the disabled people who allegedly fight for the idea and receive money from Ukraine.
– Do many miners fight for "DNR" and "LNR"?
– I do not know exact figures but when fighters were recruited in the mine in Pervomaysk, 48 from 1300 mine workers applied. Some tearaways, they had been dismissed and hired again three or four times. People with reason do not go there.
Terrorists paid good money in the beginning, and now people are fighting for food there. They have already got involved, so they have no way out now
– Do not you know if terrorists pay them generously?
– They paid good money in the beginning. And now I receive information that they are already fighting for food. They have already got involved, so they have no way out now.
– Do many miners are fight in the battalions on the Ukrainian side?
– I will give you the following example. We announced an informal recruitment, we thought that there would be 300 to 400 people, but we recruited volunteers for three battalions. They joined the Donbass battalion later. Whatever may be told about Kolomoysky, it is thanks to his support, including the financial one that these terrorists did not approach Kiev.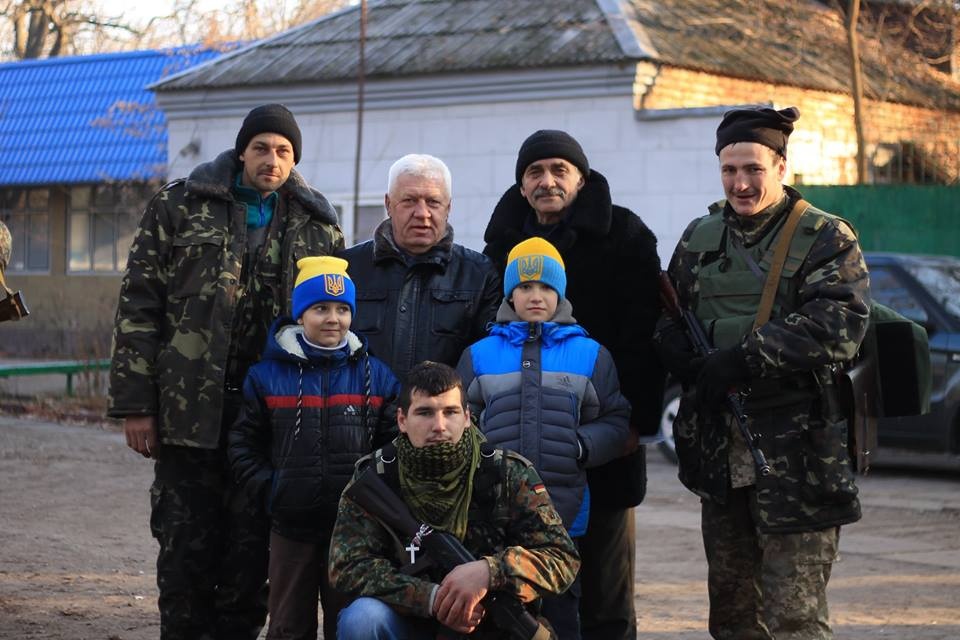 Nikolay Volynko with grandsons in the miner's Tornado battalion. Photo: Independent Trade Union of Donbass Miners / Facebook 
– The Dnipropetrovsk residents showed themselves, too: approaches to the region were initially protected by ordinary people, not by the military. It was a real people's movement. The same thing was expected from Donbass miners who have been considered harsh-tempered since the first strikes in the 90s. But the miners kept silent. Though not all – some of them even went out for demonstrations in support of terrorists. How did it happen?
– A miner of 1989 who went out to strikes, and a miner of 2014 are completely different people. The local authorities did their job.
Donbass miners believed the provokers shouting that "the Kiev junta" will close the mines. The mines are really closed now. There are no salaries. Video: semen bumbarash/Youtube
Most people told me that there was an implicit agreement at the beginning of the 1990s: the Crimea and the southeast were secured for the power and the communists, while the opposition was given Central and Western Ukraine. It is how it all began. There was such fierce propaganda that the lumpen were set against those who were for honesty and justice, creating the so-called public opinion. Many people could not stand the psychological pressure and went to work abroad. By the way, some of my friends even worked in the mines in the Republic of South Africa.
– You have left Donetsk, too. You keep in touch with the miners who remained there. How do they feel in "DNR"?
– They have already understood what is going on. I want to draw your attention to the following fact. When Slavyansk was liberated, 40 qualified psychologists from the Ministry of Emergencies came to the city. Having talked to the population, they said that we would face mass suicides without intensive counter-propaganda and explanatory work. And it is the case: there are many cases when people hang themselves or go insane even in the liberated territories. Zombification was not in vain.
– Do you consider that a miner whose work is hard, life-threatening and teaches wisdom can be zombified?
– Miners are also "population" with atrophied self-respect.
– They will not forgive it…
– And it is all the same to me. One person has told me recently, "You were right, but you did not try hard enough to convince us". I have been telling them the truth since 1989, and I am not going to wriggle. Those who work in lava have 14 "relays" a month at most, and they do not say a word.
– What means "relay"?
– "Relay" is a working day. And chiefs of the sites have 30 days a month, sometimes even with double shifts. Everyone says: "It is not my business". And these people are the first to be robbed. They did it with their silence. 
I demanded in May: give weapon to us patriots so that we could protect our homes. They did not give it.
– In one of the Shuster LIVE shows in April you said with confidence that inhabitants of Donbass are ready to protect their homes. If the miners had revolted, could the situation have evolved in a different way?
– It could have. But there is another question: did and do the Ukrainian authorities want it? I demanded in may: give weapon to us patriots so that we could protect our homes according to Article 17 the Constitution of Ukraine claiming that citizens are obliged to protect honor and dignity of the state. They did not give it.
Nikolay Volynko put the member of the Party of Regions Mikhail Dobkin in his place. "Man, do not interrupt!" April 2014. Video: SavikShusterStudio/Youtube
– They did not give it to miners, and soon a lot of dope-smoking morons with machine guns taken from local militia departments began walking around in the streets...
– Local authorities, security agencies, oligarchs – they all supported separatists. There are so many videos that confirm it, but they are still free for some reasons. What did they seize first of all? Television. But nobody prevented it. People were told about high Russian salaries and pensions. The trade union of coal workers came over to the side of the separatists; they sent buses to bring separatists to their demonstrations. If the majority supported Ukraine then, they were gradually transformed into Russian supporters.
– Ukrainian patriots who have to remain in the occupied territories due to various reasons say and write in social networks with bitterness that Donbass was actually let down…
– But for these guys who fight in the battalions and military units, Donbass would have been surrendered like the Crimea. It was a real treason that a column of terrorists were let to Donetsk. One must be executed for this under wartime laws. Someone invented an excuse that, allegedly, terrorists disguised themselves and drove civil cars. It is a lie. At least my people reported about it.
There was such an opinion that Donbass was a burden for Ukraine with its old mines, plants without upgrades whose profit was taken offshore, with a large number of pensioners and disabled people. One could get rid of it, but, on the other hand, the West could give big money for it. And there is another situation now: they gave money, but they will demand that Ukraine should protect Donbass. It is big geopolitics.
– The Ukrainian power stopped paying pensions and social benefits to the inhabitants of occupied territories, urging them to obtain the status of migrants. What is the reaction of miners who are concerned with this decision of the government?
– People understand that will have nothing to live on without housing and work. I abandoned my apartment and left myself. But I cannot do anything else – I am number one in the "DNR" lists. There is a big cross in front of my surname: not even torture, shoot at once. I am not in favor in the Ukrainian government, too, because I tell them what I think.
It is necessary to brainwash the "population". There are a lot of Russian supporters even in the Ukrainian territories. Our lawyer took a newspaper "Minors' way" that we publish to his father in Krasnoarmeysk. He refused even to take it. The son told him, "Read it, you must know another opinion, too." He read with surprise and asked if he could take the newspaper to work and show it to his colleagues. 
If the coal industry is treated like today, Ukraine may collapse
– And it is despite Ukrainian TV channels are broadcast there.
– Yes, but, for example, I cannot break through to these channels. In August, I made a speech in five channels in Kharkiv, I addressed local citizens, "There is war hundred kilometers away from you. If you do not want to live in Transnistria, do not let war to your house." And what is different in Donbass? I am a miner and there is much I want to tell to people like me. The budget of the coal industry is going to be reduced by 3 billion. I know for sure that when a miner sees that coal is extracted, people get salaries and live normal life in the liberated territories very near to him, he will drive those morons away. But the state has not paid salaries and benefits to the miners since summer. And these are large amounts of money, by the way.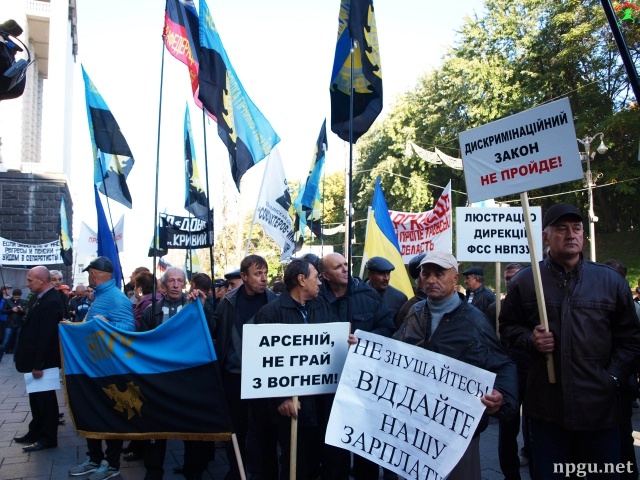 Donbass miners came to the Cabinet of Ministers of Ukraine demanding to pay debts for salaries and benefits. October 2014. Photo: Independent Trade Union of Miners of Ukraine / Facebook
– Why do miners need an independent trade union if there is so to say official trade union of coal industry workers?
– It is headed by Turmanov, a person from the Party of Regions, as well as Chairmen of regional committees who, by the way, were often local deputies from the Party of Regions. Our trade union is independent. We want to really protect the interests of miners rather than be engaged in trifles. Once when I was in England I asked the miners if their trade union gives them holiday vouchers. They burst out laughing. "Why," they said "do we need trade unions for this? We receive a decent salary and we can afford going on holiday wherever we want."
Our trade union defends the miners' interests concerning salaries and working conditions. We suggest introducing a weekly salary so that it would not depreciate. We also suggested legalizing person-based pension system. Today, pension payments go to the common budget, whereas when a person retires in the Western countries, he receives a small amount of money plus contributions from what he has earned throughout his life. After his death, lineal heirs receive 75% of this sum for 20 years. And our new democratic government proposes to adopt a new code of labor laws that is no different from what the Party of Regions proposed. And it means humiliation and destruction of trade unions. If the government does not begin real reforms, a third Maidan is not far off.
– And we will survive the winter without Donbass coal?
– I hope we will survive the winter somehow. And if the coal industry is treated like today, Ukraine may collapse. But the main thing for the time being is victory.