Lozhkin has donated a high-end anesthesia ventilator to the Kyiv hospital No 15 to treat coronavirus patients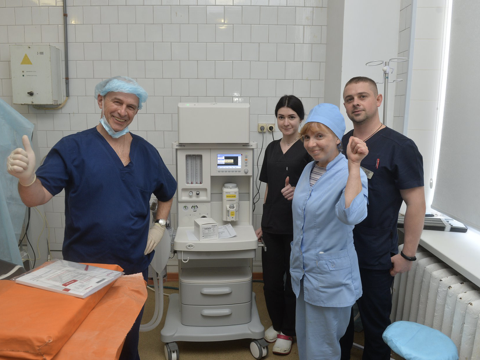 In case of peak employment, the ventilator could help any patient in critical condition
Photo: Борис Ложкин / Facebook
Boris Lozhkin, President of Jewish Confederation of Ukraine, gave over to medical professionals an apparatus built by up-to date anestheological architecture with intellectual system for air supplement management.
President of the Jewish Confederation of Ukraine Boris Lozhkin and his wife Nadiia Shalomova have donated to Kyiv Clinical Hospital No 15 a high-end WATO EX-20 anesthesia ventilator, which will allow the doctors to provide effective medical care to patients in the moderate and severe stages of the coronavirus disease.
"The level of hospital equipment availability during the coronavirus epidemic has a decisive influence on the effectiveness of medical care. Therefore, the support of clinics and doctors is so important," wrote Lozhkin on Facebook.
This equipment uses the latest architecture for anesthesia supervision, with an intelligent accounting system for the required volume of air. WATO EX-20 allows maintaining the respiratory function of patients of different ages, including children. This flexibility is of great importance, as in case of peak loads on the intensive care units, the equipment can be used for any patients who are in critical condition, emphasized Lozhkin.
"A significant advantage of the equipment is its ease of use. Hospital doctors will be able to learn to operate it in the shortest possible time", wrote President of Jewish Confederation of Ukraine. 
Last March, Lozhkin and Shalomova handed over protective overalls, next generation respirators, goggles and disposable gloves for protection against coronavirus to the Prof. O.S.Kolomiychenko Institute of Otolaryngology by the National Academy of Medical Sciences of Ukraine, Lozhkin announced on his Facebook. 
Coronavirus disease outbreak started in later 2019 in China. World Health Organization declared it a pandemic on March 11.
According to American John Hopkins University data, there are more than 2.97 infected persons in the world, 206.5 thousand people died and more than 868.4 thousand recovered. 
As of April 27 morning there are 9009 confirmed COVID-19 cases in Ukraine. 220 people have died of it and 864 patients have recovered.