Ukrainian artist Mike Renard presented a new work at an exhibition in Slovenia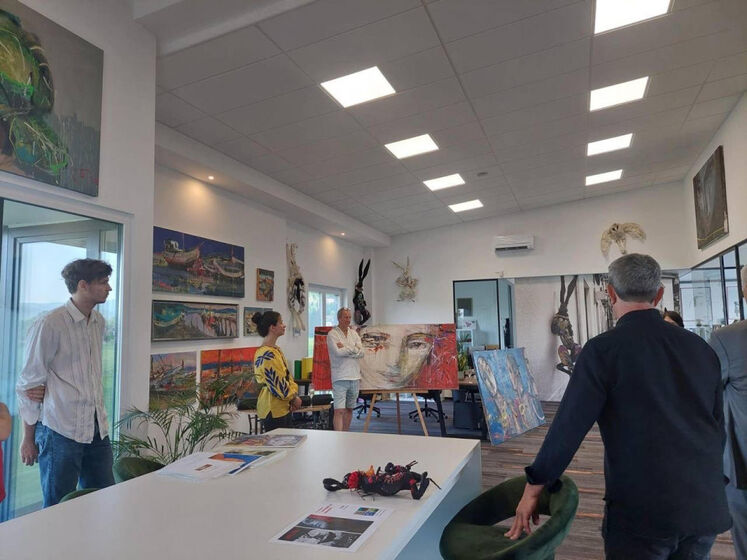 The exhibition in Vrhnik will last three weeks


Photo: espreso.tv
May 27 in the settlement of Vrhnika (Slovenia) opened an exhibition and sale of paintings and sculptures by artists from Ukraine. Espressoreported on June 3 that the event was initiated by the Ukrainian artist Eduard Belskyi and supported by the Embassy of Ukraine in the Republic of Slovenia.
Half of the funds raised from the paintings sold will go to the charity fund, which distributes them for humanitarian aid to Ukrainians affected by the war. In addition to the works of Belskyi, the exhibition presents paintings, sculptures, products made of felt wool of his wife Ekaterina.
"There are also works by other outstanding artists – Ihor Nesmiianov, Natalia Kosenko and others. The real pearl of the exhibition is a bronze sculpture of Ukrainian artist Mike Renard called The BIG, which is a model of bilateralism: from one angle you can see the head of an elephant, from the other – a dinosaur", says the message.
Mike Renard said he had a certain symbolism in his work.
"The elephant is the largest animal of all known to walk the earth today. And the brontosaurus is the largest animal of all that ever existed on our planet. This sculpture allows us to think about the question: what can we do to prevent elephants from repeating the fate of dinosaurs? And more globally – it touches on topical issues of conservation of the environment and wildlife in particular",  explains the artist.
The exhibition in Vrhnik will last three weeks. Those wishing can visit the exposition and select a work or do so with the help of the online catalogue. 
"This is not only an opportunity to acquire one of the quality works of contemporary art, but to support Ukrainians in their fight against the enemy," emphasizes Espresso.