Lubkivskyi: If Putin wished to stop the conflict in the east and aggression against Ukraine, the border would have been blocked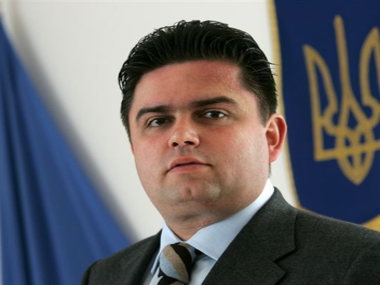 Lubkivskyi: The trouble is that terrorists observe neither truce nor cease-fire
Photo: slovoidilo.ua
All acts of terrorism taking place in the territory of Ukraine are directed and coordinated from the Kremlin in order to destabilize the situation and spread panic, fear and uncertainty among people, the Ukrainian diplomat, Ambassador Extraordinary and Plenipotentiary, Advisor to the Head of the Security Service of Ukraine Markian Lubkivsky said in an exclusive comment for the GORDON.

      Alexey STUKALO
 – Markian, judging by Putin's latest statements, according to a number of experts and political analysts, Putin is trying so to say to squeeze "Novorossiya" back into Ukraine. Do you have the same impression?
– Nothing should be squeezed in because the so-called "Novorossiya", "DNR", and "LNR" are illegitimate formations and we have never considered them as subjects. These are our territories, these are Donetsk and Lugansk regions.
If Putin wished to stop the conflict in the east and aggression against Ukraine, the border would have been blocked long ago. A sign of Putin's intending to squeeze "Novorossiya" back would be closing of borders. It is not observed so far. Certainly, they would also assist all those kept by bandit formations in the east in their returning to Ukraine.
– Is Ukraine ready to exchange captives following the "all for all" formula?
– I am trying to be optimistic about the question of exchange of captives. There are serious plans. Ukraine is ready to carry out a large-scale exchange following the "all for all" principle. But it is important today, that the other side should be willing to do this, too, and that such an exchange should take place. We deal with these questions 24 hours a day, and I hope that there will be good results in the nearest future.
– Will the truce bring peace? How long can "the cease-fire day" last?
– Ukraine sticks to the principles of truce and cease-fire, but the trouble is that the terrorists observe neither truce nor cease-fire. It is the greatest problem. From our side, Ukraine fulfils its obligations even under conditions of tough criticism for the attempts to observe the truce. I have always been quite sceptical about the negotiability of "DNR" and "LNR" fighters, so I do not believe in the day or week of cease-fire.
– There is an increasing number of acts of terrorism and diversions in Kharkiv and Odessa regions. How does the Security Service fight against it? Who can stand behind such diversions?
– It is clear that all these acts of terrorism or diversions that take place in the territory of Ukraine are directed and coordinated from the Kremlin. The objective is very simple – to destabilize the situation in Ukraine, to spread panic, fear, and uncertainty among people, and, accordingly, to set people against the legitimate government, to undermine the situation in the regions that are pro-Russian according to the estimates or plans of Kremlin analysts.
Russia is trying to destabilize Kharkiv and Odessa regions. But there are attempts to go further: Zakarpatye, Chernivtsi, etc. It is a very well-coordinated system. Lines of attack are agreed. It is done intentionally to make Ukraine a territory of fear. An explosion here, an explosion there.
We do our best to fight against it. We neutralize many diversions, there could be much more of them. The security service works very actively every day, we confiscate a lot of weapon, explosives, and plastid.