GORDON editor-in-chief Batsman: Articles eulogizing Putin and his regime are an extremely profitable business in the West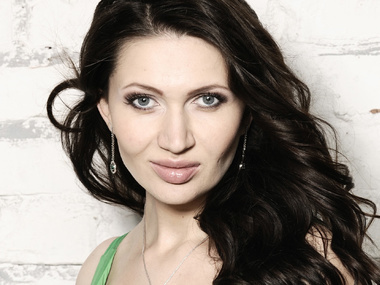 Alesia Bacman
Photo: Gordonua.com
GORDON e-edition has turned one year. The editor-in-chief of the "GORDON" said who of the colleagues became models for her when she was launching the project, what is the difference between the secret kitchen of her site and Savik Shuster's program which Alesya was an editor, and what the Ukrainian politicians and journalists need to do first of all to save Ukraine.
By Inga Lebedeva, Journalist
It was exactly a year ago, on November 22, that the public and political edition GORDON appeared on the Internet. The founder of the project was the famous Ukrainian journalist, writer and TV presenter Dmitry Gordon, who has headed Gordon's Boulevard weekly for almost 20 years.
The first material of the new e-edition was an online report from Euromaidan that had just started then. GORDON ranked among ten most popular and frequently visited Ukrainian electronic resources for one year of existence in the media market. According to the founders of the project, no money was spent on advertizing or on additional promotion of the site – hitting the top-10 of Ukrainian mass media was possible thanks to the readers' interest.
The most difficult thing was to gather a team of professionals who would provide high-quality information product without any breaks
– The Internet edition turned one year, I congratulate you and your team. What results can you sum up?
– GORDON has occupied leading positions among Ukrainian political e-resources for one year. We are among ten most popular Ukrainian mass media according to Hamburg assessments. Every day 200 to 300 thousand users read us: unlike other resources, we do not hide our counters intentionally so that any person can check my words. Our readers come from 163 countries apart from Ukraine. Our exclusive reports are constantly republished by a number of other editions. It is especially pleasant when they do not forget to cite the source when doing so.
– What was the most difficult thing when creating a new e-edition?
– To gather a team of professionals who would provide high-quality information product without any breaks.
– I expected you would say to outperform other e-resources...
– When we were only developing the concept of the site, I shared ideas with my colleagues. Many of them assured me that all niches in the Ukrainian media space are occupied, and enormous financial injections will be necessary for promotion of a new resource and brining it among the leaders of the market. But the reality proved that everything is possible if there is a purpose, desire, professionalism and a cool team.
A year later the guys, who convinced me of hopelessness of the idea, admitted that they were wrong. One famous Internet marketing specialist, a top manager of a large media holding told me that, when he delivers lectures on startups, he cites GORDON as a unique example how it is possible to started and break through into top ten with a modest budget.
– How did you manage to promote the site if you had a modest budget?
– GORDON is a purely journalistic project. Technical realization and design of the site (I am especially grateful to Ivan Turuk and his team for this), creation of the administrator's version, purchase and rent of servers, payment for a domain name did not cost much. The main item of expenses now is daily maintenance of the site and paying salary to employees: they are high at our edition.
There was no money for a powerful PR campaign: we did not publish either TV commercial or billboards, or online banners. We attracted the readers with high-quality news, exclusive comments, and interviews.
– How did the readers learn about you?
– First of all, it was through the word of mouth and social networks: we shared links to our news on Dmitry Gordon's personal Facebook page. The page had less than 10 thousand subscribers a year ago, and now it has 82 thousand people. Besides, all the editorial staff shared articles on their pages. Actually, the first visitors of the site came from social networks: materials were reposted one by one, people learnt about us more and more.
The launch of the Internet resource coincided with the unique period in the history of Ukraine, Maidan. Naturally, the society had an increased demand for information. Do you remember that even the most apolitical person fell asleep and woke up with a laptop or a remote control in the first months of all this nightmare? Those who visited our website for the first time remained there and recommended it to his or her acquaintances. The main secret is that we could meet the readers' demand for objective, timely, honest and professional news and, which is also important, to provide prompt expert analysis of "people in the know".
We never let down our readers and proved that they can trust us. For example, one and a half or two weeks after the launch of the site, the Russian TV channel "Dozhd" that was initially covering events on Euromaidan even in more detail than the Ukrainian TV, started referring to the information of our correspondents in their reports. Then it was clear: we are on the right track.
I am a lucky editor-in-chief because I do not feel pressure of the publisher and sponsor of the project
– What is the main difference between your e-resource and the others?
– GORDON has two equivalently important components: news feed and author's journalism. We and Korrespondent publish most news among top political electronic mass media today. We have efficient and strong news section, we gather information from all around the world.
A characteristic feature of today's info space is a huge number of fake news, stuffing whose purpose is to spread false panic during the military period. We try to check everything carefully: from reliability of the primary source to the facts stated in it. News is a very rigid format, it should not contain any lyrics or subjective judgments, only information: who? what? where? when?
Author's materials are presented on the site in the sections "Publications", "Question of the Day", "Special projects", "Exclusive" – not only we inform our readers, but we also give them prompt analysis of certain events, we ask experts, we interview famous and competent people. And the last difference – it is both guarantee of comfort and tranquility of our editorial team and confidence of the reader that we will not stick to any specific "party line" and will not stealthily lobby for a certain point of view – it is that neither we do not depend either financially or ideologically on oligarchs, foreign grants, government or opposition. The site is founded and financed by a person who professes fundamental journalistic principles – by Dmitry Gordon.
– And how does he participate in the editorial activity?
– Dmitry Ilyich does not interfere with the editorial policy of the edition, he can only prompt subjects for articles or candidates for an interview. I am a lucky editor-in-chief because I do not feel pressure of the publisher and sponsor of the project. It is very comfortably to work with Gordon – he is one of those people who trust professionals.
– Ukraine has absolute freedom of speech in comparison with Russia, but there is a feeling that this freedom of speech does not benefit the country...
– It would be even worse without it. It is the media that shape the mood of society that either suffers or goes to another Maidan then. Now there is constant "persuasion" of authorities by the majority of democratic mass media that the focus of the problem should be shifted inside Ukraine, rather than outside it, that the root of all troubles lies in the unwillingness of our new-old officials to break up with corruption, that we should not reproach the West with imposing weak sanctions against Russia, we should first look at ourselves.
We have not done practically anything for the protection of our state: we did not close borders with the aggressor, we did not break off diplomatic relations, we do not even think to break the gas contracts for fear of losing excess profits, etc. A western person feels ridiculous and painful from all this. Sergey Taruta said to the point in a TV interview to Dmitry Gordon that will appear on our site soon, "When the Ukrainian defense industry asks the USA to provide them with the American weapon, the States do not hurry to react because they have no guarantees that it will not be sold for cheap to Russia on the way to Ukraine". It is not a question of lack of ideas, the matter is that the new power still does not have want to realize these ideas.
A fascinating, light person with great brains, the ideologist of the Georgian reforms Kakha Bendukidze, who spent much time in Ukraine, explaining what we need to do to save ourselves, insisted, "Start reforms immediately, simply immediately!" He called upon it through our edition, too because he knew that GORDON is an independent public platform for discussions. Unfortunately, this prominent Georgian was not heard while he was alive. I hope that at least after his death the current leaders Ukraine will overcome their greed and take courage to follow Bendukidze's advice.
If to speak in local terms, results of the freedom of speech are seen every day. For example, our journalist Anna Gin made a touching reporting about an outcast elderly man who was a refugee from Gorlovka and who had to spend nights at Kharkiv railway station. As soon as the material appeared on the site, there were hundreds of indifferent people who volunteered to help the elderly man and brought him to a sanatorium.
We published an article that a person from Yanukovych's team was going to be appointed a supervisor of a law enforcement agency in the Administration of the President of Ukraine, he packed his things the following day and this odious appointment did not take place. After a recent interview of one of our journalists Natalia Dvali with the famous military volunteer Oleg Svirko, there were many people who wanted to transfer money to help fighters. It is because the formal truce in Donbass considerably reduced the stream of donations. People decided psychologically: once we have a truce, we can stop helping. But the Ukrainian soldiers still need help, taking into account the fact that the winter equipment is several times more expensive than the summer one. Generally, if every edition does at least one little good thing every day, it will already be much.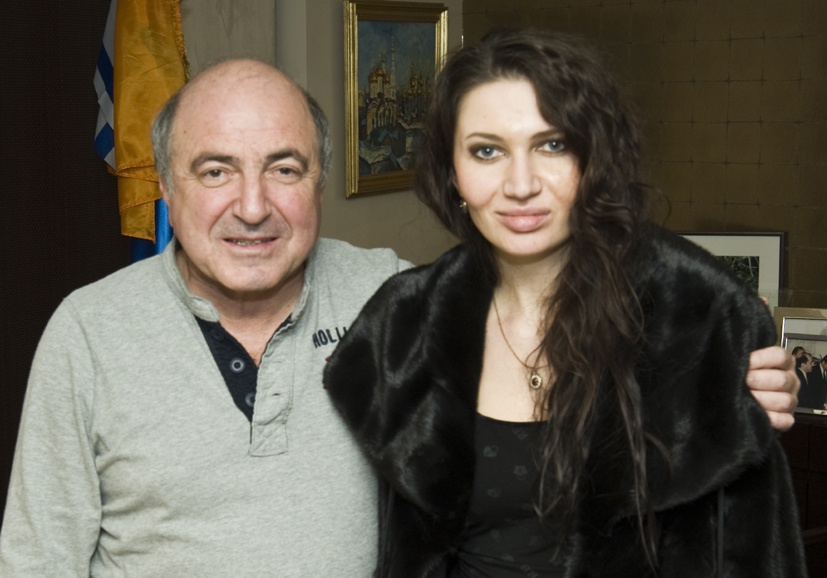 Boris Berezovsky and Alesia Batsman, London, February 2012, Berezovsky's office. Photo: Feliks Rozenshtein / Gordonua.com
Election campaign is time of very big and fast money for all mass media
– There have been two election campaigns in Ukraine for the last six months – presidential and parliamentary. Did representatives of parties and candidates visit you to publish tailored materials?
– These were mainly messengers who wanted to publish PR articles without the tag "Advertisement" in the "Politics" section. If we had accepted such offers, we would have paid off the site and made good money. I will not reveal a big secret: election campaign is time of very big and fast money for almost all mass media.
– Why did you refuse "big and fast money"?
– Reputation is more valuable. PR materials have the right for existence, but not in the "Politics" section because such fake materials really affect the national security and involve a huge number of lives today.
– The editor-in-chief of Zerkalo Nedeli (Weekly Mirror) Yulia Mostovaya described how she was addressed with an offer to publish an article or, on the contrary, to remove material for remuneration from 30 to 100 thousand dollars. How much were you offered?
– It did not come to discussing the prices – as soon as I understood that the conversation led to a political order, I finished it. I repeat, we create a free open Internet platform with various points of view, with full-fledged polemics and analysis of the situation. It is a principled stand. Besides, it is impossible sell oneself without being noticed, we deal with an advanced reader on the Internet. You sell your articles today, you lose part of your audience tomorrow, and there is nothing left from your reputation the day after tomorrow. We have other plans for the future.
– Judging by the statistics, many Internet users from Russia visit GORDON. How can you explain it?
– Our site has many Russian speakers – sane, adequate, clever and witty people. The famous oppositionist Boris Nemtsov told me that many of his acquaintances read GORDON, the satirist writer, and for quite some time our constant columnist Victor Shenderovich told me the same. Roman Viktyuk is our great friend who always speaks to our journalists with pleasure. Late Valeria Ilyinichna Novodvorskaya was a frequent guest on our site. By the way, she gave her last interview (categorical and frank as usual) to our Tanya Rayda.
We are the only Russian-speaking mass media that has published correspondence of the Russian artist and writer Maxim Kantor with the French philosopher and Putin's admirer Richard Millet. The subject of the correspondence was modern fascism in the Russian Federation. Russian editions were afraid to print it, and Kantor turned to us.
When the site was only several months old, the  former president of Georgia Mikheil Saakashvili came to Kyiv, and the first thing he said after "Good afternoon!" was, "What a great site you have, all my acquaintances are already addicted to it."
– Saakashvili, Novodvorskaya, Nemtsov, Shenderovich are well-known anti-putinists. Perhaps that is the reason they liked your site?
– We do not conduct anti-Putin propaganda, we call things by their proper names – we publish the truth that is almost absent from the Russian information field, and is completely absent on federal TV channels (I do not speak about Dozhd TV, but it is watched by a very small percent of the audience). All Russian TV is aimed at glorification of Putin's regime and, I should say, it succeeds in it.
I trace Russian channels every day. Firstly, I develop immunity to propaganda. Secondly, if the TV presenter Dmitry Kiselyov said something in the evening release of Russia-1, there is no doubt that the State Duma is preparing another "masterpiece". As people used to say before: in the newspaper in the morning, in a rhyme in the evening.
It is not a secret that Kiselyov receives instructions from the Kremlin to prepare people for another tightening of belts for the sake of "great" Russia or to justify new casualties among Russian "volunteering heroes on holiday". It is important to us to trace another fake of the Kremlin propaganda and to explain the origin of the "crucified boys" or "slaves for the National Guard".
The site was attacked by hackers from Russia and Transnistria. Such a hacker attack costs about 20 thousand dollars: those who wanted to stop GORDON spared no money
– Is the portal aimed at the Russian-speaking audience only?
– No, there will be Ukrainian edition of GORDON some time later, and we launched the English-language version of the site a month ago where we publish translations of exclusive interviews and experts' comments. We want those who do not speak Russian but are interested in the events in Ukraine to have an opportunity to read honest and objective information. We first of all aimed at diplomats and foreign journalists. But, judging by the statistics, the English-language section is read by ordinary western users as well.
– There have been four messages about hacker attacks at your site for the last year. Did you find out who did it and why?
– Our technicians traced the sources at once: DDoS-attacks came from Russia and pro-Russian Transnistria. One of the attacks was so powerful that our server was working with interruptions for several days. Such a hacker attack costs about 20 thousand dollars: those who wanted to stop GORDON spared no money.
– Do you remember the first day of the site?
– Of course! We started on November 22 last year, the next day after the beginning of Euromaidan. We started much earlier than we planned to, the site was not completely ready, not all sections were developed, not all journalists were hired, and I am grateful to the deputy Lesya Mazanik who insisted on early start.
GORDON" began with a news line, and the first material was an online report from Maidan where our journalists spent days and nights. It seemed then that we had to hold another night and we will virtually wake up in the EU the following day. If a journalist had come to me a year ago and asked me to publish his article saying that protesters would be shot on Maidan in the next months, that Russia would easily take away the Crimea from Ukraine, that every morning we would receive reports from Donetsk and Lugansk about civilians, including old men and children, killed overnight, and that we would pray for this infection not to get inside the country, that there would not be a single Ukrainian family where a family member, a relative, a friend or an acquaintance would not leave for the front, and that the dollar would jump up to 16 UAH, I would kick this journalist out with the words, "Young man, we are an editorial office, not a madhouse here."
– What famous mass media served as a model for your resource?
– We used the world's best editions as a model. I will not tell the names of these mass media because our purpose was not to create a Ukrainian analog of something popular and authoritative, but to follow classical standards of the western journalism: objectivity, reliability and ethics.
By the way, speaking about the Western brands: we should use an information filter analyzing their work. Covering of the Ukrainian events confirmed that the high-status Western press does not disdain tailored political materials.
– Can you give a concrete example?
– We constantly monitor the Western press to translate the most interesting materials concerning Ukraine. When bloody events on Donbass began, our journalist sent me a translation of an article from a very respectful Western edition: it was not article, but rather an ode to the "great" Putin.
First I thought that she translated incorrectly, but I looked at the primary source and was convinced that the translation was absolutely correct. I phoned my foreign colleagues, and they confirmed that articles eulogizing the Russian president and his regime are an extremely profitable business in the West. The Kremlin spends huge amounts of money to create a positive image of Russia abroad, and money does not smell for some authoritative foreign mass media.
When a person like Leonid Grach makes statements about corruption schemes, double standards and mansions of Petro Simonenko, we cannot ignore this information
– What articles will never appear in GORDON even if it promises an incredible rating?
– We will never publish materials menacing lives or health of people, stirring up ethnic, racial or religious hatred, calling for separatism and terrorism – we strictly stick to the Ukrainian legislation. Besides, the site will never publish articles breaking the ethical code: gossip, information leak, yellow news – it is not our format.
– But it was GORDON that published the interview of the former people's deputy Leonid Grach in which he accused the leader of the Communist Party of Ukraine (KPU) Pyotr Simonenko of corruption and homosexuality.
– In this case, you hide his real face from the reader covering it with his genitals. Grach had been one of KPU leaders for many years, he knows this structure from inside. When such a person makes statements about corruption schemes, double standards and mansions of the current leader of the Communist Party, we cannot ignore this information, because it is not about Simonenko's private life (a person is free to do whatever behind the bedroom door if it suits the other person), but about the authorities that we elect.
– By what principle do you hire your journalist staff?
– There were three requirements to editors, journalists, programmers, and proofreaders: professionalism, decency and personal involvement.
There are many of us so I cannot list all. Part of the guys came to us from Korrespondent after it was bought by Sergey Kurchenko who is close to the Yanukovych family. Very quick newsmakers Alexander Gumenyuk and Natalya Vitchenko are among them. My deputy and manager for portal development Lesya Mazanik who once launched the Korrespondent's site with Jed Sanden and was its editor-in-chief. Part of the guys came from Gordon Boulevard – our best interviewers Natalia Dvali and Tatyana Orel. There are those who worked with me at Savik Shuster's show: for example, Alexey Stukalo – an editor who will find anyone, be it the president or a world celebrity. Another part of our team is Kharkiv journalists who worked for the current CEO of NTKU (National TV company of Ukraine) Zurab Alasaniya at the Media Port e-resource: deputy editor-in-chief Tatyana Rayda, news maker Dmitry Neymyrok. Current online reports are the job of Nikolay Gorokhov and Marusya Vasilyeva and the senior editor Svetlana Rogovskaya is in change, I do not worry about the site because we will definitely not miss any important news. Ekaterina Lebedeva is generally responsible for the niche of special projects. Not so long ago, our editorial staff was joined by news makers Alexander Komarovsky, Ekaterina Tsibenko and Aleksandra Obydenna. The journalist and translator, ex-correspondent of Inter Inna Akhtyrska is responsible for the English version of the portal. I personally enjoy the biting and ironic analytics of our columnist Evgeny Kuzmenko, he is a master of word.
We gathered the team step by step. We developed a format, went into process, and became a consolidated, professional and ambitious team that tries to achieve a common goal to become the best in the business.
– Your journalists do not sit at the editorial office, they work remotely. What are the reasons?
– Common sense is the reason. The site functions from seven o'clock in the morning till one o'clock in the morning without holidays or days off. If the situation in the country becomes worse, we pass to the round-the-clock mode. Our employees do not spend time for travel. We communicate via Skype: we coordinate the subjects, hold meetings and do brainstorming. It is very convenient. We have wide geographic coverage, our journalists live not only in Ukraine, but also in other countries.
When Savik heard in the earphone that Yulia Vladimirovna was about to rush into the studio and that I could not stop her, he shouted at me in the microphone right during the live broadcast: "You fool!"
– You had been the editor of the Savik Shuster's show - why did you leave the most popular Ukrainian talk-show Shuster LIVE?
– I wanted to create my own project – it was GORDON Internet edition.
– It is not a secret that the most interesting things remain behind the scene. You are bound to have many interesting stories for several years of editorial work at the political show...
– Live broadcast is a drug, it is crazy drive. You can be writing a detailed scenario for a week, looking for possible turns, and then everything is going upside down in one second during the program. I will tell some amusing episodes.
In 2010, we were planning a program with the President Viktor Yushchenko, the list of guests was agreed with him in advance. When it remains some ten minutes before the show, all participants have gathered, and suddenly I notice Oleg Lyashko walking in the corridor. Naturally, we did not invite him to the program. Having entered the studio, he started shouting to people who were already sitting on their seats that he would now sort everything out with Yushchenko and tell everything he thought of him in a live program. Savik tried to object to him saying that he as the host wanted a constructive discussion and requested Lyashko to leave the studio immediately.
It did not make a slightest impression on the radical, and Victor Andreevich made a wise decision not to leave the make-up room until everything settles down. Well, it was only a couple of minutes before the live program, the audience was in the anticipation of a scandal, and Shuster presents him with an ultimatum, "Mister Lyashko, either you leave or I!", and our guards cannot make anything with Oleg Valeryevich as they have no right to touch a people's deputy. And Andrey Parubiy, also a parliamentarian, rushes at the future leader of the Radical Party exclaiming, "I an a people's deputy, too, they will do nothing to me!" and literally tries to carry Lyashko out of the studio.
Lyashko clings to a chair where Vitaly Korotich sits. The chair starts creeping away. Nobody expected such energy from Vitaly Alekseevich, probably, even he himself: the fight for furniture was won by Parubiy and Korotich. Lyashko managed to escape from embraces of the future secretary of SNBO (Council of National Security and Defense) several times, then he twisted with his hands and feet around the metal detector at the exit, and finally, quite happy with the effect, he left studio.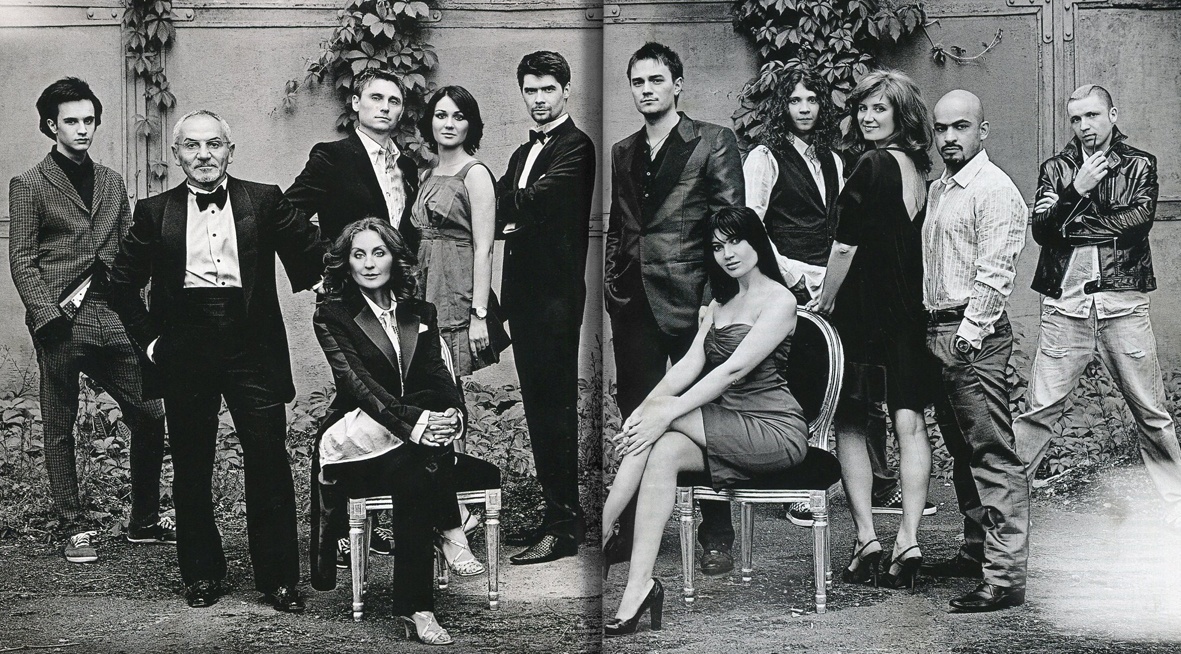 Savik Shuster's team in 2009. From left to right: Georgy Tikhiy, 2009 - program editor, now - freelancer of German channel ARD; Savik Shuster - writer and presenter of the program; Olga Nevskaya (on the left) - producer of the program in 2009; Sergey Salma - director of the program; Ilona Namazova - stylist of the program, now - director of style department on the TV channel 1+1; Andrey Shyrochenkov - vice- director of the program; Vladyslav Maystruk - editor of the program in 2009; Alesia Batsman (on the right) - editor of the program in 2009, now - editor-in-chief of the "GORDON"; Fedor Ostrakov - director's assistant in 2009; Darka Chepak - first editor-in-chief of the program in 2009, now – ex-press-secretary of ex-president V. Yanukovich; Mustafa Nayem reporter and editor of the program, now – People's Deputy of the Block of Poroshenko; Ivan Kozhevnikov - cameraman. Photo: Skan of the magazine Elle
Another story. Our smoking editors still remember how they were frightened by Yulia Tymoshenko. It took place before the Kachanovsky reformatory, our scenario of the program did not include appearance of Yulia Vladimirovna. The broadcast was coming to an end, a couple of our guys went out to smoke, and I did not see the events as I was sitting in the studio helping Savik as usual.
Well, our journalists were smoking and did not bother anybody, when suddenly a Daewoo drove up to them, stopping 10 centimeters from the feet of the smokers. Furious Tymoshenko jumps out from the front seat and rushes to the studio entrance. Her driver and guard could hardly keep up with her though he had no heels. The explanation was that there was an accusation against her in one of our program, perhaps, from Inna Bogoslovskaya, and the leader of the Batkivshchyna party decided to reply in such a spontaneous way. Naturally, Savik was not ready for such a turn of events and when he heard in the earphone that Yulia Vladimirovna was about to rush into the studio and that I could not stop her, he shouted at me in the microphone right during the live broadcast: "You fool!". Inna Bogoslovskaya was discouraged with this attack most of all because she thought that it concerned her.
– Yulia Vladimirovna on the front seat of a cheap South Korean car... I can hardly believe.
– There is one more episode connected with auto racing. During the program about "the case of pedophiles" (if you remember, several people's deputies were accused then) Irina Bogdan, the wife of one of the deputies suspected of corruption of minors, arrived to the studio. It was already the end of the program, and she wanted to come very much. She was stopped by the traffic police for exceeding the speed limit, she passed the phone to the guest editor Alexei Stukalo and for him to ask the policemen to let her go. As a result, she came to the talk-show, but she was accompanied by a patrol car as the policemen did not dare let her go without an escort.
– The master of TV blunders Victor Yanukovych appeared at Shuster LIVE more than once. Did the editorial staff feel any pressure from the fugitive ex-president of Ukraine?
– I do not remember facts of open pressure. Yanukovych, for example, was afraid of the "thermometer" in our studio. I will explain what our "thermometer" is. It is an integral part of Shuster's political talk-show – an on-line reaction of the audience that represents the whole Ukraine from sociological point of view. 100 people sit at the program, and press the button "Support" or "Do Not Support" throughout the speaker's speech, and the results are displayed to TV viewers.
As you can guess, the country was not especially eager to give 100 percent support to Yanukovych, and it resented him terribly. Generally, our problem was whether we should display these results or not. By the way, the second person who had a pronounced phobia of our "thermometer" was the former prime minister Nikolay Azarov. The very idea that people will react to his words live infuriated Nikolay Yanovich.
I came to Kiev on business and interviewed Shuster, Gordon, and Falesa. As a result, all the three offered me a job.
– You come from Kharkov. How did you find yourself in the Ukrainian capital and even find a job in the most popular political talk-show?
– I was born in Kharkov, I went to different contests as it is appropriate to a gold medalist. For example, I took prizes at two all-Ukrainian contests in Ukrainian language and literature in senior classes. Then I decided that I will become a journalist, I started writing to a local newspaper. I entered the Department of Journalism of the Faculty of Philology at V.N. Karazin Kharkiv National University.
In the first year I started working for the Kharkov newspaper "Vremya" and TV program "Curfew" parallel to studies. By the way, I would recommend all students who consciously chose journalism rather than were led by the parents to master the profession in practice as soon as possible – it is a rare specialty in which you will be a success the quicker the sooner you start.
At the end of the fourth year, during another business trip to Kiev, I interviewed Savik Shuster and Dmitry Gordon, and both of them invited me to work. Frankly speaking, it was a funny trip because the third person I interviewed in the capital was the musical producer Yury Falesa. He also offered me the position of a PR manager at his musical company.
Generally speaking, during my last year at the university I was the editor of Savik Shuster's program then called "Freedom of Speech" and wrote for Gordon Boulevard at the same time. Then I made interviews for Zerkalo Nedeli (Weekly Mirror). In spite of the fact that I lived in Kiev, I managed to graduate with honors. Now I have to finish thesis as a postgraduate student, but, alas, the working tempo does not let me finish it so far.
– Do you remember your first journalistic task?
– One of the first materials in "Vremya" was an investigation of several suicides among Kharkiv teenagers. I met militia, friends, teachers and even families of the dead. Visiting homes of their parents was the most difficult part. I somehow took courage and patience to ask questions to their mothers. They answered and sobbed. After all, I was not much senior to their dead children. After these interviews, I went home and cried, too. But the material draw a wide response. Then I became the editor-in-chief of the youth newspaper "Zebra" with a circulation of 50 thousand copies. I still remember our dean to scold me for "shocking, undermining and harmful to young weak minds" columns in "Zebra" at the height of Maidan-2004.
– What skills of television and newspaper journalism were the most useful in the Internet media?
– Both Shuster LIVE and Gordon Boulevard were great experience for me. Savik was the first person to bring mass culture of real political talk-show to Ukraine. We were watching and analyzing the best western formats for hours and realized the most interesting ones in Shuster LIVE. We experimented with personal ideas based on the local peculiarities. On day when we got to know each other, Shuster told me his credo, "I do not agree with you, but I am ready to die for your truth". The program and its production (especially in the first years of its existence) were a real sanctuary of freedom and creativity. I am grateful to Savik for this experience.
With Dmitry Gordon, I learned systemacy and ability to treat facts captiously and meticulously, to proofread and edit texts and, of course, respect the interlocutor whoever he or she is.
Of course, the time of cooperation with the editor-in-chief of Zerkalo Nedeli Yulia Mostova was not in vain either. She had and has the most high-quality and brave analytics in Ukraine. Presidents and opposition change in the country (not in the least way because of Yulia Vladimirovna's articles), but only Zerkalo Nedeli remains unchanged, thank God.
– The site has gone through its first year, we have discussed the results, and what do you plan to do within the next 12 months?
– Our purpose is to become the best edition in the country. The first year of existence of GORDON proved feasibility of our plan. We will follow this course. We will expand our team: we are especially interested in the journalists focusing on economic and political investigations. We plan to realize several special international projects. I personally want to build my working schedule in such a way that I have at least one day off a week – I will devote it to my own materials for GORDON.