Blogger Kovalyov from Copenhagen: Pro-Russian Danish citizens wrote complaints to the company where I work because of my pro-Ukrainian views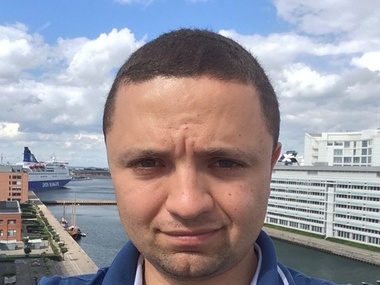 Sergey Kovalyov: "The main topic of the internation policy in Denmark today is Ukraine"
Photo: Sergey Kovalyov / Facebook
Sergey Kovalyov, a Ukrainian programmer and blogger working in Denmark, said in an exclusive interview for the GORDON edition about who supports pro-Russian sentiments there, why the Ukrainians should not outdo the Danes and why Ukrainian diaspora in Denmark helped dismiss ex-ambassador of Ukraine.

Tatyana OREL
There was a video on the Net several months ago where the Ukrainian Sergey Kovalyov "lectures" a pro-Russian journalist who did not expect such a harsh rebuff. It happened in Copenhagen during a demonstration "against U.S. aggression in Ukraine" that, according to Sergey, was arranged by "local pro-Russian citizens" who are numerous even in the small Denmark.
The programmer Sergey Kovalenko has lived in Copenhagen for 5 years since he was offered a job from one of international companies that he cooperated with when he was living in Kiev. But he is still in Ukraine in his heart. He keeps track of important events in Ukraine and comments them on his Facebook page. His blog is read by several thousand subscribers including former Ukrainians who now live in Denmark.
In support of Maidan in Kiev they arranged their own humble mini-Maidan in front of the Danish Parliament, Copenhagen City Hall and Ukrainian Embassy, then they organized demonstrations against the Russian aggression and established "the parade of vyshyvankas (Ukrainian traditional clothing)". They made friends with each other during this time. Acting together, they managed to achieve dismissal of the Ambassador of Ukraine in Denmark Mikhail Sruratovsky who, according to the Ukrainian diaspora, compromised himself with Yanukovich's support.
Sergey Kovalyov claims that it is difficult to observe events in Ukraine from far away – distance only strengthens anxiety. In thriving Denmark, he notices everything that can be useful for Ukraine in its way to Europe and shares it on his Facebook page.
The height of cynicism is to live in a European country and not to want Ukraine to become part of Europe
– Sergey, many people are surprised on finding out that there is a monument to Taras Shevchenko in Copenhagen erected on the initiative of the Ukrainian Embassy partially at the expense of donations of UPA (Ukrainian Insurgent Army) veterans. There are flowers at the pedestal. Do the Danes know who Shevchenko is?
– I do not think so. But the Ukrainian diaspora gathers near the monument on Independence Day of Ukraine. There are several thousand our compatriots living in Denmark.
– Do all Ukrainians who live in Denmark support Ukraine?
– Not all but most of them, which is evidenced by the number of people at the polling stations during the elections to the Verkhovna Rada.
– Not all – it means that there are people who oppose Maidan and European choice of Ukraine?
– It turns out that it is so. But I cannot call them Ukrainians. It is the height of cynicism to live in a European country and not to want Ukraine to become part of Europe. I despise these people with all my heart and do not communicate with them.
– Despite lack of communication that emigrants usually suffer from…
– I can only come to their demonstrations to laugh at them.

– At one of such demonstration against "the U.S. intrusion into Ukraine" in the centre of Copenhagen, you disappointed a journalist with a St. George ribbon in her hair who took you for a pro-Russian activist and did not expect to hear a well-grounded rebuff. Which TV channel did she represent?
– A local Russian TV channel, it was a kind of amateur production. Not only Ukrainians, but also ethnic Russians, even Bulgarians and Latvians took part in this demonstration. In a word, Danish pro-Russian citizens. They have their own club. I know that there are such clubs in other countries, too. Russian Foreign Ministry does not pay them, they are sincere in their delusions. They live in Europe, but they do not like Europe, they are dissatisfied with everything, but this dislike is hypocritical. If it was sincere, they would have returned home. But they do not return because they feel better in Denmark from both domestic and financial point of view.
Many of these people have trouble in emigration, they live in a constant internal fight between the reality and their previous ideas of Europe. By the way, some of "Danish pro-Russian citizens" even wrote complaints against me to the company where I work knowing my views concerning Ukraine.
– Probably, they thought that your boss will summon you and analyse your behaviour at a general meeting, as it was common in the USSR…
– Perhaps. But my colleague just told me about it with a smile. I am absolutely indifferent about it, it is just distressing that my colleagues have to read these reports.
Video: Ukraine Revolution / Youtube
Read continuation of the interview in the Russian language on our website.