Doniy: If anyone wanted reforms, Yatsenyuk should not have been appointed Prime Minister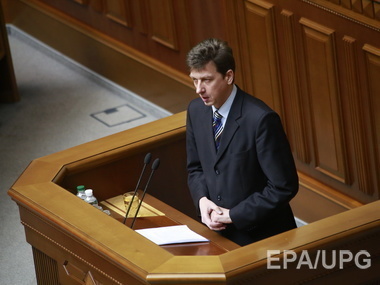 "With suach a Prime-Minister I don't see the possibilities to improve economy".
Photo: EPA
The Ukrainian government has not got rid of the corruption component, the former People's Deputy Oles Doniy believes.
Anything new can hardly be expected from the new government as the Prime Minister Arseny Yatsenyuk is not interested in reforms, the former People's Deputy Oles Doniy stated in the comment to the GORDON .
"I do not expect anything from the government because, as the former minister of Yatsenyuk's government Pavel Sheremeta mentioned in his article two days ago, the score is 4:0 in the fight between Yatsenyuk and reforms. If anyone wanted reforms, Yatsenyuk should not be appointed Prime Minister. Obviously, a person who is not able to carry out any reforms in 9 months is not a reformer. And we can already see by the negotiations what people are promoted to the economic committees of the Verkhovna Rada, i.e. those structures that have to ensure cooperation with the parliament on behalf of the parliament," he said.
According to the politician, there is a corruption component in Yatsenyuk's government.
"People Yatsenyuk cooperates with have been accused of corruption schemes. For example, Nikolay Martynenko and Andrey Ivanchuk who were to head economic committees in the Verkhovna Rada that are supposed to ensure passing of economic bills of the government. They were accused of corruption scandals. I would like to remind that Martynenko was accused by Oleg Musiy of the fact that he protects tender mafia in the Ministry of Health, and Ivanchuk was accused by Ukrainska Pravda (Ukrainian Truth) was accused of the fact that he stands behind gambling schemes. There were no disclaimers as well as no consequences for these people. And it means that there was and there remains a corruption component in Yatsenyuk's government," Doniy declared.
The politician believes that nobody has prevented the prime minister from inviting foreigners to Ukraine during the last months.
"All the rest are simulators spread among the public to draw away their attention. Ideas about foreigners? Who prevented them to create Advisory and Consultative Council involving the best foreign experts during nine previous months? Nobody prevented either the president or the prime minister to do it," Doniy said.