Gongadze: There are 42 million inhabitants in Ukraine, if every tenth washed the staircase, it would be a different country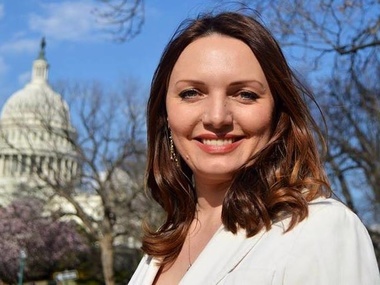 Miroslava Gongadze
Photo: Miroslava Gongadze/ Facebook
Nobody focuses on their own porch in Ukraine, but everybody teaches the president how to work, the journalist and TV presenter Miroslava Gongadze said in an interview to GORDON.
By Natalya Dvali
The TV presenter and producer of the Ukrainian service of "Voice of America" Miroslava Gongadze was granted a political asylum in the USA 13 years ago after the murder of her husband – journalist, founder and editor-in-chief of the Ukrainska Pravda (Ukrainian Truth) web-site Georgy Gongadze. Miroslav got settled in the suburb of Washington with her twin daughters Nanna and Solomiya.
Since then the widow Gongadze occasionally came to Ukraine, the last time was five years ago. Nevertheless, both during the "Orange Revolution" and since the beginning of the Euromaidan, Miroslava has not just covered Ukrainian events for the West, but has also actively commented on the U.S. position in the Ukrainian mass media. In autumn, Miroslava arrived in Kiev again, and conducted pre-election debates on the First National TV Channel together with the president of NTKU (National Television Company of Ukraine) Zurab Alasaniya.
In the interview to the GORDON Internet edition, Gongadze dwelt on the basic difference between the Ukrainian and American politicians, why she refused to stand for the Verkhovna Rada and why the country will change if every tenth Ukrainian cleans the staircase in his or her own house.
Many people want to use my name. 

There are enough cunning people who try to whisper something into my ear
– The journalist Sergey Leshchenko stated Several months ago that the Head of the Administration of President Yanukovych Sergey Levochkin tried to carry out a raider attack at Ukrainska Pravda. Allegedly, you have been addressed to raise the question of the rights for the popular e-resource.
– I do not know details of this conflict, but there is no point in addressing me both now and then. I perfectly understand that many people want to use my name. There are enough cunning people who try to whisper something into my ear. But I cannot be used in someone's interests.
– What do you think, would Georgy Gongadze have observations to how Ukrainska Pravda covers events today?
– Frankly speaking, I do not know. I read the site, but not for the sake of objective information, but rather in order not to miss important news from Ukraine; I just look through the headings of Ukrainska Pravda, and I read the details in the primary source. It is not because the site lies, but simply because many resources distort news and present it from their angle.
Summer 2000.  Miroslava with husband with their daugthers. Three months later Georgy Gongadze will be killed. Photo: Miroslava Gongadze / Facebook
– Were not you requested to enter a certain electoral list during the last parliamentaru elections?
– I have been offered to run for parliamentary elections or to hold a high-ranking position in Ukraine for the last 14 years. The offers were especially active after the "Orange Revolution". But my main responsibility both then and now are my daughters. I left Ukraine because I understood: it is necessary to protect myself and daughters physically and psychologically. They grew up in the USA, I want them to enter a university. When the girls become independent, I will be free to decide where and how to live.
– Do not plan to return to Ukraine?
– I do not exclude it. It is very interesting to me in Ukraine; I want to help the society to make some positive changes in the country. That was why I agreed to conduct pre-election debates on the First National channel, I wanted to push TV viewers to independent thinking and analysis of the political situation with my own experience.
Nobody focuses on their own porch in Ukraine, but everybody teaches the president how to work
– In Ukraine we can often hear the statement, "Revolution has won, surnames of officials changed, but the system remained". Do you think that a third Maidan is possible?
– The probability is high. Not only current Ukrainian authorities, but also the society has to begin cardinal changes immediately. Everybody has to be involved in this process: authorities at their level, and citizens at theirs. And people must begin with themselves. If you do not trust the present authorities – do not, but change something round yourself. Enter any Kiev house, it is just impossible! Why cannot people clean the staircase in their own house or replace the bulb?
There are 42 million inhabitants in Ukraine, if every tenth washed the staircase, it would be a different country! You need not go to Maidan to clean your own porch. Changes begin with us, with the space around us.
The same thing with politicians. They speak everywhere. Once you ask concrete questions: how exactly will you solve it, have you drafted a bill? There is silence. But you go to parliament, whose function is lawmaking. Do not deliver speeches from the tribune of the Verkhovna Rada, make laws – reasonable and effective. You are legislators. But they go to the parliament to shout... Why did you look at me so?
– I try to remember when I washed the landing for the last time, but I keep track of the world politics.
– Nobody focuses on their own porch in Ukraine, but everybody teaches the president how to work.
– Perhaps, it is the matter of our mentality: we will stand poverty, but save the world?
– This is Russian mentality, and Ukrainians have a huge potential. Once people went to Maidan and died for free Ukraine, I think, they are ready to learn in order not to die another time. Start with you own porches.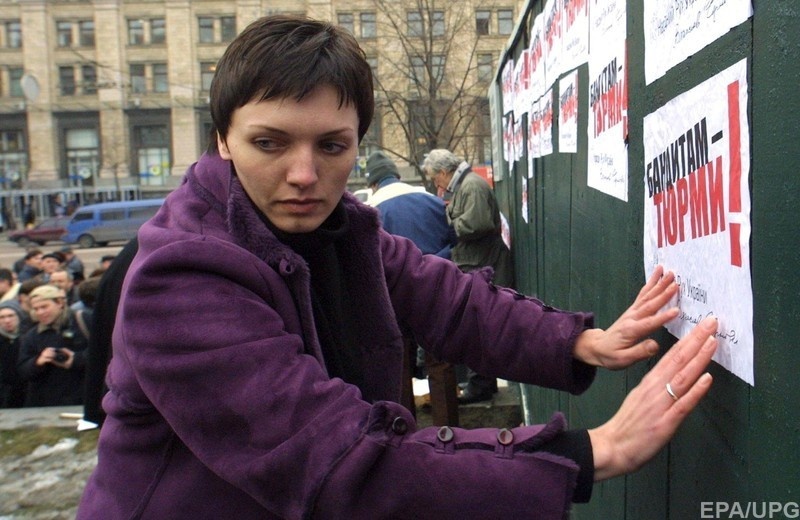 Kiev, 2000. Miroslava on the protest demands to find the killers of her husband . 
Photo: ЕРА
Khoroshkovsky declared at live debates that "there is no war in Ukraine at all, and Russia is not an aggressor". 

if a Ukrainian politician declares such things, what do you want from the West?
– You said once that "Ukraine has overestimated expectations from the West". And it seems to Ukrainians that the European Union and the USA have been expressing deep concern too long before really uniting against the actions of the Kremlin?
– Everybody is lamenting in Ukraine: they do not help us much, they do not impose enough sanctions against Russia. But Khoroshkovsky declared at live debates that "there is no war in Ukraine at all, and Russia is not an aggressor" (Valery Khoroshkovsky, a billionaire, former Head of the Security Service, ex-Minister of Finance of Ukraine. He was number two on the list of Sergey Tigipko's Strong Ukraine party at the elections to the Verkhovna Rada, but he did not manage to enter the parliament.– GORDON). Pardon, if a Ukrainian politician declares such things, what do you want from the West? Who has to be the patriot of Ukraine – a Ukrainian or a Western politician who, in principle, has nothing to do with our country, he has to solve problems of his voters?
Believe me, I regularly go to the Congress of the USA and I literally pull American politicians by the sleeve. I have been constantly doing it, ever since the "Orange Revolution". If something happens, I call the White house to receive an official statement regarding Ukraine. It became easier to work after the Maidan because the West really realized all the danger of actions of Russia.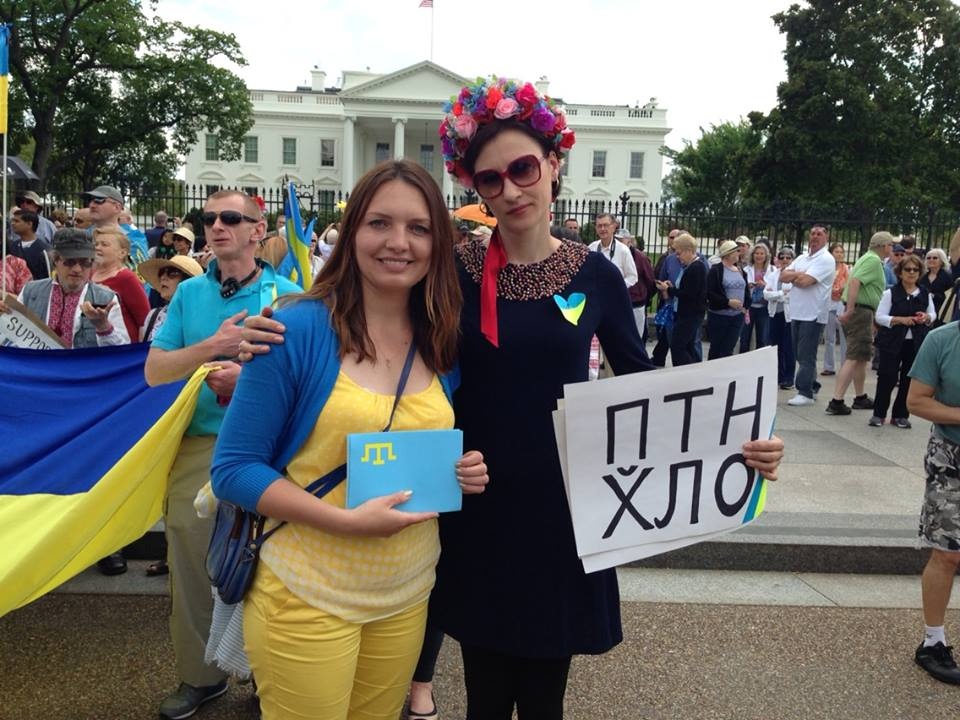 Washington, 2014. Action of support for Ukraine. Photo: Miroslava Gongadze / Facebook
– Ukrainians living in the West claim that there is a powerful pro-Russian lobby acting there…
– …The USA are very much pro-Ukrainian, more precisely, they have a very rigid position against violations of international legislation. America opposed Russia not because it wanted to take Ukraine under its influence, but because Putin violated the international law.
I do not feel pro-Russian sentiments in the USA. Mass media cover events in Ukraine in an objective way, they call things their proper names. However, there is a nuance: American mass media do not say that there are terrorists in Donbass, they call them "pro-Russian fighters" and "the Russian army".
Putin would have seized Kiev long ago but for the USA
– What is the attitude of an average American towards Putin?
– Like to a world derelict, an awful and dangerous person. There is a feeling of return of the cold war in the American society as it was in the USSR times. But America generally feels no aggression against Russia and its people, there is a rejection of Putin's policy and the Kremlin authorities.
– Nevertheless, President Obama ranked Russian aggression second after Ebola fever in his official statement on the threats to the mankind.
– I was revolted, but we should understand: Obama as a state leader must see the whole picture and put right accents. Understand that the world does not live with Ukraine only. For America, there are three priority problems now: spreading of Ebola virus, ISIS ("The Islamic State of Iraq and Levant", a terrorist organization formed in 2006 after merging of ten radical Islamist groups led by the Iraqi division of Al-Qaeda.– GORDON), and aggression of Russia.
… I think that Putin would have seized Kiev long ago but for the USA. Ukraine has no resources to resist Russia at the international level. Though the USA could have done much more for Ukraine and done it much faster. I mean both financing and supplying weapon. Eventually, it is in Ukraine that justice is defended now.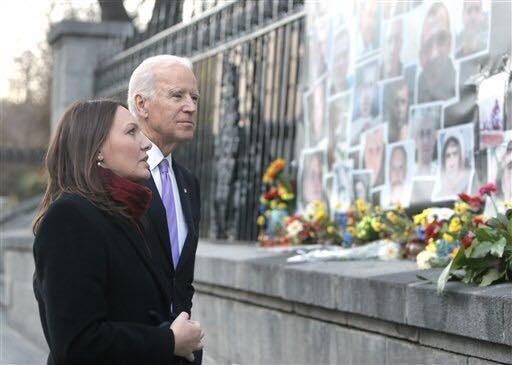 Kiev, November 2014. With the USA vice-president  John Bayden near the memorial sign "For the herous of Nebesna Sotnya" in Institutska street. Photo: Miroslava Gongadze / Facebook
– You wrote on your Facebook page that the main problem of Ukrainian politicians is "low level of communication culture, political culture and, finally, low intellectual level of certain candidates".
– I do not understand why some Ukrainian social network users were so much revolted by my post. One man wrote, "You break the journalistic ethics", he declared that I called Ukrainian politicians morons. It is ridiculous. Actually, I told the truth: the level of political culture and intelligence of certain candidates in Ukraine is low. It seems to me that most of Ukrainians think so. But for some reason politicians are convinced that the people are stupid and do not see or do not understand what is actually going on.
– What is the fundamental difference between the Ukrainian and American politicians?
–Ukrainian politicians build everything on general phrases, there are no concrete answers, there is no precise position on a given question. They only admit to the existence of the problem, but do not propose any concrete solutions. It was very noticeable at the parliamentary debates on the First National channel.
– It seemed to me that all politicians act in the same way: populism, demagogy, bright mottos – everything to please the voters.
– …. It is absolutely impossible in America for a politician to change his views, to move from one faction to another, otherwise the voter will not vote for him any more. In Ukraine, unfortunately, everything is on the contrary: politicians change factions and constituencies where they appear only before next elections.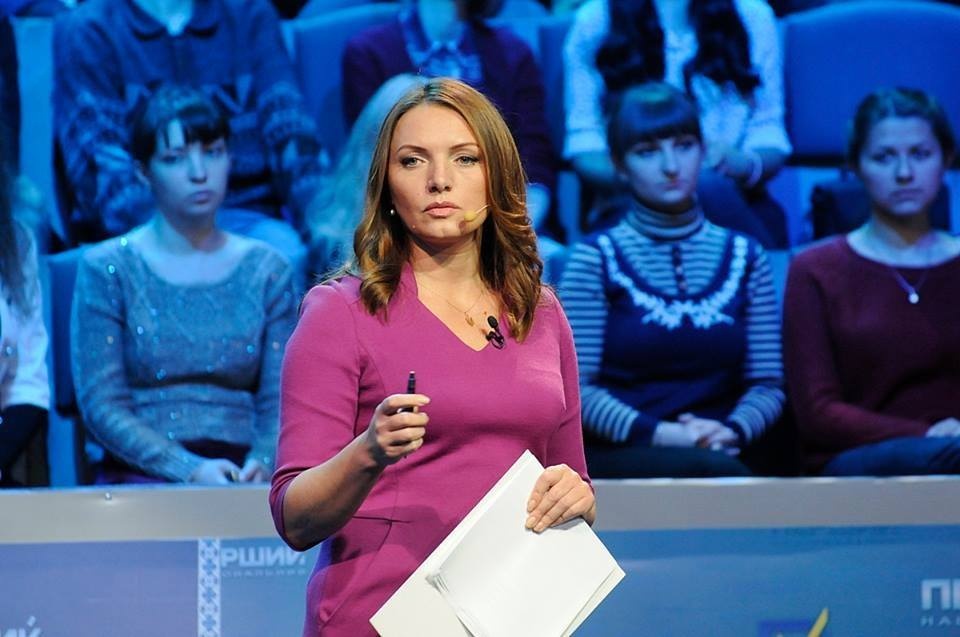 Kiev, 2014. Parliament debates on First National channel . Photo: Miroslava Gongadze/ Facebook
– Perhaps, it is a feature of the Ukrainian voter: short memory and love for buckwheat, especially before elections?
– The civil responsibility is brought up in the childhood. Everything is not so ideal in the USA as it seems from the outside, but civil consciousness is very well developed there. The American media watch and analyze every step of the politicians. It is also a tool of public influence. There is real freedom of speech in the USA, that is journalists are really free and independent, which is very important for a normal political process in the state. Believe me, if the mass media would not be watching so carefully, American politicians would also do whatever they want without thinking about the people….
– You mentioned that there is real freedom of speech in the USA. And do not you feel it in Ukraine?
– There is too much bla-bla-bla in the Ukrainian media space – unnecessary information noise, as a result, it is very difficult for a simple person to separate the wheat from the chaff. It is the task of professional mass media that do not engage in idle talks, but accurately focus on the essence of a given question.
Unfortunately, Ukrainian journalists are very much dependent on the owner of the mass media, they feel nearly obliged before the employer. It results in information pluralism and absence of the media standard. I want First National channel headed by Zurab Alasaniya to become a real public TV channel, a model of responsible and independent journalism in Ukraine.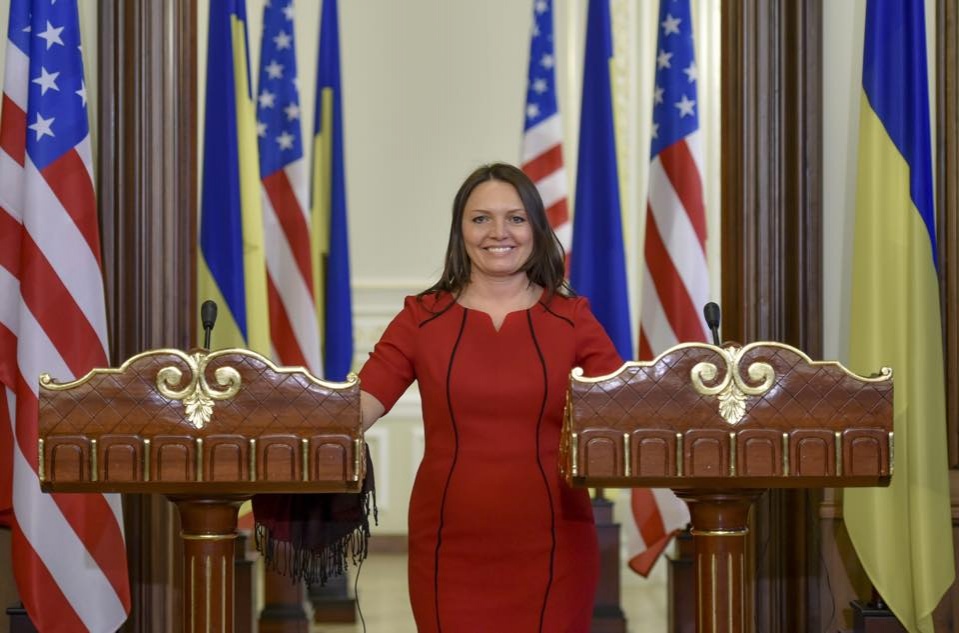 Photo
: Miroslava Gongadze / Facebook
Ukrainian journalists are very much dependent on the owner of the mass media, they feel nearly obliged before the employer
– It is difficult for the mass media to be independent in Ukraine, the advertising market is too small, it is hard even to pay its way. That is why there is a financial group or an oligarch with his political interests behind many media resources.
–Certainly, for there are objective reasons today's state of the Ukrainian media, but that is why it is so important to create public Ukrainian television.
For example, there is National public radio and National public television in the USA. They are financed partially from the budget, partially by listeners and TV viewers, partially from different funds. I voluntarily pay money from my salary in support of the public radio because I regularly listen to it and want to support my favourite information resource.
The purpose of public broadcasting is to create the information core for various opinions to envelop it, to show the standard of journalistic professionalism, responsibility and quality….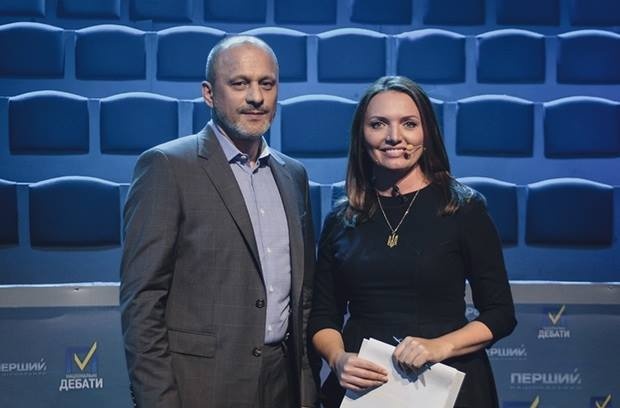 With NTKU President Zurab Alasanya. Photo: Miroslava Gongadze / Facebook
– And who has to control a public TV channel so that it would not break the principles of independent coverage of political events?
– A public council consisting of authoritative journalists, editors, public figures with faultless reputation. I understand that creation of such a broadcasting system is a very difficult process, but it should start immediately.
– What else in Ukraine, in your opinion, requires fundamental changes?
– Education. When I mentioned low level of political debates in Ukraine, it was not an accusation, but ascertaining of the fact. The ability to carry on a dialogue is brought up since chioldhood. In America, a child is taught at school not only to speak, but also to listen to the interlocutor. In Ukraine, all public discussions are held with anguish: nobody listens to anybody, everybody outvoices the others, they constantly speak for themselves. There are very few people, especially politicians, try to understand another person …
I have been waiting for 14 years for the not only killer, but also the hirers of Georgy's murder
– Miroslava, the last question: at what stage is the investigation of your husband's murder now?
– It is at a vague stage, nobody wants to resolve this question. Pukach was sentenced to life imprisonment, but the sentence statement does not even specify that he has committed a contract murder. (Ex-Head of the Chief Criminal Investigation Department of the Ministry of Internal Affairs of Ukraine, Lieutenant General of militia Alexey Pukach was arrested in 2009. In 2013, Pechersky District Court of Kiev sentenced Pukach to life imprisonment with confiscation of all property. – GORDON). I first appealed for the sentence to be revised because I disagreed with the formulation. But now I withdrew the appeal: there is a risk that Pukach can be released from prison after the case is reconsidered.
All judges disqualified themselves in Pukach's case. We are waiting for the following court session. By the way, do you know that he is not in prison, but in the temporary detention center of the Security Service. In fact, I have been waiting for 14 years for the hirers of Georgy's murder, and not just the murderers to be arrested.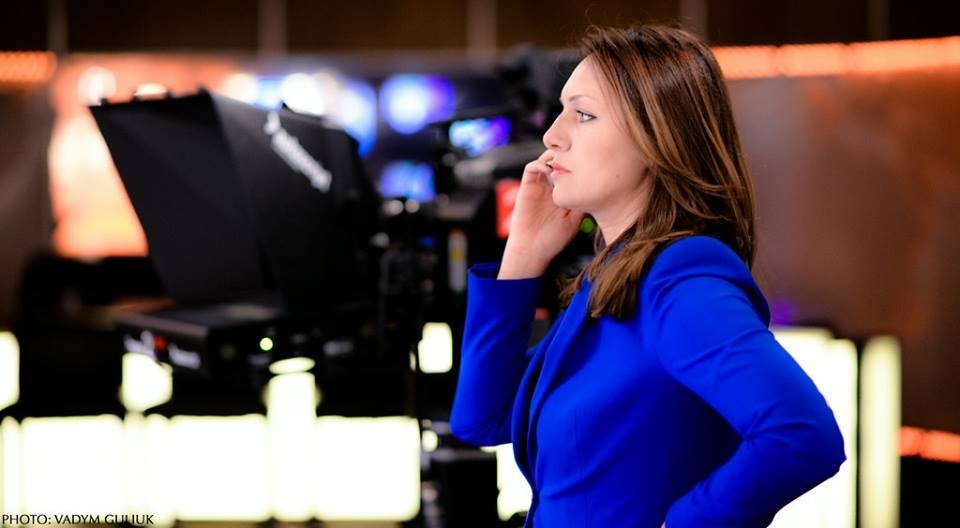 Photo: Miroslava Gongadze / Facebook
The full text of the article could be found at the Russian version of GORDON: gordonua.com