Illarionov: Borovoy's statement is a provocation of Russian intelligence services to discredit Ukraine's key ally in NATO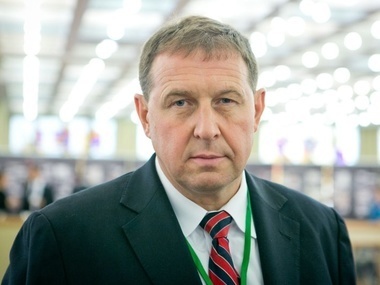 Andrey Ilarionov
Photo: profi-forex.org
The Russian oppositionist Konstantin Borovoy accused the NATO Deputy Secretary General of cooperation with FSB and urged Petro Poroshenko to intensify military operations. Borovoy's statement is a Russian provocation aimed at crushing Ukrainian military units, Vladimir Putin's former adviser Andrey Illarionov is convinced..
By Natalia Dvali
On November 3, the prominent Russian oppositionist, ex-deputy of the State Duma and chairman of the Western Choice party Konstantin Borovoy called the editorial office of GORDON and asked to urgently publish the conclusion of the expert group gathered on its initiative. The politician claimed that one of high-ranking officials in NATO administration is an agent of the Russian President Vladimir Putin.
"One of NATO's high-ranking officials, who is actually an agent of the foreign intelligence of Russian Federal Security Service (FSB), works for Putin," claimed Borovoy. "I want to inform the president of Ukraine as soon as possible that our expert group has estimated the level of the one who lobbies for Putin's interests in NATO and influences political and expert decisions of the USA and, perhaps, Poroshenko's decisions. This is the person holding the post of the Deputy Secretary General of NATO, in the past he was Deputy Minister of Defense of the USA and the ambassador of the USA in Russia." The Russian oppositionist urged the president of Ukraine to immediately resume military operations for liberation of the Crimea and Donbass.
After the publication of Borovoy's interview, the Russian economist, senior scientific officer of Cato Institute, and Vladimir Putin's former advisor Andrey Illarionov contacted the editorial board. He stated in an exclusive interview to the "GORDON"  that Borovoy's statement is a provocation of Russian intelligence services, whose purpose is to try to discredit the NATO Deputy Secretary General and to push the Ukrainian authorities to the recommencement of military operations in order to give the Russian Federation a formal pretext for a massive counterattack.
– Borovoy does not mention a surname in his interview, but gives the position of the high-ranking American official who "lobbies for Putin's interests in NATO". Do you understand who he was talking about?
– The only person who corresponds to the above-mentioned positions is Alexander Vershbow.
– According to Borovoy, he is an FSB agent in NATO?
– We do not know precisely who from the NATO administration is now working for the Russian intelligence services. But we know precisely who Alexander Vershbow is.
– Borovoy claims that when a NATO official was an ambassador in Russia, he"established unprecedentedly close relations with former KGB leaders in the USSR and acting leaders of FSB in Russia" and organized "a club of former KGB staff ".
– Mister Vershbow demonstrated a principled stand on many questions when he was working in Russia: from crimes of the Russian army in Chechnya and crushing of Yukos to protection of human rights, support of independent mass media and upholding of the democratic principles in the Russian Federation. It was because of this principled stand that the Kremlin decided to force Vershbow out of Moscow – the U.S. ambassador was subject to almost absolute ostracism in Moscow.
The last a year or a year and a half of his diplomatic cadence, mister Vershbow was in a situation when almost all Russian officials from the Administration of the Russian President, the government and the State Duma were refusing to meet him. As a result, he could not execute basic functions of an ambassador, and George Bush's administration was compelled to replace mister Vershbow with a more complaisant diplomat.
If the reasons for his recall from Moscow were suspicions of his relations with the Russian intelligence service, as Borovoy claims, mister Vershbow would have hardly been appointed the U.S. ambassador in South Korea, the Deputy Minister of Defense of the USA for international security, and then, since 2012, the NATO Deputy Secretary General. Vershbow became one of key leaders in the Alliance who consistently promotes strengthening of NATO, supports Georgia, Moldova, and Ukraine, and supports providing the necessary help to the Eastern European countries.
- Why does the prominent Russian oppositionist Konstantin Borovoy need to accuse the NATO Deputy Secretary General of relations with FSB?
– Urgency and unprecedentedness of Borovoy's statement seem to reveal the purposes of the "expert group" mentioned by him. It is obvious that, first of all, this statement is necessary to discredit Ukraine's key ally in NATO administration, mister Vershbow. Secondly, to try to provoke Ukraine to resume military operations that would become a good pretext for Russia to begin the prepared massive attack in the territory of Donetsk and Lugansk regions where four shock groups are now concentrated. In this case, this new Russian attack will not look as continuation of Russian aggression, and will be presented as "reciprocal and inevitable" reaction to Ukraine's violation of the truce.
 – Borovoy claims that Putin's lobby in NATO convinced the West to take a waiting position in relation to Putin, that the Russian army is not so powerful as it seems, so Ukraine should assume the offensive.
– I hope that military experts have more or less adequate information about the real potential of the belligerent parties. However, you should not be a military expert to understand: in the present situation, Borovoy's appeal "about the need of immediate active military operations for the liberation of the Crimea" is a provocative appeal to a deadly adventure.
– Why did Borovoy make the statement at this very time?
– Obviously, it is due to the large-scale attack of the Russian troops in Ukraine that is being prepared now. However, it is Ukraine and not Russia that has to be the party at fault of violating the fragile truce in Donbass, according to the provokers' plan.
It is not a secret for anybody that there are many people in Ukraine who are dissatisfied with the concluded truce when attacks against ATO forces persist and civilians are dying. They should be provoked to actions. Over the last two months, Russia has created a powerful group and gathered ammunition for a new attack. The public needs to see a convincing justification for it now.
– I cannot believe that a liberal and a democrat, an ardent critic of Putin Konstantin Borovoy is an FSB agent…
– Dzhokhar Dudaev's widow, Alla,  told us, "We were being pursued for a whole month. The husband wanted peace talks, he did not want war. He was caught with these peace talks, he was deceived like a boy. The Russian government, seeing that we did not want to give up and that the only way to deceive us was to start sham negotiations, vested such powers on Konstantin Borovoy".
The Wikipedia article on Borovoy dispassionately reads, "On April 21, 1996, during a telephone conversation between Borovoy and the first president of the self-proclaimed Chechen Republic of Ichkeria Dzhokhar Dudaev, there was a special operation, as a result of which Dudaev was killed with a self-guided missile launched from the Su-25 plane ".
– We assume that there are a lot of ambiguities in the story of Dudaev's murder. But Borovoy refers to the conclusions of an expert group in his address to Poroshenko.
– I wonder what it is for an expert group? Who exactly is there? Is it the same expert group that advised him to make a phone call to Dudaev in 1996? Is it the same expert group that helped Borovoy organize an alternative demonstration in Moscow on February 4, 2012 aimed to split the Russian oppositional movement? Is it the same expert group that informed Borovoy two years prior to the act of terrorism in New York on September 11, 2001, that "Al-Qaeda was preparing plane attacks at New York skyscrapers"?
– Andrey Nikolaevich, I have no reasons to disbelieve you, taking into account the fact that 90% of your forecasts concerning the Russian-Ukrainian conflict came true. But you are also called Putin's agent.
– Indeed, there was a campaign to discredit me in Ukraine in March 2014. After a while, it became clear that it was conducted by people who were in one way or another connected with Batkivshchina.
On May 24, I incidentally ran into Tymoshenko in Kiev and I asked her, "Yulia Vladimirovna, why are you conducting a campaign against me, calling me Putin's agent?". She answered  directly, "Because you accused me of the surrender of the Crimea". Strictly speaking, it was true: I really believed and still believe it. However, it was not me and only me who claimed this; it was done by the participants of SNBO (National Security and Defense Council) meeting on March 1 on which they stated that Tymoshenko did everything possible to prevent measures to protect the Crimea.
At the end of our conversation, Tymoshenko promised that she would not carry out any discredit campaigns against me any more. Some authors have stated something of the kind since then, independently or at someone's request, but, I should say, there has been no mass campaign.
– Borovoy claims that he wanted "to warn Petro Poroshenko about the need of immediate active military operations for the liberation of the Crimea and occupied territories of Donbass".
– I will repeat: it is a provocation. Immediate recommencement of active military operations by Ukraine will mean violation of the truce and will allow Russian authorities to accuse the Ukrainian government and justify new massive attacks.
– As the last argument, Borovoy underlines his role in the prevention of the act of terrorism on September 11, 2001: "Two years prior to the act of terrorism I forwarded information to the FBI administration that Al-Qaeda was preparing plane attacks at New York skyscrapers. They did not treat it seriously then. I hope that Ukraine will not ignore my warning".
– Whom exactly from the FBI administration received this information? How? How did he find out about "the preparation of plane attacks at New York skyscrapers" two years prior to this attack, that is in September 1999 if it was not until May 2000 that the first terrorists began arriving in the territory of the USA, and it was only in July 2001 that they chose the target – the New York skyscrapers? How did Borovoy get information about the attacks two years prior to the act of terrorism? From the same "group of experts"?
– If Poroshenko stands his ground and does not begin active military operations, will there still be aggression from Russia in the next few days?
– Borovoy's statement is unprecedented by many parameters. It shows the scale of the operations performed by the Russian intelligence services. In fact, it is an example of the hybrid war that is being conducted now, in particular, of the special operations on misleading the opponent and the public.
Borovoy's interview is at the same time a provocation and preparation for new provocations comparable to Gleyvits, Maynila, Tskhinvali – shooting of Russian peacekeepers in the village of Verkhniy by Russian special troops from brigade 10 of the Main Intelligence Directorate in the morning of August 8, 2008.