Journalist Sergatskova: If there are any revolts in Donbass, they will be aimed at Ukraine that stopped payment of pensions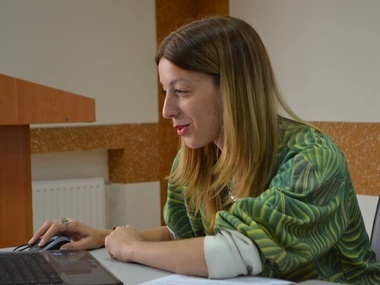 Ekaterina Sergatskova
Photo: Ekaterina Sergatskova / Facebook
The region was taken under control by people with weapon and only people with weapon can take it out of control, considers the Ukrainian journalist Ekaterina Sergatskova.
If citizens of Donbass revolt, most likely, they will protest against actions of the Ukrainian authorities that stopped payment of pensions and social benefits, the Ukrainian journalist Ekaterina Sergatskova stated in the comment to GORDON.
"The ideological basis is probably more important for them than some domestic needs. Such revolts will soon become an expression of discontent with Ukraine that does not transfer pensions and social payments to the population, rather than discontent with "DNR" and "LNR".
"Terrorists mainly receive financing from Moscow and this money is spent on terrorist leaders, but not on social payments to the local population. People are ready to suffer from it to the own harm so far," she said.
According to the journalist, a typical Russian story is staged in Donbass.
"A typical Russian story: we will suffer now and it will be good later. There is an expression formulated by the Kharkiv photographer Sergey Bratkov who works in Moscow, "Long live today's bad for tomorrow's good". Today it is typical of people who got used to living by the laws of the Soviet Union. The locals say that they lack food and winter clothes, they enumerate a huge list of what they need, but they say, "Thank you, Russia, for being with us," Sergatskova declared.
The journalist considers that the civilians will not revolt against armed people.
"In fact, people do not understand that they are hostages, but at a deeper level. They are hostages of terrorists and will not revolt against armed people out of fear for their lives. Therefore, only a political revolt may start that, definitely, will not develop against fighters. We should understand that if the region was taken under control by people with weapon, only people with weapon can take the region out of their control," she reported.
According to Sergatskovy, there is no real humanitarian disaster in Donbass so far, it is harder for migrants now.
"I keep in touch with people who live there and with volunteers who are engaged in help average citizens. I can tell there is no disaster as such there. The unprotected part of the population, people, who were forced to move out of their own houses, are in a very unpleasant situation as they have to live in bomb shelters and hostels without heating and they do not know, whether there will be heating this winter. They receive help from volunteer organizations that bring medicines and food. But this help is not forever, too. People should arrange their households, and they have no money," the journalist summed up.