By Tatyana Orel
The SOS Army group began with Maidan. Or rather it was on Maidan that those who then united into a powerful volunteer movement got acquainted. One of them – Yury Kasyanov, former serviceman and businessman, and now a blogger and a volunteer who can be regarded as a fighter of the Ukrainian army as he spends more time at the front than in his native Kiev.
According to him, this is the difference between SOS Army and other volunteer initiatives – teams work directly at the front line where the help is especially needed. They provide fighters with uniform, equipment, thermal imagers, night sights, cars, and even unmanned aerial vehicles assembled by themselves. UAVs fly over the territory and establish exact coordinates of terrorists' fortifications and check points.
But the main thing that the Ukrainian army lacks today, in Yury Kasyanov's opinion, is competent and honest command that does not betray the fighters.
As a person who knows about war firsthand and not from TV screens or maps from staff offices, the volunteer Kasyanov's opinion can be fully trusted.
When the country is in danger, we need the leader capable to make very tough decisions even if the West whispers to him that it is not necessary to quarrel with Russia
– Yury, did not Ukrainians cease to respond to the calls for help for the army after signing the peace accords?
– It was so for some period of time, but then people understood that peace accords benefit the enemy. Thanks to the fact that volunteers do not stop writing about events at the front, people understand that the war did not stop, losses do not decrease, and they resumed helping the army.
– What does Ukrainian army lack in the first place?
– Competent command – both political and military. The trouble is not because of lack of equipment, ammunition, and hardware, but because of ignorant command. For all these years, colonels and generals who fit well into the corruption system climbed the career ladder. Actually, there was no army, there was a state feeding trough for people in uniform. People who had moral principles that prevented from participating in the split-up of budget money allocated for army left the army.
– But today the military command in Ukraine is not appointed by Yanukovych who plundered the country, but by the new president elected by people…
– And is the new president not from the same system? Does not he come from Kuchma team? Is he any better than others? Yes, he is a diplomat, he knows several languages, he produces tasty candies. But when the country is in danger, we need a leader capable of making very tough decisions even if the West keeps whispering that we should not quarrel with Russia. We need our own Ben-Gurion who led Israel to victory in the terrible war against almost all the Arab world.
Now it is not time to snivel when our guys die at the front every day. Moderation in the war is, in fact, a treachery. It is impossible to be half pregnant or half killed. We either fight or not.
---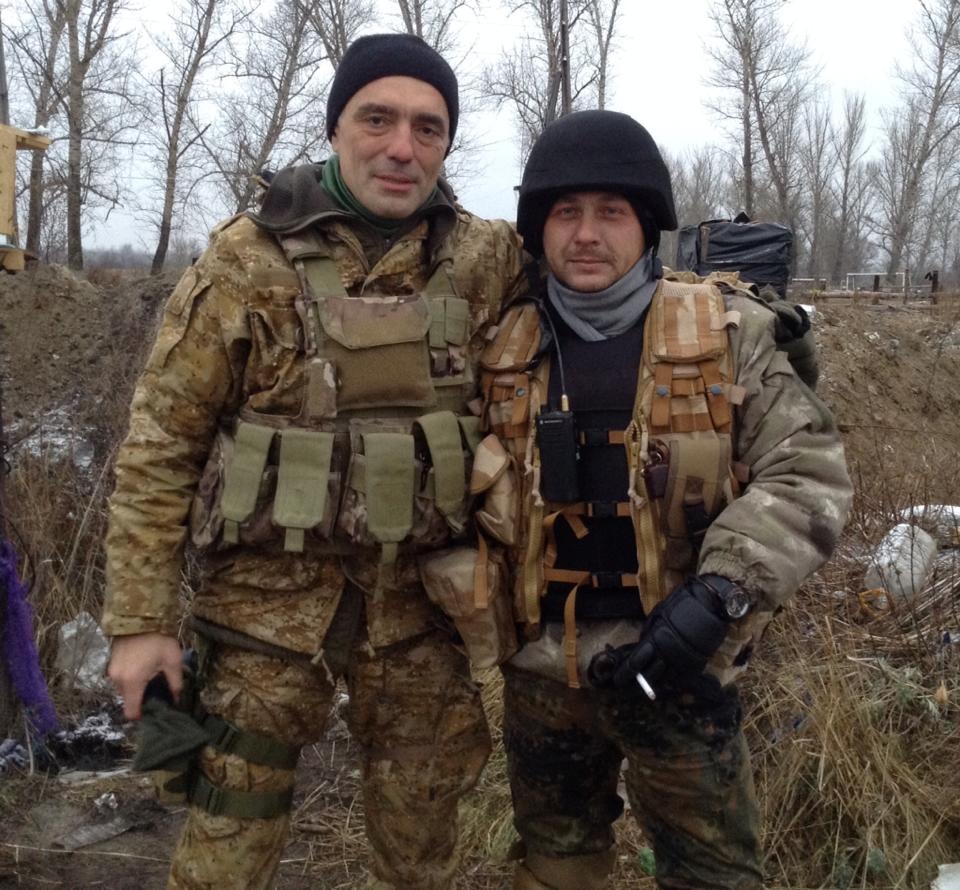 Yury Kasyanov does not love volunteer "photoshoots" embracing soldiers. But, having met the classmate Dmitry Prokhorov who is at war on one of the most dangerous points made an exception at the front. Photo: Yury Kasyanov / Facebook
---
– What is the attitude of our fighters to the peace accords?
– They have no attitude at all. They fight and die. Peace accords did not change anything for them. Flights of our fighting aircraft are forbidden. Therefore, we cannot urgently transport wounded fighters to hospital – he dies before being brought there because the ambulance cannot drive fast enough on our broken roads. And an ambulance helicopter cannot come because it is forbidden. It is forbidden to fire the enemy's targets while, conditionally speaking, these volley fire units are being unloaded at the railway station. We have to wait before they are installed in the field and start shooting at our positions. It is only then that we can request the command to open backfire if the guys will be alive by that moment. All this irritates and enrages fighters because they pay for peace accords with their lives and die, and it is absurd. One thing is to die openly in a battle, quite another thing is to be killed from behind by your command when it forbids to attack the enemy.
– Every war is a story of both heroism and treachery. The examples of heroism demonstrated by our fighters in the Russian-Ukrainian war are numerous. And is not this was an exception in terms of treachery?
– I consider it treachery that Girkin's unit was let from Slavyansk to Donetsk. Someone received big money for this, someone wanted to receive political dividends when Ukrainian flags were hoisted in Slavyansk and it was reported about the liberation of the city. It was obviously pre-arranged. Our troops were in Donetsk. Girkin managed to organize his powerful, consolidated group consisting of Russian military personnel and mercenaries and strengthened by local to defend of the city, and it cost to Ukraine much blood. If we had destroyed his unit, we could have finished the war quite quickly. I would like to see people involved in this treachery conquered.
Putin, the godfather of terrorism in the former Soviet Union, did not suffer much when he blew up houses in Moscow where Russian citizens were killed,

so he will not feel sorry for our people either
– The fanatic of the Russian world Girkin was in a way betrayed, too – he was withdrawn to Russia despite all his "feats". As well as Bezler, the "master" of Gorlovka. Is it Putin's attempt to show that "DNR" will now do with local people "elected" by people?
– Girkin is a very effective commander and a good manager. But he has criticized Putin many times, he thought that he was the tsar of Novorossiya. Besides, he broke the ban of the FSB and disclosed himself. Therefore, Putin, being afraid of a competitor in the east of Ukraine who dictates the rules, discharged him. Bezler did not obey bandit authorities of "DNR", he could be agree with on the exchange of prisoners, on ceasefire, and, by the way, while he was in power, the territory between Gorlovka and Artemovsk was a zone of relative tranquility. Therefore, he was also discharged.
Now all disobedient people are discharged in the occupied territories, the Russian military government is actually introduced there. There is still Ataman Kozitsyn near Trekhizbenki in Lugansk region – the Cossack traditions are strong there, Russian Cossacks got settled in the villages that were destroyed during the Holodomor. Kozitsyn is left in peace so far as these Cossacks are used as gun meat, they are in the first echelons. But there are Russian troops behind them. The latest equipment and means of electronic fight for radio intelligence work against us. We feel it very well.
– There have been several acts of terrorism in Kharkiv recently, a subversive group has been exposed. Is it continuation of the current war?
– Putin, the godfather of terrorism in the former Soviet Union, did not suffer much when he blew up houses in Moscow where Russian citizens were killed or when he wiped out settlements in Chechnya, so he will not feel sorry for our people either. Probably, he understands that it is much more difficult to arrange acts of terrorism in cities with a high level of patriotism, such as Kiev or Lviv. Therefore, the Kremlin tries to destabilize the situation in Kharkiv, considering that he plans to seize it in the nearest future. Putin needs to create a certain "Novorossiya zone", it means that Kharkiv is in danger especially as the pro-Russian sentiments are still rather strong in the city. On the one hand, acts of terrorism intimidate the population – pro-Ukrainian or sluggish Russian supporters, on the other hand, they strengthen the hope of those who waits for Putin's arrival in Ukraine.
Of course, other cities are also jeopardized. It is not because we have some serious basis for terrorism. Some like Putin, some like Poroshenko, or do not like either. Actually, there are not so many people who are ready to arrange acts of terrorism. But anti-terrorist structures that have to prevent them work extremely badly. Therefore, any wandering group of morons or Russian intelligence agents is capable of it, they can arrange acts of terrorism in any Ukrainian city.
Ukrainians have to understand finally that our country is at war that is not only waged at the front where mines fly and howitzers shoot. The modern war is in the whole territory of the country, and there is nowhere to hide from it, though Putin does not use aircraft yet. We saw non-patriotic outcasts help Russian mercenaries to seize territories of Donbass. So we should repulse right away. It is absolutely natural to a warring country.
Putin will continue destabilizing Ukraine as much as possible and trying to bring loyal to him government to Kiev
– One of "DNR" leaders Pushilin declared that the negotiation conditions will include transfer of the whole territory of Donbass under their control. In your opinion, how will the events develop?
– I think that fighters will try to seize as much of the territory as possible. Not only Donbass, but also Kharkiv, Mykolaiv, Zaporizhzhia, and Dnepropetrovsk regions are in danger. They are first of all interested in the way to Berdyansk to break an overland corridor to the Crimea from the South. In the north, it is Lysychansk, Severodonetsk, and Lugansk as powerful industrial centers. They want to crush our troops in Debaltsevo and in Shchastie for further breakthrough to Kharkiv.
Харьков.
---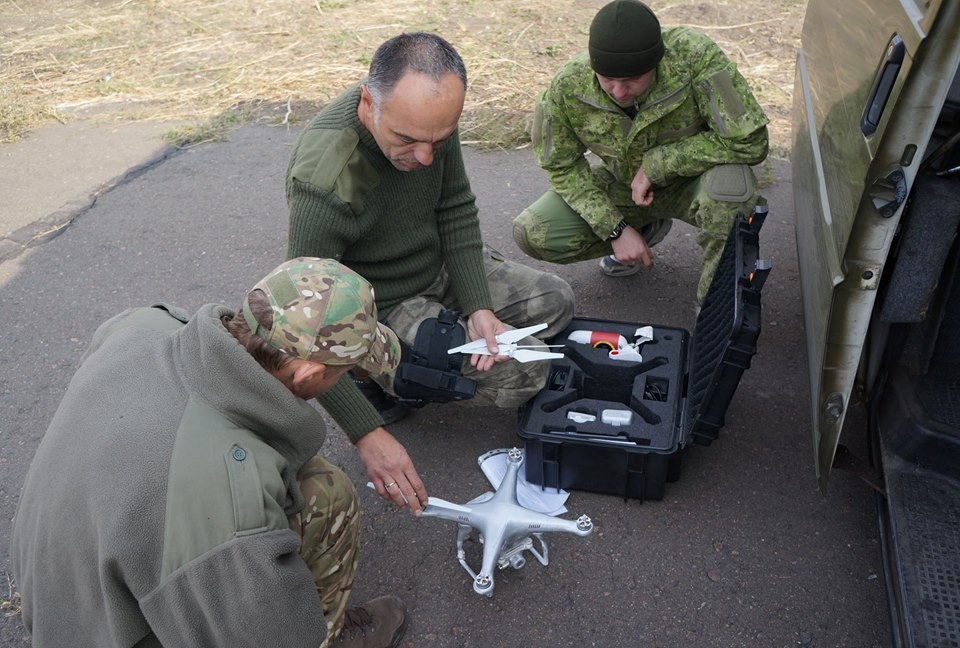 Volunteers of "SOS Army" assemble UAVs which turn over the district for the Ukrainian army and establish exact coordinates of strengthenings and posts of terrorists. Photo: Yury Kasyanov / Facebook
---
– "DNR" and "LNR" are already called "Donbass Transnistria". It seems that the terrorists get settled for a long time there – they are create their own pension fund, they are going to introduce their own currency. Many regard the refusal of the Ukrainian government to pay pensions to the citizens of the occupied territories as a result of secret agreements aimed at surrender of Donbass. Do you think so, too?
– Ukraine does not finance separatists, and most payments do not go into their pockets. But, making such a decision, the government certainly had to take into account that we should liberate the occupied territories so that the inhabitants of Donbass would not have a feeling that Ukraine turned its back on them. Only liberation – we have no other way out. Our people live there, and the majority of them suffer in occupation.
Putin will hardly be able to control this conflict near his border for a long time. It is too dangerous for him, too – there are so many people with weapon and unclear sentiments. He will continue destabilizing Ukraine as much as possible and trying to bring loyal government to Kiev so that it would first realize the idea of federalization for the occupied regions to gain real independence. And his further step, I think, is an attempt to seize the whole Ukraine, to include it in the sphere of influence of Russia and to create the Russian Empire in Ukraine.
The situation will start changing in the nearest future – it is a question of several months or even weeks. But I can say for sure that this bandit enclave will not survive the winter.