Malomuzh: Positional war without effective settlement mechanisms is what awaits Donbass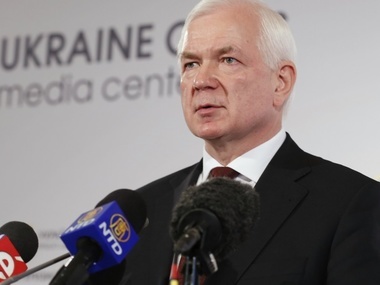 The airport should have been left when it was possible


Photo: uacrisis.org
Ex-Commander of the Foreign Intelligence Service Nikolay Malomuzh believes that the terrorists extensively use casualties among the civilian population for their propaganda among Donetsk residents.
General Nikolay Malomuzh predicts that a long conflict without effective settlement options awaits Donbass. He said this in the comment to the GORDON .
"There will be a positional war. There will be a controversial scenario meaning that there will be no effective resolution mechanisms, only tactical decisions," Malomuzh considers.
"They did not manage to expand the territory, but they believe they gained a very important moral victory by seizing the Donetsk airport. From our side, it was a symbol of resistance, and from their side, it was a symbol of victory. They have already widely advertised it," the general noted.
According to Nikolay Malomuzh, terrorists used the attacks and death of civilians to discredit the Ukrainian military.
"The factor of Volnovakha and death of people in Donetsk are extensively used by the terrorists among the local population. We communicate with Donetsk residents, and they are all one hundred percent sure that this was done by the Armed Forces of Ukraine. It is despite all our evidence to the contrary. They simply do not believe – it is the result of a very powerful information and moral activity," Malomuzh thinks.
According to him, the Donetsk airport should have been left when it was possible to avoid casualties and prisoners among the defenders.
"It was a big mistake that we lost the airport. We he had to leave it quietly, motivating it with the fact that it made no sense to hold it. However, we did not leave it on the pretext that we were standing firmly and would not surrender; as a result, people were taken prisoners, there were many dead and wounded," Malomuzh pointed out.
The expert believes that the terrorists will continue to escalate the situation.
"Only partial concessions are possible in the future – ceasefire or withdrawal of weapons and equipment only in certain sectors and only under the aegis of the OSCE and our contact group. There will be new escalation attempts on the part of the terrorists. They will not give them up and will continue to disrupt large-scale negotiations. They have discredited even the Norman format in a very powerful way, and now only resolution of local issues is possible, rather than of the whole problem," Malomuzh considers.
"Ceasefire and exchange of prisoners are just individual provisions of the Minsk protocol. Meanwhile, strategic issues such as border control and withdrawal of troops will not be addressed according to my forecasts. In this situation, terrorists believe that they have improved their negotiating positions due to strengthening of the military situation of DNR and LNR," the general added.