Political refugee from the Russian Federation: If the West presses Kremlin security officers, they will bring Putin's head on a tray, telling people that he had died of cancer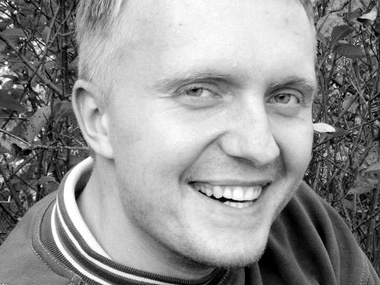 Anton Myrzin:

Russians will endure everything because they are slaves. Traditions of slavery have been in their genes since the Golden Horde


Photo: Anton Myrzin's personal archive
The artist from Perm Anton Myrzin who is hiding from the Federal Security Service in Kiev said in an interview to the GORDON about who really rules the Russian Federation, about homosexual compromising evidence of special services against politicians and oligarchs, about "genetic slavery" of Russians and about why it is dangerous for him to remain in Ukraine.
By Natalya Dvali
The exhibition "100 best Ukrainian patriotic posters" was held at M17 Center of Modern Art in Kiev in early December; it ended with a charitable auction whose proceeds were transferred to Ukrainian serviceman who got wounded in the ATO zone. The exhibition included 45 works of the Russian artist and blogger Anton Myrzin who became famous in the Internet under the alias of Paperdaemon Chaognostic.
Myrzin is an ecologist by training and a native of Perm. To be more precise, he was it until the Administration of the Federal Security Service (FSB) in Perm Krai instituted a criminal case against him for public appeals to extremism. The case was brought in after the deputy of the State Duma from the United Russia faction Alexander Hinstein had made an appeal to the prosecutor's office. The Russian mass media immediately picked up a subject, having shot a series of reports about "the Perm russophob artist urging to kill supporters of Russia".
A few days before the persecution Myrzin managed to move from Russia to Ukraine. The artist said in an exclusive interview to the GORDON edition about the total fear that seized the Russians, about the fight of the Kremlin clans, that the Russian President is not an independent politician, but rather a puppet in the hands of oligarchs, about secret arrangements of the West with the Kremlin and about who "will bring Putin's head on a tray" and under what circumstances.
It may be unsafe in Ukraine, the infiltration of Russian agents is too high
– If you remained in Russia, what would have threatened you?
– Article 280, part 2 "Public appeals to implementation of extremist activity made with the use of mass media or information and telecommunications networks, including the Internet". It is punished by imprisonment for up to five years. Knowing the realia of Russian prisons and general attitude towards me after the Kiev exhibition, I perfectly understood that it was a death sentence. It is a cinch to kill one in prison in Russia.
I was sure that I will be persecuted after the Kiev exhibition. I received hundreds of text messages with physical threats. Relatives and friends told me at once, "You should make off asap". The decision to leave was very hasty; as a result, I was in Kiev within six hours' time. I had one banal purpose – to survive and not to fall into Putin' KGB clutches.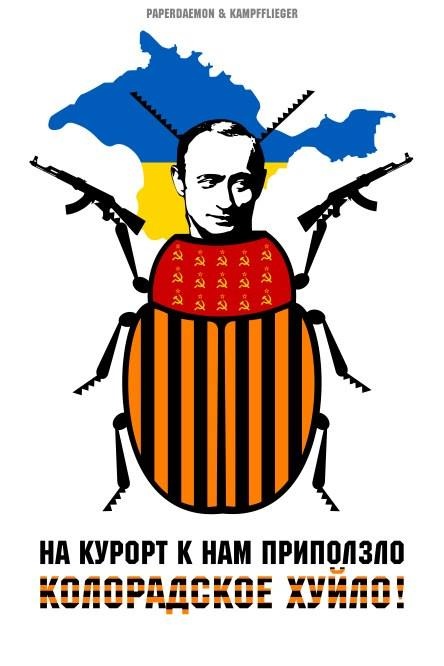 Propaganda poster "Russian h..lo crept to our resort". Author: Anton Myrzin
– What is your status in Ukraine?  
– I am an emigrant expecting further decision on my status. I did not seek a political asylum in Ukraine. A familiar Italian journalist working in your country recommended I should seek a political asylum at a Western embassy.
– Why?
– With all due respect, it may be unsafe in Ukraine, infiltration of Russian agents is too high. I arrived in Kiev on December 7, after the exhibition was over. I have the right to stay here for 90 days, then my status may be prolonged.
– You took a hard pro-Ukrainian line more than a year ago, since the beginning of Euromaidan. Why was it only now that the prosecutor's office notice you?
– These are features of the Russian national hunt for people. The system is very inert, security officers will not move a finger without a kick from above, even to fight against "the public enemies". If there is no order from above, law enforcement authorities turn a blind eye on much graver offenses than mine. Besides, my art is guaranteed de jure by the constitutional right for the freedom self-expression. In fact, my work was subject to strict censorship because my criminal case was supposed to become a demonstrative process.
Navalny is financed directly from the Kremlin through Surkov's Skolkovo fund
– According to the Russian authorities, what did your offense consist in?
– I became notorious as the creator of propaganda posters with comic contents. A little more than a year ago, when the events in Ukraine started developing, I started creating political posters on acute ideological topics. This is my hobby, though the Russian politics is a staged performance all over, a chapiteau circus with freaks and clowns, including the so-called opposition.
– Why "the so-called"?
– The opposition in Russia largely exists to prevent transformation of the social protest into a political one. That is tamed oppositionists controlled from the Kremlin allow part of the population to let off steam, but nothing more.
From the whole range of political movements in Russia who can be regarded as oppositional, I point out the Republican Alternative as the most consistent and promising.
– Apart from the false opposition like LDPR and Just Russia, there is also a real one, for example, the Progress party headed by Alexei Navalny.
– What are you talking about?! Navalny is financed directly from the Kremlin through Surkov's Skolkovo fund. (Vladislav Surkov, Vladimir Putin's assistant, ex-Deputy Prime Minister and former Deputy of the Russian Presidential Administration, according to informal information, supervises Ukrainian matters in the Kremlin. Skolkovo Innovation Center is a scientific and technological innovative complex built in Moscow, the Russian analog of the Silicon Valley in the USA.– GORDON).
– If you say that Navalny is a Kremlin agent, why is he constantly pursued? Her has been under house arrest for more than a year.
– I will remind that Mikhail Beketov was beaten for much more harmless journalistic investigations. As a result, he became a disabled person and died soon. Beketov was killed for a trifle, and Navalny, I beg pardon, disrupts billion contracts of Russian officials with his "compromising evidence" and never receives more than 15 days of arrest.
– But it is Navalny who publishes large-scale anti-corruption investigations about yachts, mansions and fur coat warehouses of Putin's confidants.
– Navalny survives because the powers that be in Russia are heterogenous, there are different clans in it, and these clans have certain parity arrangements. Navalny plays on the fight between these clans and periodically discloses compromising evidence against some of them, but he does it under careful supervision of the Kremlin. That is why nobody touches this "oppositionist".
Russia is the mass unconscious, but there are a few citizens with the European way of thinking even there. The Kremlin palmed off a leader of pseudo-protest, like Navalny who lets down every real oppositional movement at the key moment.
Putin is a puppet, a mouthpiece that voices the will of clans that are in power in Russia
– What fighting clans in the Kremlin did you mention?
– Putin's confidants are conditionally divided into the power and economic blocks. Both clans have to coexist with each other, therefore, they turn a blind eye on lawlessness in Russia.
The power block is informally supervised by Vyacheslav Volodin (first deputy head of the Russian President Administration Sergei Ivanov.– GORDON). These are the least negotiable, absolutely insane people owning raw materials, transportation and trade corporations.
The economic block is headed by Surkov. These are the most negotiable subjects of the Russian politics, they are related to economic, financial and foreign relations of the state. If the situation becomes very bad, they will support the West and will let in those who will carry out large-scale political reforms in Russia. This clan understands that Russia is already a bankrupt from the economic point, and especially from the ideological one.
– Is Russia an ideological bankrupt? And what about "the Russian world", the reason why Putin invaded Ukraine?
– No single idea, especially the idea of "the Russian world" is able either to revive or to prolong existence of Russia. The Kremlin itself created this ideological bomb, set fire to the fuse, and is now sitting on it with patriotic feelings.
Putin is a puppet, a mouthpiece that voices the will of clans that are in power. This fake tsar has so much PR that he felt as if he was a god. In fact, Putin is a plain person with megalomania who would be working in the Dresden branch of the National Security Committee if the oligarchs had not pulled him out of it in the 1990s. However, oligarchs thought that Putin would be on a leash all the time, but someone from the power controlling group intercepted him and made him their puppet.
– Most of the analysts agreed that the Novorossiya project is closed after Putin's recent message to the Federal Assembly. Do you think so, too?
– Such analysis is senseless without information from inside. The attempts to analyze the plans of the Kremlin logically and rationally are doomed to failure, Russia exists beyond the formal logic.
Nevertheless, it seems, people above had a discussion and realized that they could not seize Donbass all of a rush. Nobody is afraid of the Russian tanks in Ukraine, on the contrary, they say: send some more, we will return even more coffins to Rostov. The Main Intelligence Directorate and the Federal Security Service killed hundreds of Russian soldiers before realizing that they could not seize the object by force. But the power block of the Kremlin will not use the nuclear weapon without coordination with the West.
– Stop! Why does the Kremlin need consent from the West for clicking the nuclear button?
– Otherwise the U.S. financial intelligence will close all Western bank accounts of the Russian authorities. America knows perfectly well who keeps how much and where. The West could have solved the Ukrainian conflict very fast, it was enough to block bank accounts of Putin's confidants.
– Why have not they done it yet?
– Because money is ahead of morality all around the world. Always. It is politics. As Al Capone put, "Nothing personal, only business." The world elites in all countries understand each other perfectly well when the question concerns saving of financial and power influence. They can turn a blind eye on the tragedies of whole nations.
– Including Ukrainian?
– Putin has already spoilt fortune to many Kremlin officials. If the West presses hard on the Kremlin power block who also have their bank accounts abroad, these guys will bring Putin's head on a tray and will tell people that Putin has suddenly died. Especially taking into account the fact that the press keeps discussing the gossip that the Russian President suffers from cancer.
Russians will endure everything because they are slaves. Traditions of slavery have been in their genes since the Golden Horde
– Many people in Ukraine are convinced that there will be disorders in Russia soon, and the first regions will be the first to rebel.
– One should understand how control in Russia is exercised. There is a certain common fund called the federal budget. There are heads of regions or supervisor appointed personally by Putin or by the "Board of Directors" in the Kremlin. Supervisors can do whatever they want in the regions, the center will turn a blind eye on everything. But! The main task of the supervisors is to finance the budget sector so that there would be no discontent or revolt among the population.
If the western sanctions kill the Russian budget, the most part of the money will still be in Moscow, while much less funds will go to the regions. Besides, the Kremlin will not stop feeding the huge lot of armed forces and the so-called law enforcement officers. Russian internal troops include about two and a half million people, the army of the Russian Federation – about 700 thousand people. As a result, other citizens, especially in the regions, will live on the verge of survival…
– … and then the Russian Maidan will begin?
– There will be no Maidan. Never. Russians will endure everything because they are slaves. Traditions of slavery have been in their genes and phenotype. It is not Putin who has achieved it, there has been selection throughout centuries, since the times of the Golden Horde. Results of experiments with rats have been published on the Internet recently. Rodents were subjected to stress and electric shocks and it was found out that fear is fixed genetically for four generations in a row.
Slavery has existed in Russia for many centuries in a row. The paradigm of both the tsar empire and the communist USSR and today's Russia has not changed: tsar, secretary general, president and undivided authority of the powers to be. It is a matrix of the Russian life. Power in Russia is sacral, the Western world does not understand it, it thinks too rationally. If Russia blows up from below, it will not be a Maidan, it will be a senseless and ruthless riot with seas of blood. There are a lot of cops, "titushkas" and other tamed dogs there.
– And what about the slavery consciousness in Ukraine?
– Geographical proximity to Europe saved you, as well as lack of deposits of raw materials like oil and gas, and territorial compactness of the country. You gave birth to political subjectivity of the state and its citizens on Maidan, with your torments and blood, and now it should be developed. You have many things to improve, you are moving towards the civilized space, while Russia is moving backwards to Asia. Besides, desovietization has already begun in the heads of Ukrainians. It is very important.
I perceive the mental difference between Ukrainians and Russians very clearly. You have civil solidarity and strong horizontal links, you are well coordinated and can stir up any action and raise funds for ATO fighters. You are personalities, and every Russian person is an object of manipulation, tortures and persecution.
– But there was a Maidan in Russia in August 1991 when tens of millions people went out against the State Committee on the State of Emergency (GKChP) that wanted to return the communist regime.
– It is a myth. Understanding that the USSR cannot exist anymore, the Russian elite organized a performance, having previously agreed on everything. There was one single idea: we do not build communism, but we should remain in the key positions in power. After the collapse of the Soviet Union all so-called "red directors" remained in power. Look at these young reformers of the 1990s, such as Egor Gaidar, Anatoly Chubais, Boris Nemtsov and others – all of them were either from the VLKSM (All-Union Leninist Young Communist League), or from the CPSU (Communist Party of the Soviet Union). To put it short: Komsomol members removed elderly men from the Political Bureau and occupied their positions, but in Russia instead of the USSR.
Homosexuality is one of the Security Service's main compromising evidence against politicians, officials, and businessmen
Why was not there an analog of the Nuremberg process against the communists after the collapse of the USSR? Because people who used to rule before came to power. There is a similar problem in Ukraine now: medium-ranking heads of the Yanukovych regime are still in their places. They should be rooted out immediately, otherwise you will get back again.
– Does not it seem to you that you exaggerate the plot of the elite in the collapse of the USSR? As well as omnipotence of the National Security Committee that has become the Federal Security Service.
– Simply believe me at least because I have lived all my life in Russia, and have now arrived in Ukraine for the first time. The Security Service has a huge secret intelligence network, everything is based on fear in Russia. A person is recruited by any means: from bribery to blackmail with the use of compromising evidence. Do you know why the issue of homosexuality is tabooed in Russia?
– Because Russians have anachronistic orthodox consciousness. Putin declared that the Russian Federation will always adhere to "the traditional Christian values".
– It is a lie, homosexuality is one of the Security Service's main compromising evidence against politicians, officials, and businessmen. If homosexuality becomes a gender norm in Russia, then a lot of folders with classified materials will go to a trash bin. Do you know, what can really shake Putin's regime?
– I hoped for the Western sanctions and falling oil prices, but it seems that it is a very slow way.
– If all citizens withdraw their deposits from Russia's largest bank "Sberbank", it will destroy the country's economy from within. There will be no money to pay cops and secret service officers protecting Putin's regime. And it is an action that is absolutely safe for common Russians. There was something similar in Poland, but people were supported by the Catholic church that promoted overthrow of the regime. It will not happen in Russia, our orthodox church has fully merged with the Security Service.
– Is Putin really supported by 82% of Russians?
– This figure has been drawn. I repeat: ordinary people in Russia are very frightened because if something happens to them, nobody will come to the rescue.
The Kremlin has caught itself in a trap, it seized the Crimea, but it will drown together with it
– Anton, are not you incidentally an FSB agent?
– No.
– A laconic, but not a convincing reply.
– With all its power, the FSB is not capable to plan the situation many moves ahead. The developed Western corporations plan for 15-20 years ahead, and the logic of actions of the Russian authorities is two-dimensional: to grab and divide – and that is it! There was a three-dimensional logic even in the USSR: they first created an ideological basis, threw it in the people through mass media, and only then they started building what they wanted. I repeat, there is no ideology in Russia. The state exists thanks to the safety factor of the Soviet Union, the Russian Federation has not created anything new.
– Have you left Russia forever?
– I am not so pessimistic. I think that Putin's regime will collapse soon and I will come back home. The process of the economic downfall has already been triggered, ferment has begun in society. We live in an information era. It was earlier when the Urals learnt about the 1917 October revolution only a month after it took place. Everything is spread rapidly now.
– And when will the current Kremlin regime collapse?
– Nobody knows Precisely, maybe, in several weeks. At worst, in 2017. It is a symbolical date – the 100th anniversary of the 1917 revolution. Very much depends on the symbolical, the unconscious and the irrational thinking in Russia. The West will not understand it.
Russians think illogically, they live in their own world, they create fine things, like music, literature, and philosophy that are recognized in the whole world. It is the real Russian world. But it has a reverse side – petty tyranny, like Putin's "Russian world" that has become a reason for invasion, expansion, and armed occupation of others' territory. The Kremlin has caught itself in a trap, it seized the Crimea, and it will drown together with it.
– I wonder what will happens to my country while the Kremlin is drowning.
– Russian agents will still be penetrated into Ukraine, acts of terrorism will be organized, economic and information pressure will be exerted. But there will not be an open war, the Russian regime has no forces and resources for it.
You are put in a situation in which you cannot but win. And you will win. Ukraine has already won out over the huge Russian bear. You will develop in the positive direction despite many internal problems. I am sure that Ukraine will set a new standard of democracy in Europe.
– Are not you afraid to get disappointed when you see Ukraine from within?
– I was walking in Kiev very much during my first days here, I heard only the Russian speech practically everywhere. I was convinced that everything that Dmitry Kiselyov says is crazy nonsense. Yes, there are very many problems in Ukraine, but it is moving towards something free and responsible. It is in the air. So I was not disappointed in Ukraine and I do not intend to be.