Sadovyi: There is corruption in the regions, but it is tens of times less than in the "Pechersk-Bermuda triangle"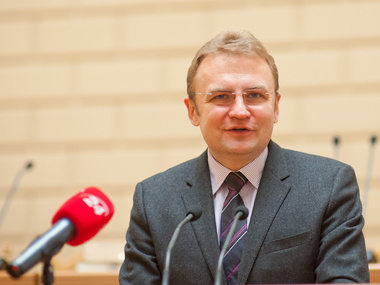 Sadovyi believes that people are more sensitive to injustice after Maidan
Photo: ji-magazine.lviv.ua
The mayor of Lviv and Chairman of the Samopomich party Andrey Sadovyi is convinced that all money of the country will continue settling down in Kiev without laws on decentralization.
The mayor of Lviv Andrey Sadovyi considers that people are very sensitive to manifestations of injustice after Maidan, which caused events in Zaporizhzhya and Vinnytsya. He stated it in his comment for the GORDON edition.
"People are very sensitive to injustice today. They have gone through Maidan, and all this information about humiliation and kickbacks that is exposed now fill people with indignation. People feel the situation with their nerves. When the authorities do not hear it and try to be hard as iron, it results in big trouble. I mean both central and local authorities," Sadovyi believes.
"It is very simple to paint everything in one colour and say, "It is so". But it is not so. Today, the authorities should stay close to people and be proactive because, frankly speaking, nobody likes the authorities in any country of the world and people always complain about them. But the authorities must be able to work with people to come up to their expectations," the mayor of Lviv noted.
According to Andrey Sadovyi, the major reason of protests in the regions is unjust distribution of funds in favour of the central power.
"The situation in Vinnytsya is very unpleasant, the situation in Zaporizhzhya is very disappointing, moreover, it is worked up because of the political context. There are very many problems. Of course, there is corruption in cities and regions, but it is tens of times less than in the "Pechersk-Bermuda triangle", as I call it: the Verkhovna Rada, the Cabinet of Ministers, and the Presidential Administration, money from all Ukraine goes and disappears there. The quicker we start adopting laws that will lead to decentralization and respect towards local self-government, when all decisions will be made locally, the sooner we will see the result," Sadovyi considers.
"For example, people in Vinnytsya do not accept it because everything is intended for Kiev because very many representatives of Vinnytsya establishment are in the state authorities now – both the President and the Head of the Verkhovna Rada. They must do everything possible and impossible for the region to become an example of openness and respect to people," the politician pointed out.