Slava Rabinovich: Budapest Memorandum didn't taught Ukraine anything, so we shouldn't hope for Minsk one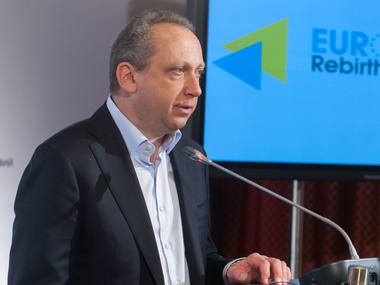 Russians signature does not cost anything, says Rabinovich


Photo: uacrisis.org
Russian financier Slava Rabinovich believes that the war will end in Ukraine only when the Ukrainian Army, supported by the partisans will win the enemy.
Russian economist Slava Rabinovich believes that peace negotiations with Russia to Ukraine are impossible because the Russian leadership was not originally aimed at a peaceful settlement. He said this in a comment to "GORDON" .
"Under any circumstances, it is impossible to negotiate with a party that originally did not want to negotiate. And since Russia has clear interests in the destabilization of Ukraine, of course, a cease-fire is a very important thing to ensure that there are no victims," - says Rabinovich.
The economist believes that to stop the war it is necessary for Ukrainian army to have military successes.
"The war in Ukraine will stop when the armed forces of Ukraine will have a military victory, God forbid, with adequate weapons, American or or any other, and when the local population will show a strong resistance. Not like it was in the Crimea, where they infamously gave the territory, but the way that the partisans with VSU by force don't give allowance to seize the territory. Ukraine must be prepare for this in terms of the protection of the country. To hope to negotiate with terrorists and to believe in some paper with all sorts of Minsk memorandum is simply a waste of time. If the Budapest Memorandum has not taught Ukraine anything, then at least now we had to learn, "- said the economist.
"Russian signature does not cost anything. There's no sign on the part of Putin. Putin controls all those Givis and Motorolas? Throwing a wild number of thugs on the Donbass, he does not control them," - says Rabinovich.