The former minister of housing and public Kucherenko: Russia's target is to destabilize Ukrainian energy system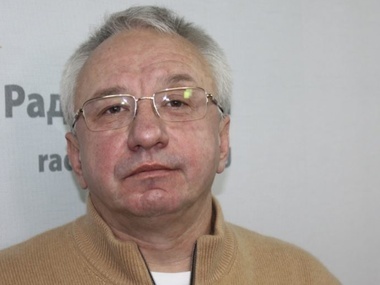 Kucherenko wants the energy crisis to have its own speaker
Photo: radiosvoboda.org
The former minister of housing and public works thinks that the lack of coal at the Ukrainians warehouses is not just an intimidation but a real threat.
Statement made by the newly-qualified Minister of Energy Vladimir Demchishin on the need to purchase electrical power from Russia looks strange considering the fact that the agency recently denied the ability to import electricity from Russia. This commentary was provided to "Gordon" by the former minister of housing and public works Aleksey Kucherenko.
"We could have made jokes about hot water in summer, but it is winter already and it's not funny any more. The minister has said it is necessary to buy electricity from Russia, but I don't support him. Why should we buy the electricity? Because we don't have  enough production. Why do not we have enough production? Because we do not have enough coal. But it looks absurdly after they fired the Vice Minister Ulida two weeks ago, only because he signed some letter of some company that there is ability to buy electricity from Russia, "- Kucherenko said. 
According to the expert, it is essential to solve the problem with a deficit of coal for thermal power plants.
"The lack of coal in the warehouses is a real threat, not just an intimidation. It is because, as usually, the political factor prevailed. I speak in terms of what authorities say. And they say that we had coal reserves for 3-4 days. There are stuck cars on the border with Russian coal. The ships from South Africa are somewhere, but I realize that they will go now for some subsidiary. And to whom all these calls are possibly limited? To population? But the population - is a peak consumption in the morning and evening day times. So if they stop businesses now for 2-4 hours, how will people build their work? They also need to somehow make money, "- ex-minister says .
Aleksey Kucherenko admitted that the destabilization of the power system in Ukraine - is one of the targets of Russia as an aggressor.
"The authorities are hiding behind some technical terms, but I understand that now we supply the Crimea, as well as "DNR" and "LNR" with electricity at a low price. Kiev has always been a "sacred cow.". I remember when in 2009 Kiev stopped to pay for gas completely, "Naftogaz" has decided to punish slightly Kiev and Chernovetskiy, but Yushchenko immediately intervened and gave the command not to do it. Maybe this is the heart of the matter? So the process will begin when Kiev is disconnected? Here started the hybrid and energy war. It's actually the purpose of the Russian Federation - to destabilize Ukraine through energy resources, "- Kucherenko considers.
 To expert's opinion, the government does not pay enough attention to communication with the media and citizens on energy issues.
 "For example, there is the speaker of ATO. Every day he comes out and says something and inspires some confidence. In the terms of emergent energy state we need someone who will speak clearly, competently and tough. But instead we create the whole Ministry of Informative propaganda for no reason at all. So, where is the speaker on emergent energy situation? Where is he? Let him speak, "- Kucherenko added.