Tymchuk: One must be an idiot if one fails to draw any conclusions and understand that all these peace arrangements are senseless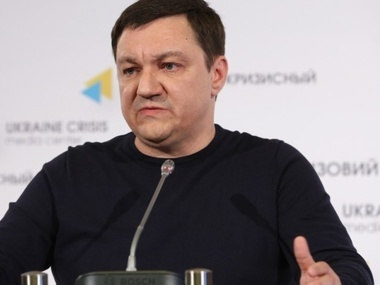 Tymchuk: We have been listening to tales about peace for three months, while more and more our guys were killed there


Photo: prportal.com.ua
There has been no single day for the months of "truce" since September that the pro-Russian terrorists started fire less than 15 times, the deputy from the People's Front party and member of the Parliamentary Committee on Defense and National Security Dmitry Tymchuk stated.
There will be no peaceful solution in Donbass until Russia comes to the negotiating table as an initiator and participant of aggression, and admits its guilt and responsibility. Peace talks are an illusion without this. This opinion was expressed in the comment to the GORDON by the people's deputy and coordinator of the Information Resistance group Dmitry Tymchuk.
"All these arrangements are senseless. Who do we negotiate with? We negotiate with representatives of terrorist groups. But they are not independent stakeholders, they cannot negotiate anything. We cannot negotiate what will be done in a house with a street cleaner if the head of the housing department keeps away from the negotiations. We must negotiate with those who initiate it and manage the processes. They are managed by the Kremlin. If the Kremlin keeps away and makes no guarantees, saying that it has nothing to do with the situation, there are no guarantees from these agreements, either. It was evidenced by the Minsk accords, then they tried to demonstrate the peace process in December, and now we have what we have. In my opinion, one must be an idiot if one fails to draw any conclusions from this situation and understand that peace talks does not make any sense," the people's deputy stated.
According to Tymchuk, talks about the truce do not stand up to any criticism. "The president has a different opinion, and he insists on it and keeps talking about some kind of peace. But he has been talking about it since September. What peace?! There has been no single day for all these months since September that there were less than 15 attacks during the quietest periods. For three months, we have been listening to the tales about peace, while more and more our guys were killed there. Finally, there are new tales about new peace arrangements against the background of unprecedented intensification of Russian terrorist troops and their offensive actions. If someone believes in a peaceful dialogue in this situation, I would like to see their diagnose from a psychiatrist," the military expert emphasized.
The parliamentarian underlined that there was not a hint of stabilization. "I was not present at the secret talks between Poroshenko and Putin, but we can judge from the real picture. If these arrangements existed, they are not implemented in reality, and there is not a hint at stabilization. Even if there were some, the Ukrainian government had firm and definitive evidence that there are no grounds to believe them. When there were discussions about the demarcation line, about the creation of a buffer zone, withdrawal of heavy weapons, there were arrangements regarding withdrawal of our troops from certain positions and settlements, but these arrangements were disrupted immediately. Our units really received the order to get ready and pack the things. However, the Russian terrorist forces continued vigorous shelling of our position. Lavrov makes everything up out of whole cloth, forgetting that it was them who broke the arrangements," he concluded.