ATO fighter: Our first enemy is separatists, the second one is Ukrainian top command, and the third one is alcohol, it is impossible to fight against it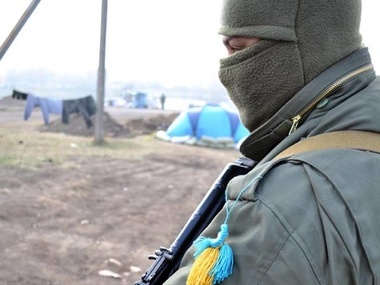 Photo: ATO press-center
Fighters in the ATO zone despise generals in Kiev and increasingly abuse alcohol out of hopelessness, ambiguous truce and the order to avoid shooting, a volunteer from the National Guard said in an interview to the GORDON .
By Natalya Dvali, Editor
There are no details of military operations in the east of Ukraine in this interview, there are no examples of the heroism of Ukrainian soldiers. It is a story about everyday life of a checkpoint in Lugansk region and about the sentiments of fighters in the zone of anti-terrorist operation. My interlocutor comes from Poltava region, he speaks Russian and looks about 40 years old. This autumn, he left a well-paid job in Kiev and became a volunteer in Donbass. He lost 15 kilograms for 47 days of the service. After rotation, he returned to Kiev for 20 days and agreed to give an interview to the GORDON.
When we parted, he was going to a construction supermarket to buy wooden pallets, "It is not so cold to stand on them". According to the fighter, only volunteers provide the front, the General Staff and the Ministry of Defense are still idle. "There will be no third Maidan. Guys will return from ATO and will simply mortar the officials. They will not sort anything out, they will call everyone to account," my interlocutor is convinced.
Salary in the battalions is 1300 UAH per month, plus bonuses for participation in military operations
– Pardon my impolite question: who pays for the rent and utilities while you are in the ATO zone?
– My wife is responsible for everything now. But for the rental apartment, it would be much easier, and now we spend almost five thousand hryvnias per month on the rent. My wife works, I had some savings – we managed to last several months. The salary in the battalion was not credited for a long time, and when we were paid … It is just ridiculous.
– How much do the fighters of the National Guard get for participation in the ATO?
– The salary in the battalions is 1300 UAH per month, plus bonuses for participation in military operations. I was in the ATO zone for 47 days, now I have returned to Kiev for 20 days by rotation. I was paid about eight thousand hryvnias extra, most of it was spent on the rent.
– According to the rates of the capital, you had a decent job and salary, but you left everything and went to the front. Why?
– I do not know – I simply could not sit in front of the TV every evening and watch what is going on in Donbass. I will do more good in the ATO, than just sitting on a sofa in Kiev.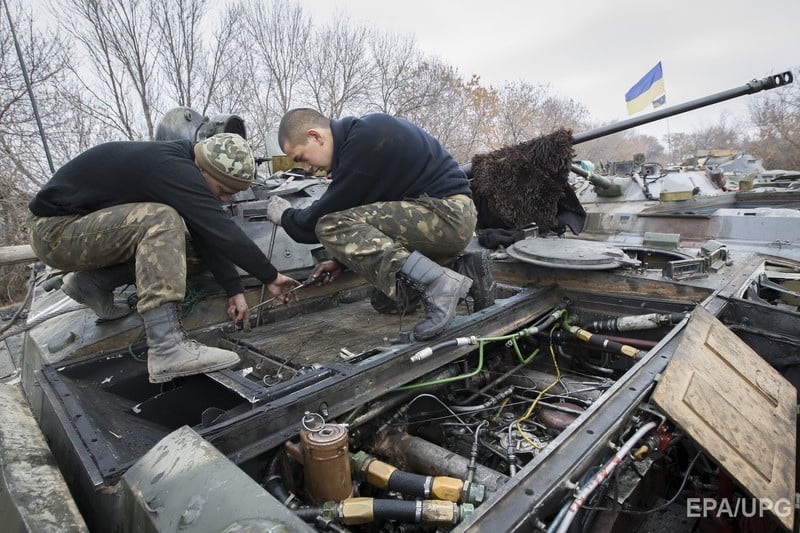 Photo: Dmitriy Lipavskiy / EPA
– Did the wife try to talk you out?
– She did not know long that I applied as a volunteer. I came to the military enlistment office at the beginning of June, I underwent medical examination, girls at the check point recorded my data and told me to wait. I waited for more than three months, but the answer was negative. Then I thought that, probably, recruitment of volunteers had stopped, and confessed to the wife.
– How did she react?
– First she thought I went crazy, but when I was called from the military enlistment office and told that I should come to the military unit two days later… She was talking me out, begging, crying. I do not want to remember.
Guys in the ATO despise generals in Kiev for inaction and treachery. We knew that money allocated by the Cabinet of Ministers will not reach us
– When you faced the army life, lack of ammunition, and old arms, did not you want to send everything to hell?
– I served in the army, therefore I knew what I would face. We were training in Ivano-Frankovsk for a month, we lived in a tent town at a military unit. Reveille at seven in the morning, physical training, learning tactics. We were about 100 volunteers there.
– How many volunteers refused to go to Donbass after a month of training?
– None. However, two of them were expelled – they started drinking. But there were no disappointment or complaints – everybody went. We were dressed and supplied with footwear by volunteers who brought English NATO uniform from a second-hand store to the military unit. The volunteer movement is very strong in Ivano-Frankovsk, they equip soldiers completely – from socks and pants to bullet-proof vests. The military unit only gave us the uniform of the National Guard, but it took it away before sending us to the front.
– Why?
– I do not know. We were told to put the uniform in a package, to sign it with our names and hand it over. The guys joked that, probably, we would be buried in this uniform. The weapons provided by the military unit was not absolutely new, to put it mildly. I got a machine gun from year 1978. First I was very disappointed. When I served in the army in 1995, we were given weapons from year 1991, and now… The machine gun was old, but after capital repairs, so I serve with it.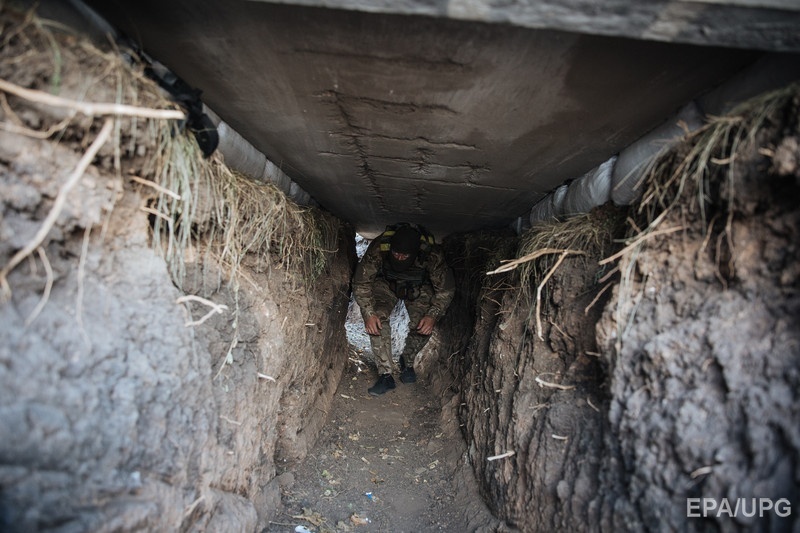 Photo: Trench at the Ukrainian check-point near Pervomaisk Lugansk area. Roman Pilipey / EPA
– The salary is 1300 UAH, volunteers provide soldiers with everything, weapons are 36 years old. Did not the morale fall?
– Guys in the ATO despise generals in Kiev for inaction and treachery. We knew from the very beginning that money allocated by the Cabinet of Ministers will not reach us. But for the volunteers, we would have starve to death in the ATO. Many people tell me now: why should you go to the ATO for the second time, you were there for 47 days already. But I am leaving again on Monday, I need to complete what I started.
Тhere will be no third Maidan. Guys will simply mortar all officials. They will not sort anything out, they will call everyone to account
– The topic of a third Maidan is constantly raised among the public: ATO fighters will return and give a dressing down to the new government that has not punished the guilty yet nor has it reformed the country.
– There are such sentiments among the guys. They will return, but there will be no third Maidan. Guys will simply mortar all officials for ambiguous truce, for bureaucracy and inconsistency between military departments. They will not sort anything out, they will call everyone to account.
Living conditions, lack of supplies in the ATO zone are all trifles, we will stand it. The order to stand still is what enrages us. We have a feeling that we are let down and not allowed to fight for our land. They sent people and equipment – and then stopped everything. We have both resources and morale for the liberation of Donbass. We are not an army of beggars anymore: we have tanks, artillery, and, above all, people who want to fight. But we are ordered to stand still and not to shoot. We are fired from Grad units and mortars, and we stand. Damned truce…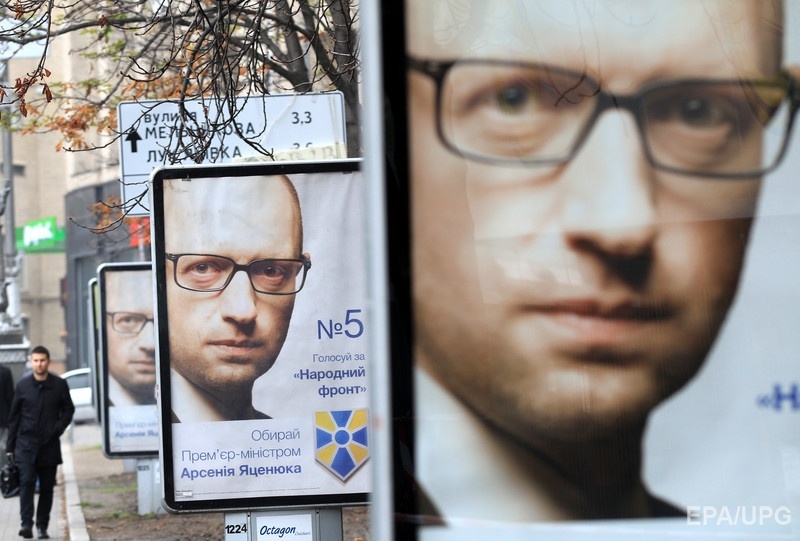 "Shook number of political advertizing before elections. It would be better if  this money was spent on bullet-proof vests for the fighters". Photo: Tatyana Zenkovich / EPA
– What are your impression from the citizens of eastern regions who ran past your checkpoint?
– Nobody was actually running any more. On the contrary: since the end of August, many started coming back to Donbass. I think that after the Minsk accords people believed that life would improve slowly. But locals do not communicate with us, they are afraid. They are especially careful with the National Guard.
– Still? Why?
– Only Russian TV channels work in Donbass. Besides, there is 102.5 radio station that broadcasts "DNR" news. There was a small FM receiver at the checkpoint. First we were amused with what they were saying about us, then it became irritating. I have never heard such nonsense. What I remember best of all, is that the radio once reported that the National Guard had bought portable crematoriums: allegedly, it drives around the region and burns corpses, "so that nobody could see proofs of the outrages of the Ukrainian authorities". I do not even want to comment on this nonsense. But locals believe it and are afraid of the National Guard.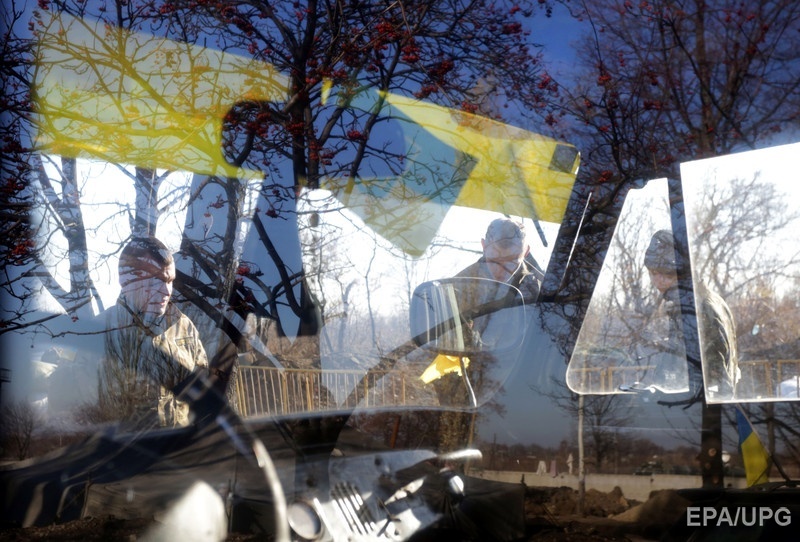 . Photo: ATO post in the east of Ukraine. Anastasia Vlasova / EPA
– Popasnaya has been liberated from terrorists, and the locals are still afraid of the Ukrainian military?
– Yes. Separatists use Grad rockets and mortars to shoot at Popasnaya from Pervomaisk, which is 10 kilometers away, and then they report in the news: it is the Ukrainian army. I saw with my own eyes that shells from the territory of separatists aim at residential areas. It is all right if they shot at us, we are fighters, but they fire at peace quarters for the whole day… They bomb downtown. They hit an ambulance station, and then they declared that it was the Ukrainian army that was to blame for this. On the whole, there is terrible propaganda there.
Popastnaya after the terrorists' attack / Video from the military Ukrainian television/ YouTube
If some of my fighters abuses alcohol, I take away the machine gun and send him to have a good sleep, then I punch him in the face
– How many casualties were there in your division?
– Nobody was killed, thank God, but there are a lot of wounded. Once the neighbouring tank brigade was hit by Grad rockets. We took away the guys, brought them to our checkpoint, from where the ambulance took them to local hospitals or to Izyum or to Kharkiv.
Guys had terrible burns after Grad rockets. We injected them anesthetics, if we had some, and carefully took them away. We are always short of medicine, especially with anesthetics. First-aid kits include tourniquets, bandage, iodine, and brilliant green. There were no specific drugs.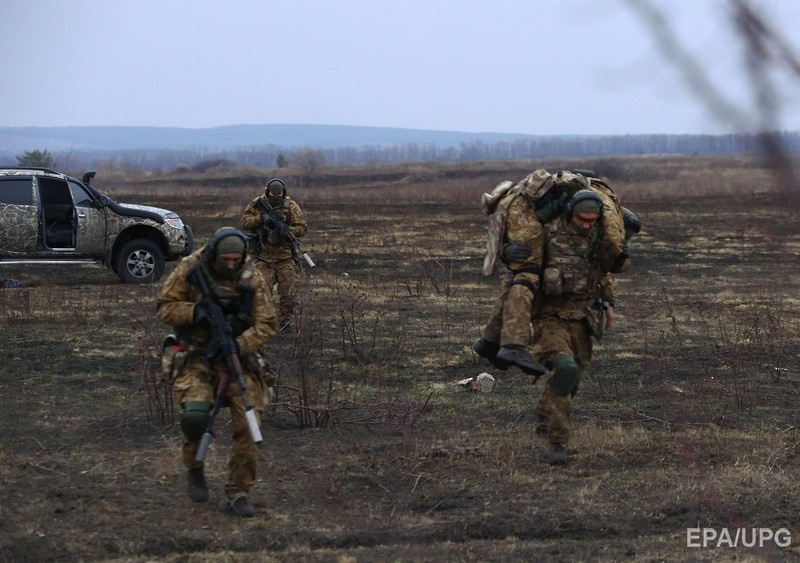 . Photo: The training camp near Kharkov. Sergei Kozlov / EPA
– One of the former generals of the General Staff told me inconspicuously that ATO soldiers often abuse alcohol, they buy homemade vodka from the locals.
– It is often the case. Our first enemy is separatists and Russian mercenaries, the second one is Ukrainian high command, the third one is alcohol, it is almost impossible to fight against it.
– Why?
– There are not many people who abuse among the volunteers. The men are 35-40 years old on average, they are mature and mentally stable people. The youth from among the freshly mobilized often abuse. We had such cases, too: there is an alarm, and the soldier are in oblivion. We sent such guys home at once. But we are volunteers, and we cannot send mobilized soldiers home. Commanders do not cope with them, they are young themselves.
– And how do you solve the problem with alcohol?
– If some of my fighters abuses alcohol, I take away the machine gun and send him to have a good sleep, then I punch him in the face.
– Are not you afraid to come back to the ATO zone?
– I am not afraid of death, and it is worse to become disabled. I'd rather die, than remain in a wheelchair for the whole life.
You know, many guys took offense when the Rada failed the law on assignment of the status of military operations participants to ATO fighters. Of course, it was not what we were fighting for, but the morale fell a little. Official data on casualties in the ATO are understated. Many voluntary battalions do not record the number of the killed and the wounded. There are a lot of missing persons. It all unsettles us.
– The last improper question: is Donbass worth such victims?
– It is our land: if we surrender Donbass, the war will go far inland. Putin, his mercenaries and pro-Russian separatists will not be satisfied with Donetsk and Lugansk, they will surely move further. We have no other way out, we have to liberate Ukraine.
The text of the full article could be found at the Russian language version of the GORDON