Dmitry Barbarchuk, an entrepreneur, was born and grew up in Kyiv. He earned three degrees from higher education: finance, public administration, and law. He started work as a courier for the representative office of a Dutch travel operator in Ukraine. Later, he have been developing businesses in the field of tourism, real estate, pharmaceutical business and consulting services. He devoted several years of his life to public service, and then returned to entrepreneurship. Only this time he chose for the development the sphere of IT.
His startup ChePeer took shape as an idea in 2017. It's a p2p economy, which will help Ukrainians make purchases in Europe's branded offline stores. As Barbarchuk noted in an interview with GORDON, in the future, ChePeer will attract consumers from all over the world, as it will allow them to save on the purchase of high-quality branded goods. Moreover, using this application, Ukrainian designers will be able to promote & sell their collections in foreign markets.
Now a group of Ukrainian IT specialists is working on a startup. They had been developing successful startups in Europe, the US, and Asia. ChePeer will be launched at the end of 2019 so that after the New Year the Ukrainians can take advantage of the sales season in Europe.

There are many talented Ukrainian designers who simply lack the knowledge, money and resources to scale their brands to European markets. We are ready to offer an effective solution to themе
– You have been developing a traditional business for a long time. Why have you switched to IT technologies now?
– The modern world is changing rapidly and transforming labor markets. We are witnessing examples of the active development of patterns of cooperation between ordinary people – microentrepreneurs – around the world. There are many examples of it: Uber, Airbnb, Glovo – from Ukrainian – and Kabanchik. I believe in the potential of mutually beneficial cooperation of people with a problem of trust. Thus, the idea of ChePeer was born. ChePeer is a digital platform for the purchase of branded items from abroad in boutiques and outlet stores of traditional retail. Our service is a kind of Instagram for shopping abroad. With it, users can save money by discounts and sales.
– It seems to be a very narrow segment. Objectively, Ukraine's population is poor, and in recent years revenues have fallen.
– When it is harder to make money, people are more rational with their purchasing decisions. It is no secret that branded things are more practical and durable. A lot of people want to look fashionable and stylish, but not all can afford branded items. The problem with shopping in Ukraine is that the items in our market are at least 30–55% more expensive than in Europe. During sales periods, the difference in price can even reach 70–80%. In addition, there is a risk to buy a fake items.
The discount culture in Europe is more developed than in Ukraine. Brands and companies value their reputation and customer loyalty, and the degree of business responsibility is much higher. However, there is a problem. To take advantage of the sales season in Europe, you must physically be there. This is money and time, which many people don't always have.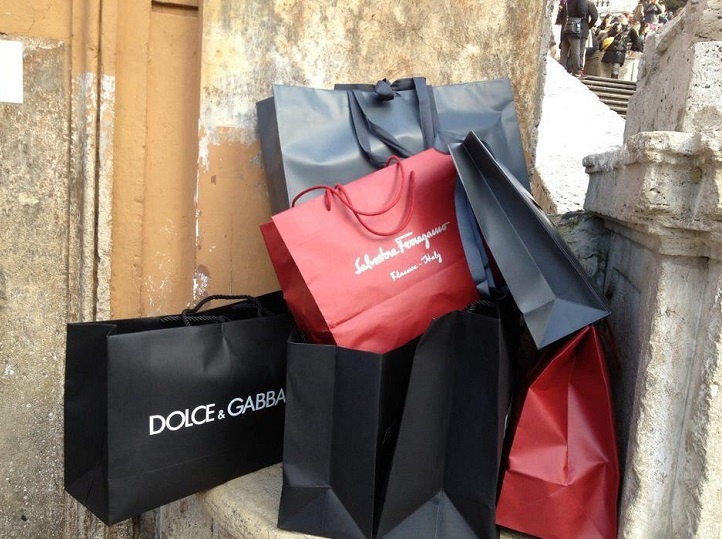 Barbarchuk: We build a solution that will allow online buyers to expand the range of their capabilities and buy more products that are sold offline; however, we want them to be able to purchase these products using the Internet. Photo from the archive of Dmitry Barbarchuk
Today, China has the foremost e-commerce market in the world. At the same time, during periods of discount sales in Europe, you can see the lines of Chinese people lining up in front of stores of famous brands.
Why do you think this is? Due to the fact that China is considered the homeland of fake products, the Chinese have formed a hypertrophied attitude to original, branded things. The possession of a brand thing bought abroad emphasizes the high status of its owner and gives others the confidence that the product is original.
Chinese buyers, many of them shopping agents, earn when they deliver luxury items up to $50 000 per month. People who ask friends-travelers to bring them things from Europe save at least 55% of the cost of the product. This movement has increased so much that, since 2017, some fashion houses have introduced an unspoken rule: don't sell more than two or three units of products to certain customers.
– Have you studied the problems of shopping intentionally or has someone suggested a promising topic for you to study?
– The idea of ChePeer was born from personal experience. My wife worked for 14 years as a stylist for a number of large Ukrainian TV channels. I had the unique opportunity to observe how they solve the problem of remote purchases from Europe. It turned out that there are absolutely no tools for solving this problem. It is always a headache. There are options, but they are far from efficient, reliable, or convenient for buyers or professional sellers.
For example, purchasing products through social networks is very popular. Sellers place their offers there, their subscribers evaluate their posts, and buyers place an order for the item they like. It's risky because sellers work in a gray zone by making buyers pay 100% upfront. Trust is the biggest problem for participants in this type of deal. It may be difficult for these sellers to be responsible for large amounts of money, and it is difficult to trust a stranger to such a large amount. Entrepreneurs, in turn, find it difficult to build their business if their customers don't trust them. In addition, Instagram sometimes blocks the accounts of sellers. Buyers then lose their precious content, and most importantly, their loyal audience. They have to start all over again.
We conducted an in-depth analysis of the problems people face during the process of making purchases abroad. Also, we have studied the existing solutions on the market. This was the foundation for the development of the idea of ChePeer. ChePeer business model looks like this: anyone who lives or is in Europe, and subsequently – all over the world – can see an attractive product, including those on sale, and can create a product card in our app in three clicks. When the deal takes place, the commission to the author will be 3-5% of the total value. The percentage of remuneration depends on the size of the discount on the item: the higher the discount, the greater the reward.
We reach a huge audience of people all over the world and create an opportunity for them to make profitable purchases and earn money We can help others to save without risk for all interested parties. For Instagram-buyers, the process of publishing their offers on ChePeer is even easier. They only have to register on the platform under their Instagram account. Then while creating a publication, just add the hashtag #chepeer, and the product will automatically be published in the app. It will become available to our entire audience.
Initially, we plan to provide logistics with the resources of our representatives and authorized local partners. Anyone can create content. The order can be executed either by ChePeer employees or professional buyers after a simple identification procedure. After the launch of our platform, we plan to cover all major shopping centers in Europe – London, Paris, Rome, Milan, Barcelona, Berlin and Frankfurt.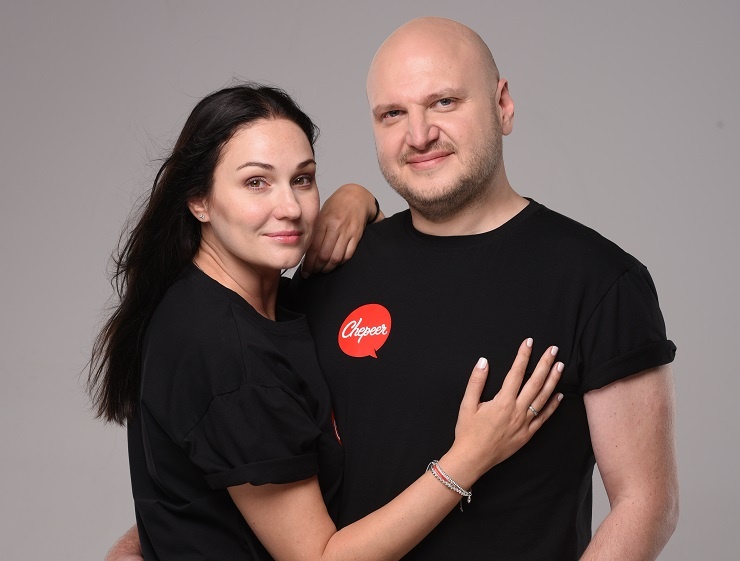 Dmitry Barbarchuk with his wife, Ilona. Photos from the family archive
At the stage of testing key hypotheses, I traveled around Europe and talked with sellers and consultants of branded stores and outlets. Do you know what I found out? A huge number of Russian-speaking staff work at these stores. They are ready to create useful content for ChePeer users. Being on ChePeer will provide a new customer base for these stores. THose who upload to ChePeer will earn an additional source of income, which may become a main source of income.
For traditional retail stores, this is also a great opportunity to reach online shoppers from all over the world. Offer publication in ChePeer will always be free. While existing fashion-marketplaces, like Farfetch, for example, charge roughly 25% on top of the price of a shop-seller. We don't create a panacea. We simply understand our audience and the problems they face. Because me, my wife, our friends and acquaintances are part of this audience. The main idea is that we don't compete, but cooperate on the basis of mutual benefits, involving different target groups in this process.
For example, there are many talented Ukrainian designers who simply lack the knowledge, money and resources to scale their brands into European markets. We are ready to offer an effective solution to them: create digital cards of goods in ChePeer and an European audience will be able to buy your items. We built a solution that will allow online buyers to expand the range of their capabilities and buy more items at offline stores by using the Internet. We began with the fashion industry, but in the future, it may expand to other types of products.
– A dress or suit should sit well on you, and what if it won't fit?
– In 2009, the idea that things could be bought over the Internet was a utopia. Ten years have passed. Today, clothing, shoes and accessories are the largest category of purchases made on the Internet. Personal electronics and home appliances are the next largest category. According to statistics, the return of things, like if someone didn't like or it didn't fit, is about 5-6% of cases. Buyers working through Instagram don't offer a return option at all. If it didn't fit, then it's up to you to resale it. In our system, users will be able to list a product for resale and, since the purchase history is preserved, confirm its authenticity and reliability.
The current methods of marketing and promotion are outdated. A business can be successful if it values the customers and solves their problems instead of focusing on the problems of the business
– Your product is similar to another social network, and people are already tired of them.
– In the civilized world, discontent with existing social networks is growing. They are not only a source of leakage of users' personal data, but also fraudulent parasitism on the most valuable human resources – time and attention. They steal time without the slightest attempt to give anything in return. All social networks today are fighting for the attention of users.
– They have so much advertising that users no longer notice it. What attention are we talking about? Advertisers waste their money.
– You are right. For example, Instagram received $ 7.8 billion in advertising revenue for only three quarters of 2018. Paid social network content is 25%, which make it extremely toxic to users. I am convinced that the current methods of marketing and promotion are outdated. A business can be successful if it values the customers and solves their problems instead of focusing on the problems of the business.
In my opinion, advertising cannot be effective if it is imposed. Indeed of the loyalty and attention of the audience, the customer receives irritation and indifference. People try to protect themselves from the endless stream of information trash. That is why ad blockers are so popular.
Existing models of crowdsourcing platforms, such as Uber and Airbnb, are aimed at usurping the personal data of users and monetizing the added value created by them. The current market capitalization of Airbnb is $ 35 billion, and they don't own hotels or houses. The capitalization of Uber is $ 73 billion, and they own no cars. The basis of their value is the value created by their users. The fate of such platforms is oblivion. As soon as a new generation cooperative economy emerges, these websites will be no more. In the new system, the personal data will belong to users, and the added value will be fairly distributed between the platform and its participants. ChePeer's users will receive an arsenal of filters, personal preferences settings, notifications, and will see only what interests him and those to whom he or she subscribes. We have other principles – we are not intrusive or unobtrusive, and we are there when you need us.
– Anyway, you risk a lot by investing so much effort and money in the development of the application.
– Today's challenges suggest that entrepreneurs have such qualities as mobility, sensitivity to the external environment and the ability to interact flexibly with it. Entrepreneurs operate in conditions of absolute external uncertainty. Therefore, to create successful and scalable businesses, it is important to understand that you don't have to fall in love with your ideas and create products in a closed manner. In this case, you have a high risk of creating a product that will not be used. Developing products to solve your customers' problems should be based on active interaction with them, ongoing training, and development.
However, you should not only focus on the customer in the creation and development of products. Whatever you do, your most important capital is your team. I am convinced that an effective leader must be a trendsetter of the startup culture and, subsequently, the company. He should create a favorable atmosphere and nourishing environment in which involvement, innovation and a lot of fun is cultivated. Otherwise, products are not born.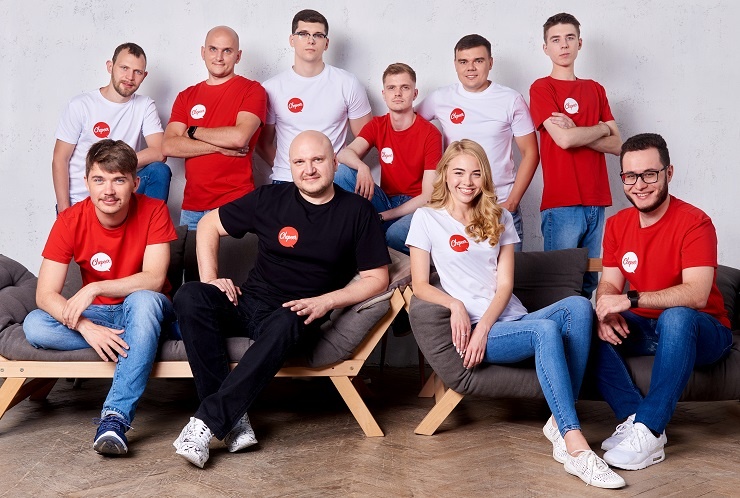 ChePeer's team. Photo from the archive of Dmitry Barbarchuk
– How many people are involved in the implementation of your startup?
– Our team today employs 10 people, including me. They are all very cool. We have worked with this team for the last five months and are now at the stage of active development of our product. Despite the fact that the idea was born in 2017, I was slow to start development, because I believed cool products should be created by a cool team. I had always looked, not just competent and experienced people, but people with burning eyes and an ability to be inspired by unique ideas.This is more valuable than experience. When I found my current team, my patience was rewarded.
– Where did you find them?
– In Ukraine. No wonder the whole civilized world is hunting for our specialists. Members of our team have worked, and are working now, not only on the local Ukrainian market. They have developed startups in Europe, the US, and Asia. They well-versed in e-commerce and key trends around the world.
– When will you present your service?
– At the end of 2019. We want Ukrainians to get the opportunity to take advantage of New Year sales in Europe, which will start on January 5th.
– Won't people be resting after the New Years' parties?
– Believe me, experienced shoppers are preparing for this season in advance.
– Do you plan to work only in Ukraine and Europe?
– At launch, we plan to focus on the Ukrainian market. We want to do this to hone promotional strategies, interact with customers, and develop the most effective and friendly service as possible. In the future, of course, we are going to expand.
In society, we need to cultivate the ability of citizens to think critically, give a sober assessment of the processes taking place, and have their own point of view
– You have left commercial activity to work as an official a few times. What did the experience of public service bring you?
– Entrepreneurship is a great school of life. Modern entrepreneurs create services and products in the face of external uncertainty, limited resources and time; they take the risk and responsibility for daily decisions in front of themselves and their team. For most of my professional career, I have been developing businesses, ranging from travel agencies and pharmaceutical companies to commercial real estate and consulting agencies. I have always been decisive. I have made decisions easily and have been ready to take responsibility for them. Having come a long way as an entrepreneur, I have a desire to try something fundamentally new, to benefit the country and people at a qualitatively different level. This can be done with the help of acquired knowledge and experience.
Therefore, I got involved in social and political activities. Soon after deciding to pursue this new field, I was invited to work at the Ministry of Ecology of Ukraine as the head of one of the structural divisions. My main goal was to contribute to the change of an inefficient, cumbersome and extremely inert system of government. In my opinion, the best way is to do it was from the inside and by combining the efforts of like-minded people..
Barbarchuk: Work should give not only joy and satisfaction, but also benefit many people by creating new opportunities and meanings. Photo from the family archive
What I saw in the Ministry disappointed me. I had to quit, but I promised myself not to repeat the same mistakes. Management was filled with old visions, bloated states, and the high costs of maintaining a bureaucratic machine with its enormous inefficiency. I am not talking about the two biggest problems – corruption and mutual responsibility. I couldn't explain to myself for what I have spent my most valuable and irreplaceable vital resource – time.
In 2014, I was again offered to take responsibility to change Ukraine for the better. Then, in the light of known events, everything was perceived differently. Despite my negative experience, I decided to try again. I sincerely believed that even if they were not concerned about people, then at least the fear of them would force politicians and government officials to take up real affairs. I started work in the Presidential Administration during the transitional period.
When the new team had come, we were told by eloquent silence and the absence of any interaction with the new leadership that we should not linger in this structure. We weren't welcome. At that time, my former colleague invited me to work at the State Architectural and Construction Inspectorate of Ukraine. The next year and a half was a grueling battle with windmills.
– Has the legacy gotten rid of those who came to transform the system?
– Yes. The system is always fighting to save itself. Especially when it was built on mutual responsibility and corruption. The common model of governance in the state apparatus looks like this: top management is used to concentrating power in their hands and making key decisions in a closed manner and individually. This is one of the key reasons for the inefficiency of the current government. The bandwidth in the process of making such decisions doesn't allow it to cover the whole scale and depth of the existing issues. I could say the same about the quality of decisions.
In order to defeat this dragon – you need to start with yourself. Then, you infect others with a virus of involvement, integrity, personal responsibility and self-organization. The challenge our society currently faces is the ability to only cast their vote every five years. This is a self-deception and an unconscious desire to disclaim responsibility.
In society, we need to cultivate the ability of citizens to think critically, give a sober assessment of the processes taking place, and have their own point of view. The main work should happen in the intervals between elections. It is necessary to build and develop civil institutions and communications that are able to effectively interact with the state apparatus, to influence decisions taken by the authorities. Otherwise, there will be nothing. The oligarchs and the local establishment won't do our work for us.
– What are your impressions of working in the Verkhovna Rada?
– When I was invited to go to work in the apparatus, I didn't hesitate. However, things went wrong. This period was unpredictable and the most difficult and crucial in my life. I was emotionally burned out during the two previous years. From the first day of work, I was seriously ill. I was struck by an autoimmune disease. The best doctors of Ukraine and Europe shrugged, could not establish its cause, and the existing treatment protocols not only did not help. They actually exacerbated my condition.
The disease affected my vessels, skin, and joints. Uncertainty was killing me. I went through a deep depression and lost faith in a better outcome. In the second year of my illness, Austrian doctors miraculously saved my legs. At a certain point, I realized that it was useless to delegate responsibility for one's own life and health to other people. The acceptance of the situation served as a point of support and strength for me. I am infinitely grateful to my family, and especially my wife, for her patience and support. In the process of rethinking my experiences, I have come to understand them and be inspired by them. Work should give not only joy and satisfaction, but also benefit many people by creating new opportunities and meanings.