The volunteer from the Netherlands: Ukraine is not making headlines any more. The Western society discusses "The Islamic state" and the virus Ebola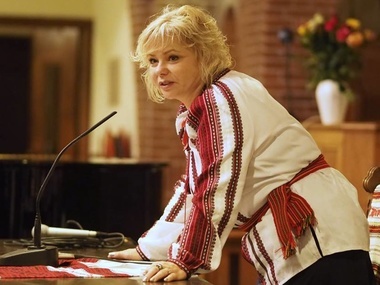 Syuzanna Dostaleva

: The Dutches understand that Russia is an aggressor; they say that Putin went crazy

Photo: Arkady Mitnik / Facebook
The former inhabitant of Odessa, more than 20 years living in Amsterdam, Syuzanna Dostaleva in interview to "GORDON" told about pseudo-volunteers, about why the Embassy of Ukraine in the Netherlands withdrew from activists and how much money the Dutches donate for the help to fighters of ATO and to emigrants of Donbass.
Syuzanna Dostaleva from Odessa moved to the Netherlands more than 20 years ago. On November 30, 2013, the next day after cruel crackdown of a student's Euromaidan in Kiev, Syuzanna together with other Ukrainians organized meeting in Amsterdam to draw attention of the Dutch authorities to illegal actions of the regime of Victor Yanukovych.
Actions in support of Ukraine gradually developed into the volunteer movement. In the spring of 2014 Syuzanna founded noncommercial fund Ukraine today   which helps the fighters who are at war in a zone of anti-terrorist operation (ATO), the wounded and emigrants. The fund regularly sends humanitarian freight weighing more than a ton to Ukraine.
In interview to GORDON Syuzanna told about why she is boycotted by Embassy of Ukraine in the Netherlands, about the attitude of the Dutches towards the Russian President Vladimir Putin and how she was beaten in Odessa for a blue-yellow ribbon.
The Dutches understand that Russia is an aggressor; they say that Putin went crazy
– Is it the truth that the guy from the Kharkov ultras who wrote the song "Putin - h... lo" visited you in Amsterdam?
– We got acquainted with this boy through Facebook, he contacted me with a request to help his friends who are at war in the ATO zone. I manage to collect quite good sum, as for the quiet Netherlands, for the help to the Ukrainian fighters. We with other Dutch activists met the boy in cafe, communicated.
– Did you sing "La-la-la" song?
– We were not in that mood. The boy is now on rotation, he is planing to return to ATO. Volunteers in the Netherlands are tired; they want to return to former quiet life. And still all of us got confused in realities of the Ukrainian policy a little here.
– What the Dutch activists specifically do not understand in the Ukrainian policy?
– Why the Ukrainian army still plainly is not provided? Why everything still keeps on volunteers?
There are some Ukrainian TV channels in the Netherlands. We watch "Gromadske TV", "the 5th channel", "1+1", we trace sessions in the Verkhovna Rada, statements of the Cabinet of Ministers. We watch and do not understand why is there so little specifics? The Dutches say the same: "Too general words, few accurate actions". People are disappointed, exhausted, some people simply give up, we receive less money to the volunteer organizations.
– Residents of the Netherlands understand who is responsible for the war on Donbass?
– The Dutches understand that Russia is an aggressor in the Ukrainian conflict; they say that Putin went crazy. But they lack information from Ukraine even in English. Therefore it is so important to found news agency in Europe. It especially concerns the Netherlands, the Dutches know nothing about our country! I would create the Ukrainian information center in Amsterdam, but all money goes on ATO. I cannot spend money for this while boys perish on Donbass.
– How they can know nothing about Ukraine if terrorists shoot down Malaysian "Boeing 777" over Donbass performing the flight Amsterdam – Kuala Lumpur? 298 people, among which 193 citizens of the Netherlands were lost?
– Nevertheless recently in the Netherlands you can hear almost nothing about Ukraine. Ukraine is not making headlines any more. The Western society discusses "The Islamic state" and the virus Ebola
What can we talk about, if on February 18-20, 2014 when on the Maidan in Kiev they beat and shot activists, in the Netherlands we were watching the Olympic Games in Sochi! In protest I went on hunger strike, the Dutch television arrived and made the reporting. Only this way I succeeded to draw attention of the Netherlands mass media to events in Ukraine.
– At the end of March, 2014 you signed the petition of the Ukrainian community of the Netherlands with a request to immediately withdraw the Plenipotentiary Ambassador of Ukraine Alexander Gorin. It was claimed in the petition that the Ukrainian ambassador showed the pro-Russian position more than once …
– Ukrainian communities of Belgium and Portugal also asked to withdraw their ambassadors. Gorin and other diplomats were appointed during Yanukovych regime, they were either friends, or people from an inner circle of the ex-president.
– The Embassy of Ukraine does not help the Netherlands volunteers at all?
– It not only withdrew, but also detains us! I addressed embassy several times, asked them to help to send already collected humanitarian freight. They did not react. They literally boycott me. Moreover, in Amsterdam appeared the group of 8-12 people who made everything not to give the petition course against Gorin. I think, these people were sent by the ambassador, but I have no direct proofs. They madly impede our volunteer activity.
– How do they exactly impede?
– They also raise funds for the Ukrainian fighters but when we asked them: "Where do you specifically send money?" – they answered: "To the "Fund of diasporas in Kiev". We were looking for this fund, but we did not find any information about it. If not such pseudo-volunteers, we would collect not two, but four thousand euros in the Netherlands.
I suggested hundreds times to create the joint volunteer center in Europe for the help to Ukraine, even made the list of heads of national communities and the Ukrainian diasporas in the West. It is necessary to unite and orderly to buy in the West the most important things that Ukrainians need. And these pseudo-volunteers buy for fighters vitamins for 20 dollars. I consider it as mad squandering.
– But Pavel Klimkin's (the head of Ukrainian Ministry of Foreign Affairs) wife Natalya works in embassy in the Netherlands. Address her.
– I am not sure that madam Klimkina is engaged in something concrete in embassy. She somehow mentioned that considers important to be present near the husband on all events, so she is rarely in Amsterdam.
Donations were reduced. If earlier we received 1,5-2 thousand euros a month, but now - no more than 500-750 euros
– How do you think why your volunteer activity disturbs someone in the Netherlands?
– Because my charity foundation Ukraine today reports for each spent cent, we are absolutely transparent, we post photos of the things we bought, sent and delivered aid. Pseudo-volunteers don't do the same, they have for some reason huge expenses. We pay for delivery of freight to Ukraine from our own pockets, and pseudo-volunteers try to earn.
– And how it is possible to earn on volunteering?
– For example, not to show, how much money did they collect.
Everybody is trying to collect money for the Ukrainian army and immigrants. It is fine, but the main objective of our fund – to buy things that are impossible to be bought in Kiev or cost madly much. For example, we have an opportunity to buy for 4,20 euros a thermolinen set on a woolen basis, camouflage raincoats for 4,5 euros. But for some reason there are people who whether for public relations, whether with boredom buy power bars or the pack of vitamins for 20 euros though in shop for 5 euros it is possible to buy two such packs.
The main problem of the Ukrainian volunteer organizations in the Netherlands – separation, and as a result - an inefficiency. I several times suggested to unite, but to them it is uninteresting because I when engaged in something, work rigidly, accurate and transparent. I have no time to explain that bars on the front – not the most important thing.
– How many volunteers are there in your organization?
– On our Facebook-page Inturist  more than 600 subscribers, but the main frame of fund – 30 people, ethnic Ukrainians. They are engaged in search, purchase, documents and so on. For example, four persons dealt with an issue of purchases of special stockings from phantom pains for fighters with the amputated extremities, now they can even write the thesis on this subject.
We send humanitarian freights by trucks; every freight weights more than a ton. Everything is there: drugs, dressings, equipment, sleeping bags, clothes. Generally money and things is given by the Dutches. In Ukraine our freight receive three volunteer organizations – the whole Ukrainian associations "Patriot", "The Help to Ukrainian Fighters" and "Peacemaker". And we sort clothes this way: warm and dark girls in Kiev give for ATO, all light man's – to the wounded in hospitals, children's and female – to immigrants.
– How much many do the Dutches send to the Ukrainian volunteers?
– Donations were reduced by needs of ATO and immigrants. If earlier we received 1,5-2 thousand euros a month, but now - no more than 500-750 euros
After the fire in the Odessa House of labor unions of the thugs for hire during three days were catching and beating euromaidan protesters
– When were you in native Odessa for the last time?
– In May, just at the same time when there were events on Kulikovo field and people in the House of labor unions burned down (on May 2, 2014 in Odessa mass riots started when the pro-Ukrainian meeting was attacked suddenly by the pro-Russian separatists. Opposition terminated on Kulikovo field where the camp of anti-Maidan protesters settled down. As a result of the fire in the House of labor unions 46 people were lost.–"GORDON").
Unambiguously it was provocation. I saw how the rank of policemen moved apart the boards from which unknown shot at activists of the pro-Ukrainian meeting. I also saw how they allowed strange people in jumpsuits to attack cheerful, color meeting of euromaidan protesters where there were many women and children. After the fire in the House of labor unions three more days they were catching us and beating all over the city.
– For what?
– For a ribbon with flowers of the Ukrainian flag. I was beaten in a connection passage, I fainted at once. It didn't heart any more. I stood on a stop with a dog. I saw how the strange crowd ran for some activist who had the Ukrainian flag on his backpack. Suddenly this huge ruck changed their direction and ran after me, the only thing that I managed to make, – to break the Ukrainian ribbon from my dog.
– Anti-Maidan protesters were "The rack" in Odessa?
– No, they come in large numbers of thugs for hire. Residents of Odessa were there too, but not many of them. Know why they were beating euromaidan protesters for three more days? Because these thugs for hire were supported and protected by local authorities. The situation changed for the third day after the fire when Kiev sharply interfered, otherwise everything would end in Odessa as now in Donetsk and Lugansk.
In the spring in Odessa separatist tendencies were very much felt. For example, I helped the wounded guy (near him the stun grenade stuffed with nails exploded. One nail got into his lung). To save money, I went not by a taxi, but by minibuses. I had a dog with Ukrainian bow and a bag with blue-yellow ribbon. Suddenly grandmothers booed on me: "nationalist", "benderovka", "you killed the Russian boys" and so on. Sometimes it was necessary to leave earlier and to walk.
– You after all were near the House of labor unions when there was a tragedy …
– Yes I was. We even made two corridors for those who was in the building. Not everyone went out of there for some reason though the fire already began. The house of labor unions is huge if people did not want to go outside, they could hide from the fire in other wing of the building or rise to a roof. But nobody hide anywhere. It seems to me, those who remained in the House of labor unions, at the time of the fire were already dead.
– Syuzanna how do you think, how the war in Ukraine will end?
– It will end with one more Maidan, or … People are very much tired. The Ukrainian authorities have to do everything that the people were not disappointed in them. The parliament votes so as it eats sunflower seeds: laws are baked as pies, but their execution nobody controls. We in the West very well see it even at insufficient information from Ukraine.
Despite fatigue, the Ukrainians living abroad will help. I cannot refuse volunteering though because of it, it was necessary to throw the business and all what I achieved in the Netherlands for 20 years. I understand it, but I cannot but help Ukraine. Believe, there are many people like me in the West. We very much worry about Ukraine.