This story began a long time ago. On April 15, 1452, in the settlement of Anchiano near the hill town of Vinci in the Republic of Florence, an Italian painter named Leonardo Da Vinci was born. Today, his name is known in the United States for one more reason: on November 15, 2017, the painting on wood attributed to him and called Salvator Mundi (Savior of the World) was purchased through Christie's Auction House in New York by the Crown Prince of Saudi Arabia Mohammed bin Salman for the record price of $450.312.500. To be specific: according to the opinion of many experts, Da Vinci himself could have painted just a small part of the painting, maybe one-tenth of it. The rest was painted later. Therefore, it is not surprising that Christie's, to be on a safe side, included the following statement in its auction announcement: "unlike Leonardo's other works Salvatore Mundi is missing azurite, used as an underpainting in all of Leonardo's other paintings."
To our great dismay, Leonardo Da Vinci is no longer living and thus could not witness this incredibly interesting deal which had nothing to do either with him particularly or with the art generally. Indeed, on November 15, 2017, at Christie's in New York, the participants in the auction were trying to solve (and succeeded in solving) a completely different matter: the repayment by Donald Trump to Dmitri Rybolovlev of the $95 million, which Trump borrowed in 2008.
However, let us start from the beginning.
The real transaction, as we stated, had nothing to do with Da Vinci but instead was structured as a debt repayment by the President of the United States to a Russian businessman
A week after Christie's auction, on November 22, 2017, the Russian billionaire Dmitri Rybolovlev opened champagne to celebrate his 51st birthday. He was in a jovial mood: the painting was purchased in 2013 from the well-known Swiss art dealer Yves Bouvier for $127.5 million and was sold at a much higher price four years later. Note, however, that Rybolovlev collected from Christie's an amount much less than the selling price of $450.3 million. This is because the deal included a so-called guaranteed bid by an unnamed person who placed an irrevocable bid to buy the painting for $100 million. In that case, the auction house rules provided that Rybolovlev was guaranteed that his painting would be sold for at least $100 million; the auction house was guaranteed a percentage commission from the buyer of the painting (in this case, the commission would have been based, at a minimum, on a $100 million price); and the guaranteed bidder would be able to purchase the painting for an amount that suited him (in this case, $100 million).
However, given the "risk" that the painting would be sold for more than the guaranteed amount to another bidder - and it was indeed sold for a record price of $450.3 million – the guaranteed bidder was entitled to receive from the seller a 50% of the difference between the actual price for which the painting was sold and the guaranteed price. In other words, the guaranteed bidder in this case would have been able to collect from Rybolovlev approximately $150 million.
It should come as no surprise that the guaranteed bidder preferred not to be named. And Christie's, at his request, did not satisfy the public curiosity by revealing the "lucky winner" of an approximately $150-million "lottery". It was only known that neither Rybolovlev nor his representatives placed that guaranteed bid. Hiding behind concerns of confidentiality in connection with this transaction, Christie's likewise refused to reveal the amount of its commission from the $450.3 million sale. And it makes sense: since the real transaction, as we stated, had nothing to do with Da Vinci but instead was structured as a debt repayment by the President of the United States to a Russian businessman, Christie's agreed to a smaller-than-usual, "modest" commission of a "mere" $25 million, or about 5.5% of the selling price.
The Crown Prince did not personally place the bid for this painting by an "unknown artist" who finished it after Da Vinci. A day before the auction, another Saudi, Prince Bader bin Abdullah bin Mohammed bin Farhan Al Saud, announced himself as a potential buyer, placing a guaranteed bid of $100 million in order to participate in the auction. (This was the minimum amount determined for all the auction participants after the first guaranteed bidder placed a bid to buy the painting for at least $100 million). After the bidding was closed, the administration of Christie's tried to conceal the identity of the buyer for as long as possible. But those journalist weasels discovered it all soon enough: on December 6, 2017, it was reported that the painting was purchased through Prince Bader by Crown Prince Mohammed bin Salman. Well, he purchased it and immediately gave it away as a present to a museum in Abu Dhabi – a capital of another state, United Arab Emirates.
At that time, the Crown Prince had all the time in the world to devote to auction-hunting for high art. On November 4 (11 days before the auction), he staged a coup d'état in Saudi Arabia, arresting 200 of his relatives who held government posts, and since then has been engaged in questioning of the detainees and obtaining forced testimony (according to some sources, even through the use of torture). In view of the foregoing, it must have been at the top of his agenda to purchase at an auction in New York a painting depicting Jesus Christ through one of the few remaining loyal relatives and to present it to a neighboring country.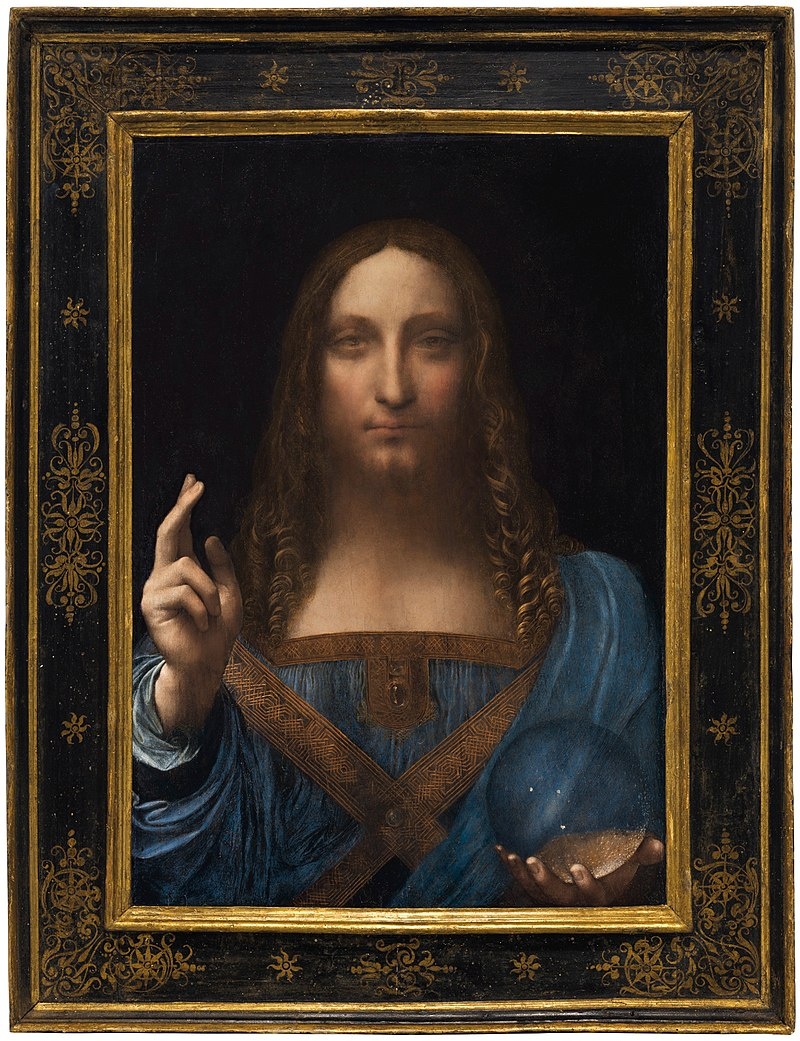 The painting on wood Salvator Mundi by Leonardo Da Vinci. Crown Prince Mohammed bin Salman purchased it and immediately gave it away as a present to a museum in Abu Dhabi. Photo by wikipedia.org
However, we promised to start from the beginning.
The previous owner of Salvator Mundi, Dmitri Rybolovlev, was born on November 22, 1966, in Perm. His biography is generally well-known and thus we will only highlight the fragments that are not discussed frequently. After the collapse of the Soviet Union, he, along with many others, became an entrepreneur. Also, just as many others, he had difficulty conducting business. This is because one had to deal with criminals, thus becoming a criminal himself.
The Russian government officials in the Prosecutor's Office (which was the same office as the one formerly under the auspices of the Soviet government) considered everyone conducting business successfully in those murky times as prima facie criminals and initiated criminal proceedings constantly. It was genuinely challenging to determine who was and who was not a criminal. For example, on June 9, 1992, criminal proceedings were initiated in Moscow against Roman Abramovich, alleging that he stole 55 tankers with diesel fuel.
On June 19, 1992, the prosecutors ordered his arrest since Abramovich in their opinion "constituted a flight risk and prevented the restoration of justice." We know well the outcome of this 1992 criminal proceeding against Abramovich – many years later he purchased the soccer club Chelsea (although now the British Government started making inquiries regarding the original source of Abramovich's wealth).
Scanned copy of a page from the criminal case against Roman Abramovich. From Yuri Felshtinsky's personal archive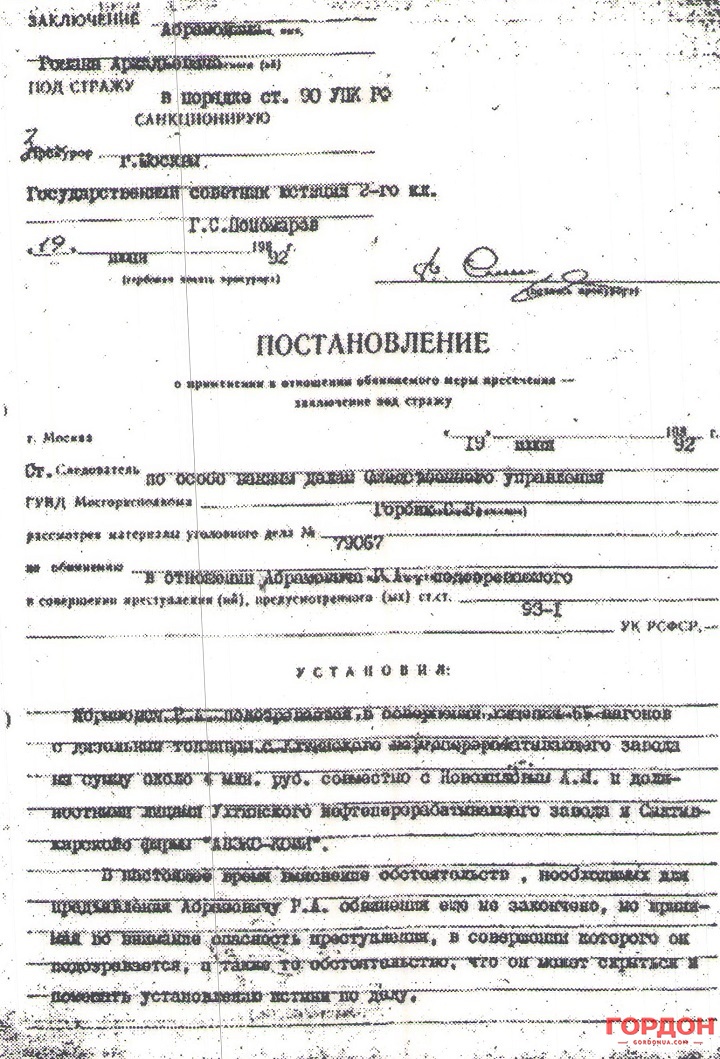 Scanned copy of a page from the criminal case against Roman Abramovich. From Yuri Felshtinsky's personal archive
Rybolovlev's career followed a similar trajectory. He and several of his friends, whom progressive Russian journalists insisted on calling the "gang," were named as defendants in a criminal proceeding (No. 4902), compared to which Abramovich's 55 diesel fuel tankers seemed like a little stunt. Rybolovlev and his companions were accused of staging and carrying out a homicide involving their business competitor, the head of Neftehimik enterprise, Yevgeny Panteleimonov. The indictment record contained, in part, the following allegations:
"In August 1995, D. Rybolovlev had purchased from an unknown source two TT semiautomatic weapons, one of which (TT No. BM 07419) 7.62 mm model, which is considered a firearm, and four ammunition cartridges containing thirty two 7.62 mm bullets, which were considered ammunition to said firearm, without securing an appropriate permit. In August 1995, Mr. Rybolovlev stored and carried said weapons with ammunition, and transferred these items to O. Lomakin for the purpose of carrying out a premeditated murder of Y. Panteleimonov."
Rybolovlev was arrested in May 1996. He was held in pretrial detention in Perm for 11 months while being investigated but refused to testify or give evidence, citing Article 51 of the Russian Constitution providing a right against self-incrimination, and was acquitted in 1997. According to the press, he was the only one acquitted of all charges in that proceeding as "others in the same proceeding received considerable sentences for various crimes."
Rybolovlev stated that in prison (or from prison?) he was "saved" by another business partner (and partner-in-crime), Seyfeddin Rustamov. How exactly he "saved" Rybolovlev is not known. It seems, however, that Rybolovlev was freed and Rustamov remained imprisoned. Therefore, it is not surprising that Rustamov's biography contains a number of gaps. He was born on June 17, 1962, in Azerbaijan. Since at least 1993, if the criminal proceedings records are to be trusted, Rustamov works in Rybolovlev's "gang" and specializes, in the context of auctions, in timely neutralizing the potential competition:
"In 1994, during privatization and auctioneering of various enterprises in the Perm Region, D. Rybolovlev conspired with O. Lomakin, V. Nelyubin, V. Chernyavsky, S. Rustamov and S. Makarov, with the purpose of purchasing the ownership interests in mainly chemical and petrochemical enterprises located in the Perm Region – e.g., joint stock companies Uralkalii, Neftekhimik and Metafrax – at prices barely exceeding start-up costs, as well as purchasing shares on secondary securities markets, while preventing competitors from making similar purchases by exerting their influence in various criminal organizations."
Thereafter, Rustamov disappears, which would make sense if he were indeed incarcerated. However, since 2000, his life straightens up. According to his official biography (which uses the same verbiage on several different websites), he is "actively involved in trading in chemical and petrochemical industry, making investments in energy funds and oil and natural gas extraction industry projects, as well as making investments in commercial and residential real estate," quickly becoming a millionaire in the process.
In 2014, Rustamov is a "beneficial owner of a chemical company Metafrax," which is located in the same Perm Region where Rybolovlev's business interests are concentrated. Rustamov manages MetaHolding, which is a majority owner of Metafrax. By 2017, Rustamov consolidates 92.37% of the share ownership in the company and transforms it into a group holding structure with production capacities in Russia (in Perm and Moscow Regions) and in Austria, and becomes the largest producer of methanol, formaldehyde and synthetic resins in Russia and Europe. During that period, the annual revenue of the Metafrax Group exceeds RUB 40 million, and its distribution network includes over 50 countries worldwide.
One notable detail: since 2000, Rustamov and his family (which includes his wife, Marina Kotova, and their three children) live in the United States, "in a luxurious villa in Virginia."
the reasons for the purchase by Rybolovlev of the Trump's villa were never explained. Neither Rybolovlev himself nor his wife have seen the villa before or after the purchase, and seem to have purchased it blindly
Year 2000 became fateful with respect to biographies of several other individuals who are directly relevant to this article. Rustamov, after a turbulent period, has settled down comfortably in the Washington, D.C. suburb. Rybolovlev, instead of receiving a 15-year prison sentence for murder (which is exactly the sentence that was received by a second defendant in this proceeding – Oleg Lomakin), became involved in politics and sponsored Mayor Yuri Trutnev in Gubernatorial elections in the Perm Region, the location of Rybolovlev's main business interests.
This year became fateful for two other politicians who were relatively unknown until then: Vladimir Putin and Donald Trump. The former, after rigged elections, became the President of Russia. The latter – lost the presidential bid as a Reform Party candidate but made his mark as a potential presidential contender.
Those interested in learning more about Trump's 2000 Presidential Campaign may want to read a very detailed Wikipedia article on the subject. Still, even though Trump lost the bid for 2000 Presidential nomination, the candidature of the ambitious playboy Donald Trump could not have gone unnoticed in Moscow, where a theretofore unknown "Who is Mr. Putin" had just won the Presidency.
New strategic developments ensued in 2008. Russia entered an active foreign policy phase when, for the first time since the collapse of the Soviet Union, the Russian troops crossed the border of another state and invaded the Republic of Georgia. For Trump, 2008 was marked first and foremost by the financial crisis in the United States, which affected the real estate market and which brought the Trump Empire to the brink of bankruptcy, spelling a potential sunset of his career as a businessman and as a politician. It was then that he remembered, either on his own or with someone's prompting, of Russia – a country that, while perhaps not so interesting to him before, was rumored to be a money-making promise-land with money growing on trees. His son, Donald Jr., who was responsible for the construction projects, started visiting Moscow with suspicious frequency. (Donald Sr. himself visited Moscow in 2007 to attend the "Millionaires' Fair" while promoting the sales of vodka "Trump.")
The reason that I refer to the "suspicious" nature of Donald Jr.'s frequent visits to Moscow is because it recently became public that he is in the process of getting a divorce on the grounds of spousal infidelity. It seems reasonable to suspect that during his frequent visits to Moscow (i.e., once every three months!), he became engaged in extramarital affairs and that the "evil FSB" gathered certain compromising materials involving Donald Jr., similar to the videotapes depicting, for example, Yuri Skuratov, a public prosecutor threatening President Boris Yeltsin and accusing him of corruption in 1999; or Yevgeny Kiselyov, a journalist on NTV, an opposition channel in 2001; or Mikhail Kasyanov, a former Prime Minister of Russia and one of the leaders of the Russian opposition in 2016. Given the "standard" nature of this technique for FSB, it seems reasonable to suspect that it was employed here as well.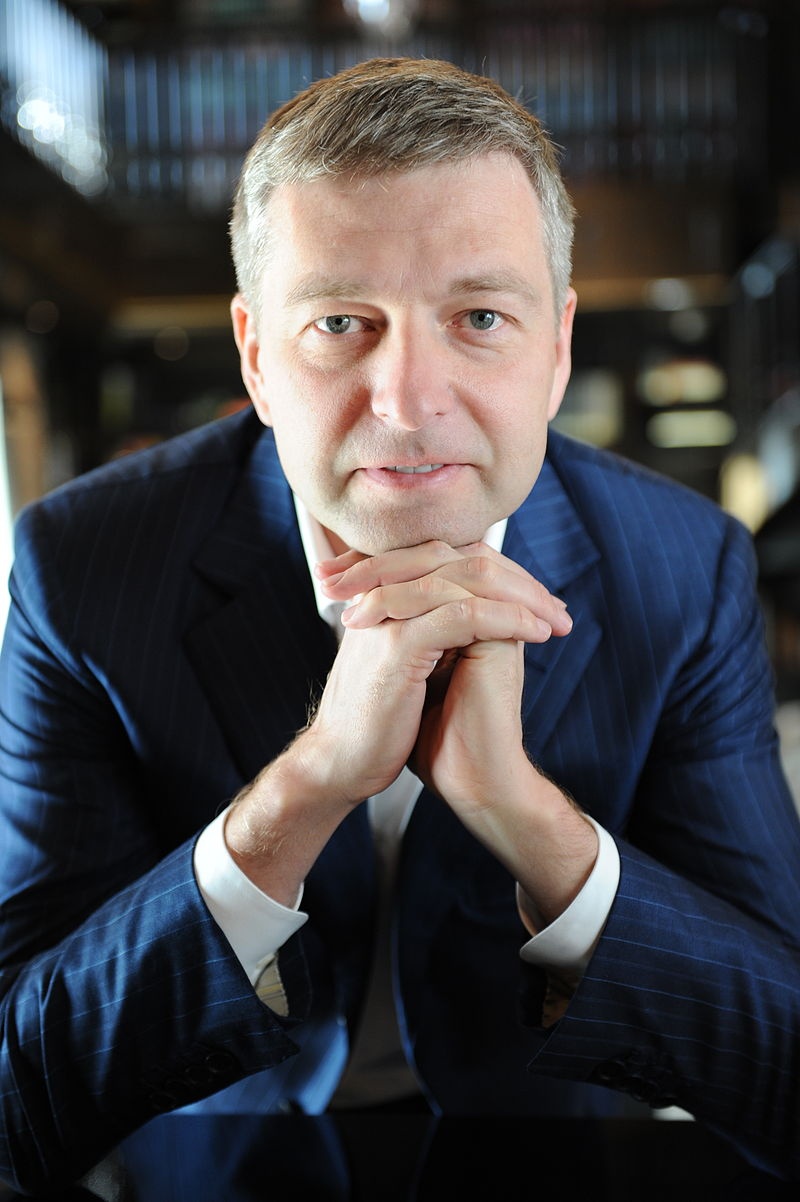 Russian billionaire Dmitry Rybolovlev. Photo by wikipedia.org
In May 2008, Rybolovlev decided to rescue Donald Trump from his sixth bankruptcy and pay him $95 million for a villa that, according to the then-prevalent pricing was worth probably nothing. Trump purchased said villa for approximately $41.4 million in 2004. He may or may not have made some capital repairs since then. He listed it for sale in 2006 but was unable to sell it. By 2008, given the downfall of the real estate prices, it was impossible to sell. The villa stood uninhabited and growing mold. All of a sudden, Trump "lucked out" since some crazy Russian bought it.
A "crazy Russian" turned out to be Rybolovlev. According to the testimony of Rybolovlev's ex-wife, Elena Chuprakova, on April 1-2, 2006, Rybolovlev, Elena, and their Russian-American friends Rustamov (who "saved" him in prison in 1996-1997) and his wife Marina Kotova, found themselves near the villa in question and were able to see it from the outside, entering the lot from the beach. Two years later (during which time no one expressed any interest in the villa, except Florida mold – which speaks volumes regarding the reasonableness of the ultimate selling price), on May 3-6, 2008, the Rybolovlevs found themselves in Florida again and, this time, decided to buy the villa.
This, of course, is according to the "official" version of the events as narrated in court by Elena Rybolovlev. In reality, the events related to the purchase of this villa are surrounded by some uncertainty. To be more precise – by complete uncertainty. According to the numerous sources, including information provided by Elena Rybolovlev, the purchase of the villa by the Rybolovlevs was speedy, defied explanation and was covered in mystery. Notably, Elena Rybolovlev stated that she was against the purchase (although, it seems, that Dmitri Rybolovlev was not too interested in her opinion).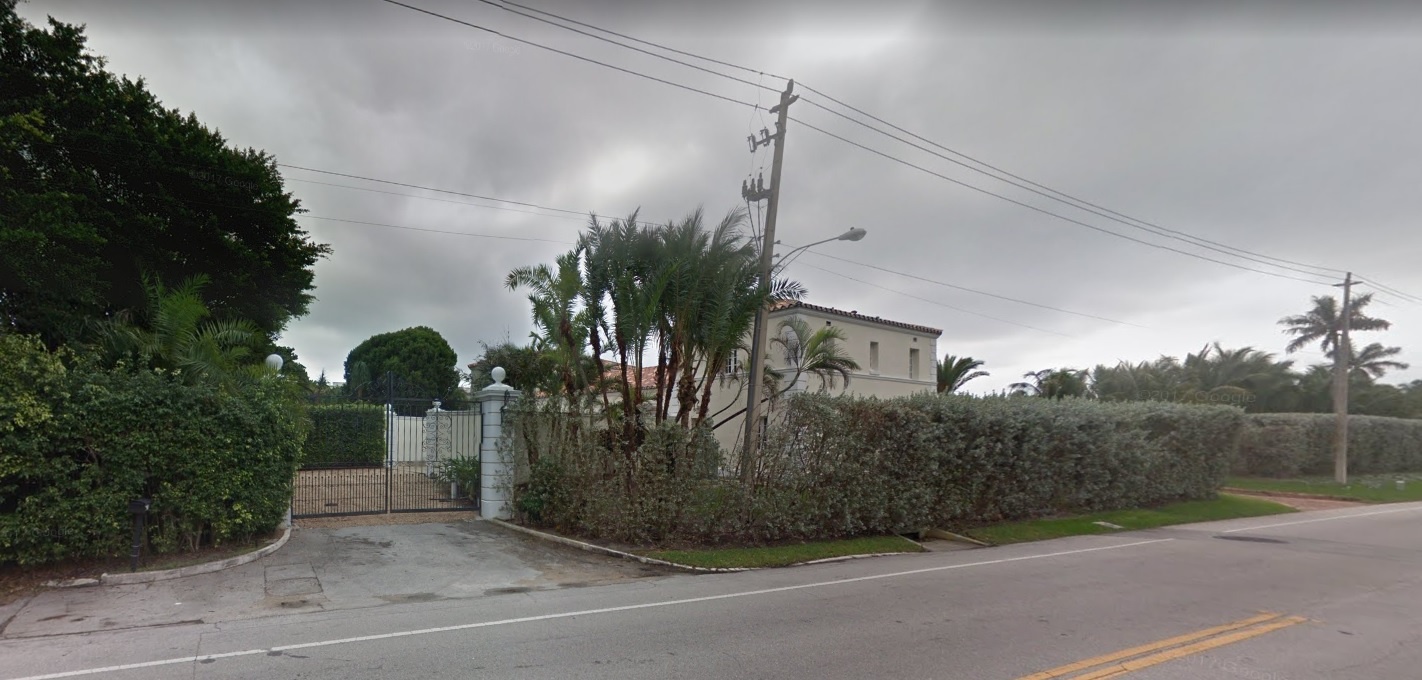 Trump's mansion in Palm Beach, Florida. View from North County Road. Screenshot by Google / Maps
On May 5, 2008, Rybolovlev announced the purchase of the villa to his wife. Or maybe he did not make any family announcements and bought the villa in secret since at that time, he was already planning to get a divorce. On May 9, 2008, the purchase was executed with County Road Property LLC being the named buyer. On May 12, 2008, a trust, with Elena Rybolovlev and Anna Rybolovlev (the Rybolovlevs' daughter) as the beneficiaries, paid the purchase price.
The purchase agreement stated that "[f]or relevant tax purposes, the purchase price is set at $95 million." The total building area amounted to 62,000 square feet, while the total lot size – to 6.26 acres. The villa was located at 515 North County Road, Palm Beach, Florida.
Nevertheless, the reasons for the purchase by Rybolovlev of the Trump's villa were never explained. Neither Rybolovlev himself nor his wife have seen the villa before or after the purchase, and seem to have purchased it blindly. They have not spent a single day in the villa. It was completely impossible to resell it for profit to justify the purchase as an investment. In March 2016, Rybolovlev obtained a demolition permit, demolished the villa for additional $234,000, subdivided the lot into three sub-lots and listed these for sale the same year. Obviously, despite the involvement of the LLC and the trust in the purchase, Rybolovlev had an unfettered authority with respect to this property.
Each of the three sub-lots listed for sale was a beachfront property. The best one of the three was sold in November 2016 for $34.34 million to a trust managed by a Palm Beach attorney Maura Ziska. The length of the shoreline for that property was 52 meters, while the same length of the shorelines for the other two sub-lots was 46 meters each; that same sub-lot occupied 2.72 acres – i.e., significantly more than a 1/3 of the total acreage of 6.26 acres of the original lot. With that in mind, it seems that the selling price amounted to $12.625 per acre, while the original purchase price of the entire lot at 535 North County Road amounted to $15.175 per acre. Therefore, it looks like Rybolovlev lost money on the sale of the first sub-lot in 2016.
He sold another sub-lot in October 2017 when a Boca Raton attorney Holly G. Gershon, on behalf of 535 North County Road LLC, purchased a 1.97-acre-sub-lot for $37 million. On whose behalf did attorney Gershon purchase this sub-lot is not entirely clear. Reasonable minds may suspect that Rybolovlev sold this sub-lot to himself in order to pacify those suspecting foul play in the original purchase from 2008.
In order to break even, Rybolovlev would have had to sell the last and the smallest sub-lot (1.94 acres) for at least $30 million, taking into account the broker and attorney fees. And this is after 10 years of ownership. Suffice it to say that the sub-lot still remains unsold and the questions regarding the original purchase remain unanswered.
The thing is, by the time Rybolovlev was disposing of the Florida sub-lots, the former owner of the property became the President of the United States, and the overpayment by Rybolovlev of the tens of millions of dollars for that property appeared more and more like a bribe, credit, advance or a kickback. Or perhaps Trump promised to return a part of that sum to Rybolovlev's account in Cyprus? Then, at least, the inflated price would have made sense. But has Trump made good on his promise? If he did, he violated the law. If he did not, then he remained indebted to Rybolovlev.
As part of the conveyance of the Florida property, the parties signed a confidentiality and nondisclosure agreement. The essence of that agreement is not clear and its content is not known. Notably, the information regarding all of the real estate sales in the United States is open to public in accordance with the applicable law. It is possible, of course, to conceal the identity of the purchaser by effecting the purchase through corporate entities and trusts; but it is not possible to hide from the public the fact that the sale itself took place. By summer of 2008, it became known that Rybolovlev was the purchaser of the Florida property, and that fact bothered Rybolovlev a great deal; he blamed "chatty" Trump for disclosing the commercial secret.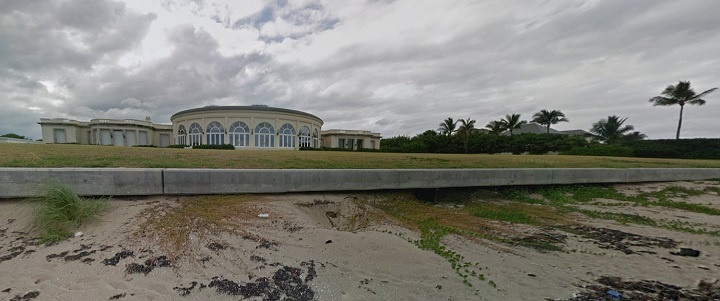 Trump's mansion in Palm Beach, Florida. View from the beach. Screenshot by Google / Maps
Now Rybolovlev had to explain to the nosy journalists why he made his purchase, which was no trivial matter. Rybolovlev either did not know it himself since he was acting on the orders from above or he did know but was not at liberty to disclose any details. Therefore, all of his explanations were confusing and unconvincing. He said, for example, that he purchased the villa in order to ensure that his family had a home in Florida for the years to come; he said also that he made this purchase as an investment and that he was hoping to resell the villa later at a profit; another version voiced by him was that he was planning to demolish the villa from day 1 and to build a new palace in its stead; finally, he said that he had to demolish the building since it was completely covered in mold.
Now, it is true that if one does not turn on the air conditioning in a vacant building in Florida, the mold is inevitable. But this is another fact supporting the suspicion that Rybolovlev must have been completely indifferent to the condition of the Trump's villa for which he grossly overpaid. Why would he have thrown away so much money and, according to some sources, made a spectacle of himself in the eyes of those who were even a little bit familiar with the real estate market in the United States? Why was it so important for Rybolovlev to render financial assistance to Trump, thereby rescuing him from bankruptcy?
If Rybolovlev were simply laundering the family money through Trump in anticipation of his divorce, his actions could be explained. But there might have been another explanation, which is not mutually exclusive with the first one. It seems that, by that time, the Kremlin had already made a decision to support Trump financially, and Rybolovlev must have been made aware of that fact by his partner Yuri Trutnev, whose election campaign he financed back in 2000. Since then, Trutnev's career has been on a steady rise. During the period of 2004 through 2012, he was working for the Russian Government as the Minister of Natural Resources and Ecology. This was a very lucrative post in a poor-but-natural-resources-rich country. And a very useful one: when a major accident occurred in one of the mines of Uralkalii in October 2006, it was Trutnev, in his capacity as the Minister of Natural Resources and Ecology, who was heading up the government commission investigating the accident. As a result of the investigation, it was determined that the combination of technological and geological factors were the cause of the accident. Thus, Rybolovlev's company got away with a fine.
Trump's Presidency in Kremlin's eyes was just a question of time, during which he should be encouraged to develop a closer relationship with Kremlin – especially since he was not against it
After de facto emigration by Rybolovlev, it was again Trutnev who represented and protected his interests at the Russian Government level. At the same time, Rybolovlev became an advocate for the Kremlin's interests outside of Russia, as much as it was possible given his limitations – he did not speak any languages other than Russian.
Rybolovlev completed the acquisition of the Trump's villa on May 12, 2008. On June 4, 2008, Donald Trump's son, Donald Jr., participated as a speaker at a real estate summit in Moscow, discussing his father's ambitious plans regarding real estate development of the luxury residential and hospitality complexes in Moscow, St. Petersburg and Sochi. It was as part of the same summit speech (which must have been compensated generously by the Russians) that Donald Jr. revealed that he visited Russia six times during the preceding 18 months (i.e., since January 2007).
During the same month, Donald Jr. spoke at the Cityscape USA's "Bridging US and the Emerging Real Estate Markets" conference in Manhattan, where he stated that Russians held many of the Trump company's assets, "and in terms of high-end product influx into the US, Russians make up a pretty disproportionate cross-section of a lot of our assets; say in Dubai, and certainly with our project in SoHo and anywhere in New York. We see a lot of money pouring in from Russia."
For the sake of completeness, this quote should be supplemented by two other quotes (despite the fact that these came a few years later). The first one was uttered by the head of the Department of the Urban Development for the City of Moscow in March-April 2016: "We invested so much in Trump that he has no chance of losing/" The second one was in a note written by Felix Sater, a friend and partner of Michael Cohen, one of Trump's attorneys: "Our boy can become president of the USA and we can engineer it," Mr. Sater wrote in an email. "I will get all of Putin's team to buy in on this, I will manage this process."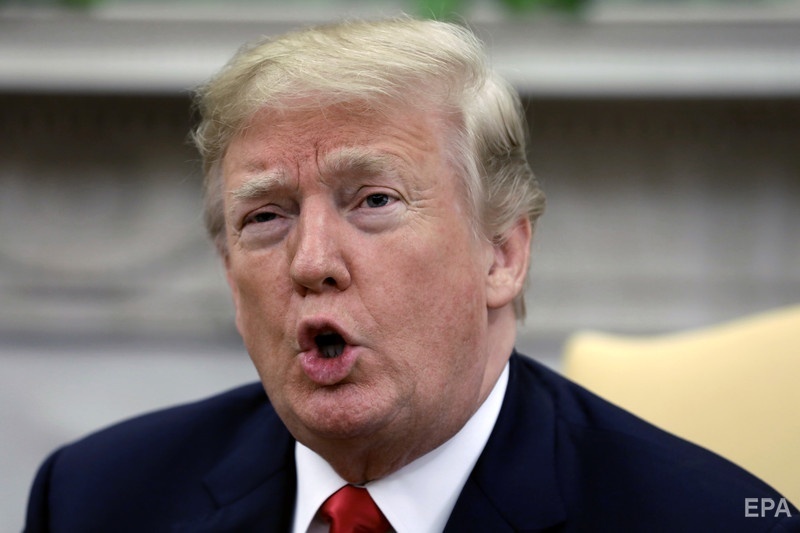 Felshtinsky: In January 2017, the Kremlin suggested that the Russian oligarchs execute the acquisition of The New York Times, probably considering it the most straightforward, efficient and inexpensive way to suppress Trump's critics. Photo by ЕРА
Since 2008, the process started moving. In 2009, Trump changed his voter registration from Democrat to Republican. He seriously considered running for President as a Republican in 2012. In May 2011, he decided not to run but proclaimed: "I maintain a strong conviction that if I were to run, I would be able to win the primary and, ultimately, the general election."
In 2012, Trump re-registered as a Republican and publicly endorsed Republican Presidential nominee Mitt Romney for president. Romney lost to the Democrat Barack Obama.
If not 2012, then 2016. Trump's Presidency in Kremlin's eyes was just a question of time, during which he should be encouraged to develop a closer relationship with Kremlin – especially since he was not against it. In January 2013, the rumors started that Trump is looking into potentially buying The New York Times.
In the United States, everyone thought of this rumor as a tasteless joke since a businessman on the brink of bankruptcy would not seem to be able to afford such an expensive purchase. Indeed, Trump seems to have been considering the purchase of one of the premier US newspapers, which could become the main informational tool in his Presidential Campaign of 2016. But this project was not realized back in 2013. It was revisited in Moscow after Trump won the Presidency, when the mainstream press in the US started criticizing Trump because of the suspected Russian interference in the 2016 US Presidential election and because of Trump's refusal to acknowledge the interference. In January 2017, the Kremlin suggested that the Russian oligarchs execute the acquisition of The New York Times, probably considering it the most straightforward, efficient and inexpensive way to suppress Trump's critics.
Trump even wrote a letter to Putin, inviting him to attend the Miss Universe Pageant and hinting that this could be a good opportunity to see many beautiful girls
But let us return to 2013. Trump decided to hold in Russia the Miss Universe Pageant. For the future candidate for the US Presidency, it was a calculated political and financial move, which was by no means random or reckless. Trump was trying to build bridges to his new and important strategic ally – Putin. The Miss Universe Pageant was one of such bridges.
A final decision regarding this matter was made in mid-June 2013 in Las Vegas during Trump's meeting with Aras Agalarov (and his family, including his son, Emin, the future moderator of the Pageant). Aras Agalarov, a Russian billionaire, happened to be the main Russian sponsor of the Pageant. From the US side, the meeting was attended also by Rob Goldston, a musical producer responsible for organizing the Pageant in Moscow. Literally on the next day, Trump started trying to set up his first meeting with Putin. On June 18, 2013, a soon-to-be Republican Party Presidential Candidate wrote in Twitter: "Do you think Putin will be going to the Miss Universe Pageant in November in Moscow – and if so, will he become my best friend?" Intended for Putin's eyes and ears, it was an invitation to meet with Trump.
Aras Agalarov recalled that Trump was completely fixated on the idea to meet with Putin in November, and Agalarov, of course, promised to facilitate the meeting. In October, Trump asked Agalarov to look into this once more, Agalarov called someone – supposedly Putin's Press-Secretary, Dmitri Peskov, and again attempted to set up the November Trump-Putin meeting.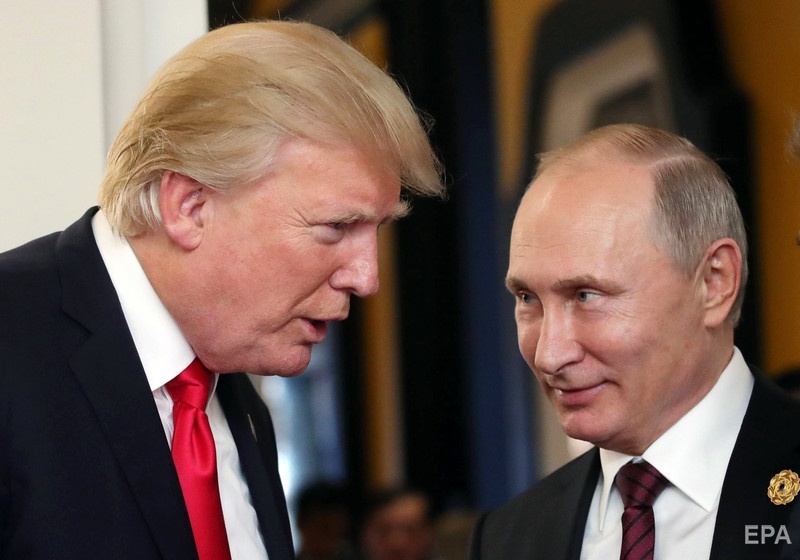 Donald Trump and Vladimir Putin. Photo by ЕРА
Putin seems to have "heard" Trump and on October 29, 2013, personally presented the Order of Honor to Aras Agalarov. By that time, Trump already told late-night host David Letterman that Putin was a "tough guy" and that he had "met him once" – which, of course, was the figment of a sick imagination of the future US President. Trump even wrote a letter to Putin, inviting him to attend the Miss Universe Pageant and hinting that this could be a good opportunity to see many beautiful girls. However, we do not know whether Putin ever received that letter.
On November 9-10, Agalarov and Putin held the Miss Universe Pageant at the Crocus City Hall just outside of Moscow, which was owned by Agalarov. Trump was paid a $12.2 million fee for participating in the Pageant but Putin did not show up and did not meet with Trump, perhaps not being too convinced at the time in Trump's ability to secure the Republican Party's Presidential nomination, while at the same time not desiring to put Trump in a compromising position. Trump seems to have been offended and kept on pretending for a while that the meeting actually did take place:
"When I went to Russia with the Miss Universe pageant, [Putin] contacted me and was so nice. I mean, the Russian people were so fantastic to us." "I do have a relationship [with Putin]," — Trump said, – "and I can tell you that he's very interested in what we're doing here today. He's probably very interested in what you and I are saying today and I'm sure he's going to be seeing it in some form. But I do have a relationship with him and I think it's very interesting to see what's happened. I mean, look, he's done a very brilliant job in terms of what he represents and who he's representing. If you look at what he's done with Syria, if you look at so many of the different things, he has really eaten our president's lunch, let's not kid ourselves."
It appears also that not only Trump treated Putin with piety, but that the feeling was mutual. However, we are aware of that fact solely based on Trump's own words, who said during his Presidential Campaign in June 2016: "He said one nice thing about me. He said I'm a genius." Brief and modest.
On November 11, 2013, Trump and his business partners from the Trump SoHo Development, Alex Sapir and Rotem Rosen, met with Aras Agalarov to discuss potential real estate development projects. Among the discussion topics were plans to build a hotel in Moscow. "The Russian market is attracted to me. I have a great relationship with many Russians, and almost all of the oligarchs were in the room," – stated Trump in an interview to Real Estate Weekly on November 12, 2013, upon returning from Russia.
As we know, none of these projects were ever implemented. Nevertheless, Trump remained very pleased with the results of his trip to Russia and on November 12, 2013, he thanked the Agalarov family through Twitter: "I had a great weekend with you and your family. You have done a FANTASTIC job. TRUMP TOWER-MOSCOW is next. EMIN was WOW!" "Mr. Trump, thank you for bringing the Miss Universe to us we had an awesome time TRUMP tower Moscow – let's make it happen," – replied Emin Agalarov to the future US President who just spent two nights at the hotel outside Moscow.
"It" did not happen. What happened was completely different: in June 2015, Trump officially declared that he was running for a President from the Republican Party. At that moment, Rybolovlev realized that this was his big break and that he would be able to receive a return, with interest, on his $95 million investment (or loan) from 2008.
Rybolovlev paid approximately $2 billion in total for the paintings he purchased from Bouvier. Bouvier spent approximately $1 billion in acquiring same
By that time, Rybolovlev's position both in Russia and abroad has strengthened significantly. He took Uralkalii public, making several billion in the process. His net worth was estimated at approximately $9 billion. In Russia, he was ranked the 14th richest person. Back in May 2012, his partner Trutnev was appointed as an assistant to President Putin. On August 31, 2013, Trutnev also became Deputy Prime Minister and an Authorized Representative of the President of Russia in the Far Eastern Federal District, where Rybolovlev and Trutnev were planning to create a free port (a tax-free trading harbor) – mainly for diamond trading, but also for trading in "everything" – gold, armaments – all bypassing Europe and US through free ports in Asia. At least one free port in Asia (in Singapore) was already established by then. It was due to these bright prospects that Trutnev retained his position in the new government formed by Putin after he won the Presidential Election again in March 2018.
The "free port project" became the new and the most ambitious project of Rybolovlev-Trutnev-Putin. To be precise: Putin-Trutnev-Rybolovlev. It seems that all of Trutnev's upward hierarchical advancements since 2012 were connected to this project of creating a free port in Vladivostok, for the implementation of which Putin allowed a few years (according to Trutnev, approximately 4-6 years, which have passed by now).
The idea of creating free ports belonged not to Rybolovlev or Trutnev or even to Putin, but to a Swiss businessman Yves Bouvier, who already created such free ports in Geneva, Luxembourg and Singapore. Actually, the first free port was created in Western Europe in Geneva in 1888 and became legendary. But Bouvier, having inherited from his father Natural Le Coultre, a transportation company, back in 1997, which was purchased by his father in 1982, became the first one who applied the concept of free port to the transportation and storage of the art objects and other valuables. Over time, Bouvier took upon himself the entire scope of operations with respect to acquisition and disposition of the art objects by individuals and companies, including handling the underlying financial transactions.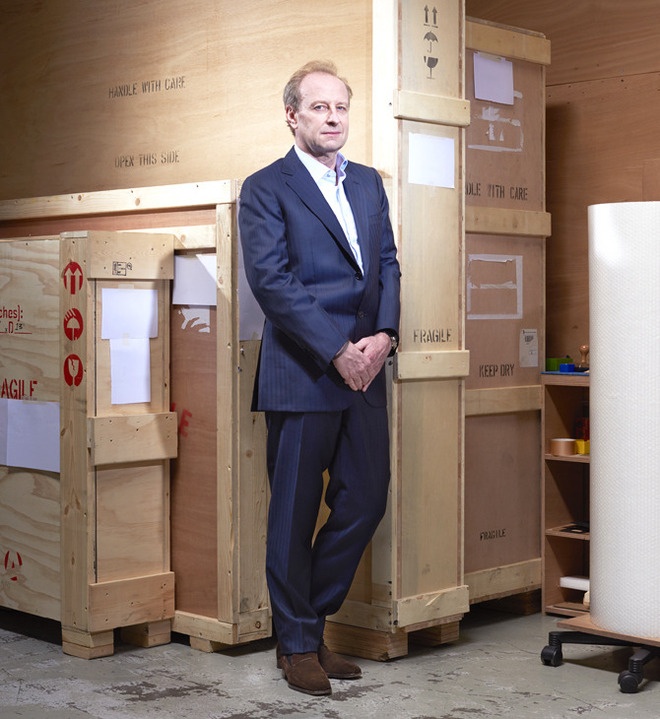 Yves Bouvier. Photo by be-inart.com
By the time Rybolovlev was introduced to Bouvier in August 2002, while he was picking up at the free port in Geneva his first painting (by Marc Chagall) that he purchased for $6 million, Bouvier was well-known in an inner circle of those trading in art masterpieces.
However, Bouvier attracted Rybolovlev not as an art dealer, which Bouvier really wasn't. He attracted Rybolovlev as a partner, through whom he could broaden the network of free ports to include Vladivostok, which was monitored by Trutnev. With that in mind, Rybolovlev set out to befriend Bouvier. From Rybolovlev's viewpoint, this was solely a business undertaking, which could be implemented by the infusion of significant capital.
The life of Yves Bouvier could have become a plot of an adventure story penned by Alexander Dumas, if they happened to have lived during the same time. However, Dumas is no longer with us. As relevant to this article, Bouvier is interesting for two reasons. One side of his life is well-known: he became Rybolovlev's art dealer, after the two have met in Geneva in August 2002. Notably, this aspect was kept secret for a long time by both Bouvier and Rybolovlev. The former was not keen on disclosing the fact that he had a rich – a very rich – a fantastically rich – client. The latter was not keen on making public his numerous purchases of the art objects since, as was the case with the purchase of the Trump villa, he was purchasing these for private reasons which seemed to have nothing to do with displaying art and admiring its beauty. Indeed, he did not display in any of his numerous residences the paintings he purchased but instead stored them in Bouvier's free ports.
One is tempted to refer to this fortuitous union of the seller and the buyer as a happy marriage. Rybolovlev paid approximately $2 billion in total for the paintings he purchased from Bouvier. Bouvier spent approximately $1 billion in acquiring same. But neither was Bouvier an ordinary seller nor was Rybolovlev a typical buyer. A true collector of paintings never relies on one dealer or broker but he also hires an expert with whom he consults and whom he trusts, he also spends time attending numerous auctions, in person or virtually. He typically takes an active part in selecting the paintings for purchase. In contrast, Rybolovlev handled everything through Bouvier, and, according to Bouvier, Rybolovlev took a couple of minutes in deciding whether to purchase any given painting. And this approach should really make us think whether Rybolovlev was interested in art or had other objectives which had nothing to do with art. Having made a decision to buy, Rybolovlev would then direct his assistant Mikhail Sazonov to prepare documentation for the purchase and move on. (Rybolovlev never signed any documents himself. Everything was handled through Sazonov who assumed all of the financial and tax risks of any given transaction).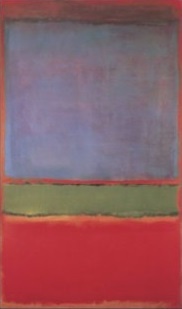 Mark Rothko's No 6, the painting Yves Bouvier has bought for Rybolovlev. Photo by thexart.club
In August 2003, a year after having met Rybolovlev, Bouvier sold to him the first painting – Vincent van Gogh's Paysage Avec un Olivier – for $17 million. In October 2004, Bouvier acquired Les Noces de Pierrette by Picasso from the Manhattan art dealer William Acquavella and re-sold it to Rybolovlev for $43.8 million. The volume of sales started growing over time. Between 2003 and 2007, Bouvier sold 6 art masterpieces to Rybolovlev, whereas between 2008 and 2013, he sold 28. In June 2008, he sold to Rybolovlev Rothko's No. 1 for $36 million.
During the same year, he sold to Rybolovlev Picasso's Joueur de Flûte et Femme Nue for $25 million, having purchased it in Paris for $3.5 million just a day earlier. After learning that Rybolovlev was fond of nude models by Modigliani, Bouvier managed to convince through an intermediary the New York hedge fund manager Steven Cohen to sell to him Modigliani's Nu Couché au Coussin Bleu for $93.5 million; he resold it to Rybolovlev for $118 million.
In February 2013, Bouvier sold to Rybolovlev a piece by Toulouse-Lautrec for €14 million. During the same year, he managed to procure for $123 million Gustav Klimt's masterpiece Wasserschlangen II and to resell it to Rybolovlev for $183 million; Paul Gaugin's Otahi and Te Fare (La Maison) (1892), which Rybolovlev bought for $120 million and $85 million, respectively; Auguste Rodin's sculptures L'Eternel Printemps and Le Baiser Grand Modele (a 2010 copy of the 1880s original), for which Rybolovlev paid $48.1 million and $10.4 million, respectively; Rene Magritte's Le domaine d'Arnheim (1938), which Rybolovlev bought for $43.5 million; and, finally, Leonardo da Vinci's Salvator Mundi, accidentally found and miraculously preserved, which was purchased by Bouvier for approximately $80 million and resold by him to Rybolovlev for $127.5 million. The following year, Bouvier resold to Rybolovlev for $189 million Mark Rothko's No. 6 (Violet, Green and Red), which he purchased for a "mere" $80 million.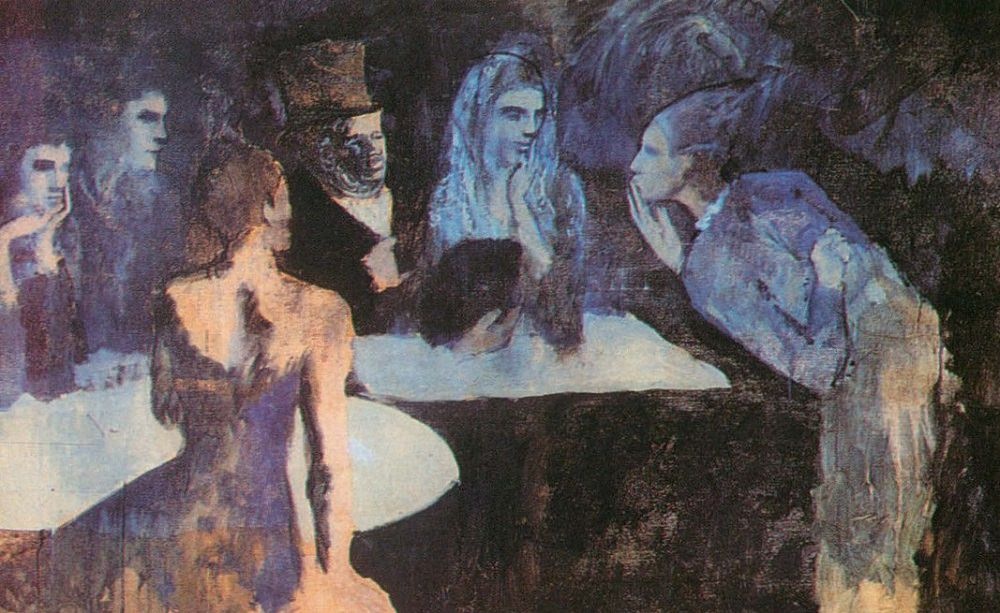 Les Noces de Pierrette  /The marriage of Pierrette / by Pablo Picasso.  Photo by pablopicasso.org
But everything good comes to an end. This was the last sale by Bouvier to Rybolovlev, for which he never managed to receive the agreed-upon purchase price and thus kept the Rothko. Bouvier published the catalogue of Rybolovlev's collection, not realizing that he would never have a chance to present this gift edition to his client: on January 9, 2015, Rybolovlev, without telling Bouvier, sued him for fraud. In the pleadings, Rybolovlev alleged that, according to the existing agreement between him and Bouvier, Bouvier acted as his agent and was entitled to a 2% commission from the purchased art objects. On February 25, 2015, upon arriving in Monaco to meet with Rybolovlev at Rybolovlev's invitation to discuss various outstanding matters, including unfinished sale/purchase of the Rothko painting, unsuspecting Bouvier was arrested insidiously by the Monaco police on charges of fraud and money laundering. Rybolovlev's lawyers asserted that Bouvier cheated their client out of a non-round sum of $1,049,465,009.
I say that Bouvier was "arrested insidiously" because for Rybolovlev, Bouvier's arrest in Monaco was a first step in a multi-step process, which had nothing to do with the paintings or with the $2 billion he paid to Bouvier, but that had a direct connection to the free port in Vladivostok, the establishment of which was promised to Putin by Trutnev and Rybolovlev. Three days later, after interrogation and confrontation with Rybolovlev, during which, according to Bouvier, Rybolovlev avoided looking him in the eye, Bouvier was released on a €10 million bail. The litigation between Bouvier and Rybolovlev is still ongoing in different countries and continents.
But, importantly, at the end of May 2018, the U.S. Attorney's office in Manhattan, New York, declared their lengthy investigation closed, not having been able to build a convincing case of Bouvier fraudulently receiving $2 billion from Rybolovlev. Earlier, a Singaporean court declined to consider a legal action against Bouvier on the grounds that it lacked jurisdiction. And on June 8, 2018, Jean-Pierre Dréno, Attorney General of Monaco between May 2011 and September 2015, was charged for acts of complicity with Rybolovlev.
Clearly, any big numbers are usually rounded and approximate. Expenditures by Rybolovlev on the deals with Bouvier could have amounted to more than $2 billion. The costs incurred by Bouvier in procuring the paintings for Rybolovlev were over $1 billion since on his end, Bouvier paid commission to the tune of tens of millions of dollars to the various intermediaries. Nevertheless, as a whole, it would be correct to state that for the purchases over a ten-year period, Rybolovlev paid Bouvier approximately twice of what Bouvier spent on the same objects.
Or one can look at it differently: given the procurement price of $1 billion, Rybolovlev, by having others act on his behalf, hiding the paintings from everyone and transacting through his agent who started working for him back in Russia – a former staff member of the Russian Tax Office Mikhail Sazonov (who, like Rybolovlev, has been living abroad for a while) – had transferred to Bouvier $2 billion – i.e., "gave" Bouvier an extra $1 billion. For what?
Along with Rybolovlev, corruption arrived in Monaco. He managed to bribe and "buy" some of the highest-level officials of Monaco, including senior members of the criminal police
Out of all of the numerous participants of this deal (Putin, Trutnev, Rybolovlev, Elena Rybolovleva, Sazonov and Bouvier), only Bouvier agreed to meet and talk with me. My attempts to meet with Mikhail Sazonov, who lives in France, not far from Geneva, were not successful, and it makes sense: Sazonov must be the weakest link in the financial side of Rybolovlev's business since all of the financial documentation was completed and signed by Sazonov. While not necessarily a privy to Rybolovlev's and Trutnev's strategic planning, Sazonov was well-informed about the Rybolovlev's cash flows.
I managed to speak with Sazonov by phone from Geneva on June 2, 2018, and we spoke for 22 minutes. Sazonov said that he has not worked with Rybolovlev for 2 years, that he has not given any interviews in the past and that he does not want to start doing that in the future. He has been trying to find out for quite some time where I got his mobile number. I said that, for obvious reasons, I could not name the person who gave it to me, that it was not Bouvier but one person in US who was not a journalist – and that the first number he gave me was already disconnected. All of that was true.
I tried to convince Sazonov to meet with me in person; I told him openly and in detail what specifically interested me in connection with Rybolovlev; I relayed to him the main thesis of the publication that was planned; and at his request, I sent him the list of questions I wanted to ask, in response to which I received a reply: "I have no knowledge regarding the majority of the topics you raised. Therefore, I have nothing to tell you and see no point in us meeting."
My modest attempt to meet with Rybolovlev himself that I tried to arrange through his press-secretary, Sergei Chernitsyn, has likewise failed, as did an attempt to reach his now-ex-wife Elena, who is precluded from providing any information or giving interviews in accordance with the terms of her divorce settlement. Thus, it looks that Rybolovlev succeeded in erecting around himself a serious information wall.
It is possible to imagine that being as savvy as he is, having experienced a Russian prison, having built his successful business in Russia during "the wild 1990s," having become a billionaire, having left Russia with his capital intact, Rybolovlev was not aware of what he was doing and was simply giving away hundreds of millions of dollars to Bouvier. However, he was not as generous with anyone except Bouvier and Trump. In February 2014, he defamed his own wife Elena during the divorce proceedings, accusing her of stealing an expensive diamond ring and putting her behind the bars in Cyprus (where, like in Monaco, Rybolovlev managed to bribe successfully many officials) in order to force her to sign the divorce papers on his conditions. When he was asked whether he felt bad putting the mother of his children behind bars, he replied that she was not worth the $3 billion that was the amount at issue in the divorce dispute.
Always suspecting everyone with respect to everything, he led a clandestine lifestyle, venturing out of his tight inner circle only to meet with his attorney and a hairdresser. Outside of his house, he always appeared in the company of eight bodyguards; the windows in his house were tinted, so that no one from the outside could see what was going on inside. He hired well-known lobbying firms in the United States in order to protect his business and personal interests.
Feeling somewhat inadequate in comparison to Abramovich with the latter's higher net worth and ability to emerge similarly unscathed from the Russia of the 1990s, and watching with envy on TV Abramovich rooting for his own soccer club Chelsea, Rybolovlev purchased in 2011 a two-thirds ownership interest in the Monaco soccer club in order to join the Monaco elites (given that Prince Albert of Monaco received the remaining one-third ownership interest in the club) and to obtain Monaco citizenship. Rybolovlev purchased the club for one Euro but pledged to invest into it at least €100 million. Indeed, over the years, he invested more than that – i.e., approximately €200-€300 million, thereby making a weak team successful.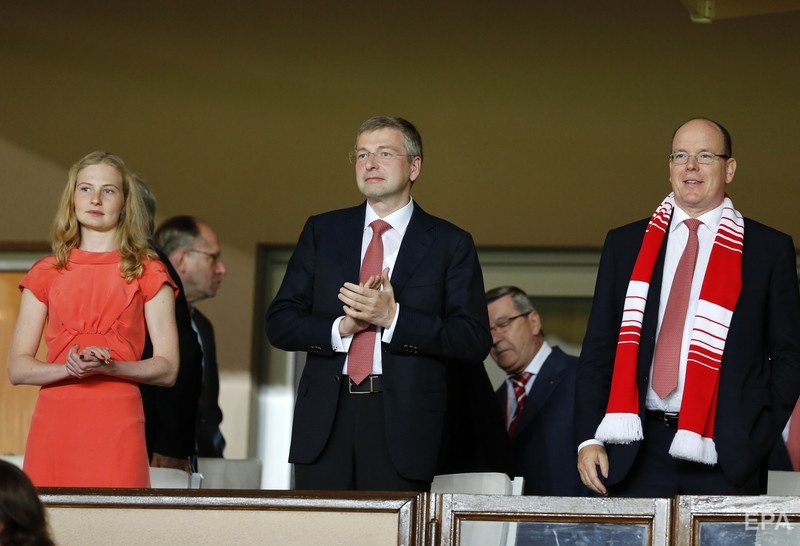 Dmitry Rybolovlev (in the center) with his daughter Elena and Albert II, Prince of Monaco. Photo by ЕРА
Along with Rybolovlev, corruption arrived in Monaco. He managed to bribe and "buy" some of the highest-level officials of Monaco, including senior members of the criminal police, head of the Special Forces Regis Assault and the justice minister Philippe Narmino (who had to resign; on September 22, 2017, he was arrested).
By then, Rybolovlev already became a co-owner of the Bank of Cyprus. Back in 2010, he bought a sizable 9.7% share ownership interest in the Bank, which carried controlling rights. Coupled with this ownership share in the leading bank in Cyprus, the ruling interests in Cyprus fell under Rybolovlev's dominion. Rybolovlev used to brag to his friends that in February 2013, it was he who put Nicos Anastasiades into power as the President of Cyprus (which he remains to this day). Thus, everything in Rybolovlev's life appeared to be going smoothly, when suddenly – and inexplicably – something went wrong with respect to his art collection: in 2017, without ever having it displayed in any of his residences, he started selling it off rapidly and at starkly understated prices. To-wit, in February 2017, he lost approximately $100 million on the sale of the first three paintings through Christie's. He lost another $150 million on the sale of another four.
Rybolovlev was playing this obviously losing game in the interest of pursuing another surreptitious goal – to make really big money. He once happened to divulge to the Swiss investigators that he "invested" a billion dollars in Bouvier. That was that very "non-round" billion by which he overpaid Bouvier "for the art" and which was documented by Rybolovlev's attorneys in the legal action documents: $1,049,465,009. Now came the time to collect the return on his investment.
Through inflated prices, Rybolovlev managed to "launder" $1 billion that was not accounted for anywhere and that Bouvier used to open free ports all over the world
As in the world of high art, the world of big business is cloaked with mystery. The seller, the buyer and their partners never reveal their cards under the guise of the commercial or trade secrecy - or at least try not to reveal them, except perhaps to themselves in a bathroom mirror. Those clients who visited Bouvier's storage facilities in free ports in Geneva, Luxembourg and Singapore were impressed by the degree of organization and order exhibited by the Swiss businessman. At the same time they were suspicious of the facilities' luxuriousness. As written in The New Yorker in an article titled "The Bouvier Affair" by Sam Knight:
"A free port [sic] offers few tax advantages and scarcely any security features that a standard bonded warehouse cannot provide. But Bouvier's development in Singapore carried within it two ideas. The first is that free ports will become hubs in the sixty-billion-dollar international art market, destinations in themselves—places for scholars, restorers, insurers, art-finance specialists, consultants, and dealers. The second idea is that the ultra-rich don't want just another warehouse. 'If you buy a painting for a hundred million, what do you want? You want to feel well,' Bouvier said. 'Why else do people travel in first class?'

In Singapore, Bouvier specified each component, from the fire-resistant walls, coiled through with steel, to the height of the doors: three meters, to admit the largest contemporary installations. 'I chose everything," he said. "The door handles. I'm obsessive about that.' He used a lighting artist named Johanna Grawunder, whose work he collects, and commissioned an enormous sculpture, La Cage sans Frontières, by the Israeli artist and designer Ron Arad, to stand in the atrium.

The opening of the Singapore Free port, and its immediate success—Christie's took a space—brought Bouvier international attention. The facilities tapped into a fascination with the tastes and financial shenanigans of the one percent. […] Bouvier's rivals in the art-logistics trade watched, fascinated and somewhat bemused. Art shippers are unshowy folks. They didn't understand why Bouvier and Natural Le Coultre were making such a fuss over their warehouses. One rival, who visited the Singapore Free port and saw the Arad in the atrium, told me, "If a client of mine walked into my office and saw a five-million-dollar sculpture, he would assume I was charging him too much.' Others couldn't work out where Bouvier was getting the money. Natural Le Coultre's profits had historically been a few million dollars a year. 'Of course, we wondered,' one told me. 'We are not billionaires. And to build free ports you need to be a billionaire."
It seems that therein lay the issue. Bouvier sold his first painting to Rybolovlev in August 2013. Bouvier launched an art fair in Moscow during the following year, with Elena Rybolovlev acting as the co-founder of the event. In 2005, the fair was attended by 50,000 people and a gala was held in Kremlin. All of this was organized by Rybolovlev. These projects had nothing to do with any art brokerage services or with the logistics of transportation and storage of art pieces. It was an entirely new page in Bouvier's professional activity – the big business and big politics, into which he was being dragged by Rybolovlev who was strategically "befriending" Bouvier.
Since 2007-2008, the relationship between Bouvier and Rybolovlev started resembling that of business partners. It was during that period that Bouvier shared with Rybolovlev for the first time his plans to create a free port in Singapore. In response, Rybolovlev offered to become his business partner. It is important to note that Bouvier has spent a number of years in Asia, primarily in Singapore, was a resident of Singapore and thus had a plan to create a free port in Singapore for a reason. In 2008, such free port in Singapore already existed since Bouvier had already set it up and could use it to ship and store the goods. He was planning its further development and expansion.
During the same 2008, in the course of Rybolovlev's divorce proceedings, which were referenced by the worldwide media as the most scandalous and expensive divorce in the history, Bouvier executed a successful plan that impressed Rybolovlev: he evacuated the entire collection of masterpieces belonging to Rybolovlev (that was purchased using joint family funds of the Rybolovlevs) from Switzerland to Bouvier's free port in Singapore. (Elena Rybolovlev was hoping to receive half of these masterpieces in a divorce settlement).
In 2010, the construction of, and paperwork for, the free port in Singapore, the subject of admiration by the visitors, was finally finished. Singaporean Parliament had to, and did adopt specific legislation for that purpose. The project cost Bouvier $100 million. These were a part of that "same" $1 billion from Rybolovlev. In September 2014, Bouvier opened a slightly smaller free port in Luxembourg. As observed by The Economist, these were "über warehouses for the ultra-rich." Bouvier planned to set up analogous free ports in Dubai, Shanghai and Monaco (where Rybolovlev was based at the time). Money was needed for all these undertakings; and Bouvier had the money that he received from Rybolovlev.
Bouvier was setting up the free ports using "that same" $1 billion he made from reselling paintings to Rybolovlev. And while Rybolovlev believed that those newly-minted free ports de facto belong to him, he did not care how much he overpaid for the paintings since these were not expenses but investments: the more he invested in Bouvier, the larger would be the return (as in the case with Trump).
Through inflated prices, Rybolovlev managed to "launder" $1 billion that was not accounted for anywhere and that Bouvier used to open free ports all over the world. Since none of these free ports, besides the one in Vladivostok, could function with the formal involvement of a Russian businessman Rybolovlev, the only legal owner of the free ports could have been (and was) Bouvier, who had an impeccable reputation in the art world.
No written agreement existed between Rybolovlev and Bouvier. There was only an "understanding." For the Russian businessman, this was nothing unusual – his entire business, especially at the outset, was built on verbal agreements or "understandings." For example, his partner Trutnev was not denoted as such anywhere but instead remained in the shadows. For the Swiss businessman, who was, according to many, a man of his word in the world of art and business, everything was built on trust and reputation that was developed over many years.
Bouvier was not risking anything in that setup since he was the legal owner of the free ports and they could not really function without him. Indeed, the clients had to trust the owner, and Bouvier had to be, and was such an owner, whereas Rybolovlev, a Russian businessman who spent 11 months in prison on suspected murder-for-hire charges, could not have been. Rybolovlev likewise was not risking anything in that setup since he was sure that Bouvier would perform in accordance with their understanding. They executed too many deals together, and Bouvier made, and could continue making, too much money through Rybolovlev. The free port in Vladivostok was a promising prospect in terms of making billions of dollars. It would have been foolish for Bouvier to botch his relationship with Rybolovlev on the first billion.
Maybe Bouvier will reveal at some point the reasons that his relationship with Rybolovlev soured. "He asked me to engage in a number of illegal activities," – Bouvier said to me during our conversation. – "I refused. He said – "I helped you gain your business footing. Now you need to help me." I asked Bouvier to clarify what exactly Rybolovlev was asking him to do and what exactly he refused to do, which led to the break in their relationship and prompted the beginning of the legal proceedings. Bouvier said that he might talk about it sometime. Bouvier's response makes sense: the matter is being investigated by the Swiss Prosecutor's Office and Bouvier is precluded from discussing any matters under investigation.
But it had to be Bouvier who spoiled all the fun. Rybolovlev decided to play rough and tried to put Bouvier in jail through "his guys" in Monaco's law enforcement
Around 2012-2013 Bouvier met with Trutnev in Singapore. During that meeting, Trutnev asked Bouvier to lead the development of the free port in Vladivostok. It was that same meeting, during which Trutnev mentioned that he promised Putin to set up the free port in Vladivostok in 4-6 years. To continue that dialogue, Bouvier flew to Moscow in 2013 – for the last time, as it turned out. After Rybolovlev initiated legal proceedings against Bouvier in January 2015, it became unsafe for Bouvier to travel to Moscow.
One of the questions the parties discussed in connection with the free port in Vladivostok was the question of using the ports for transportation and storage of Russian diamonds – primarily, along the Vladivostok-Singapore route. Putin's idea was to create a system through which he, through Trutnev, would control the entire supply chain for diamond production and trade, beginning with the extraction and ending with the sale to the end consumer. Putin thought that by eliminating the middlemen, it would be possible to double the profit.
"Do we know the magnitude of the profit?"- I asked Bouvier. "It should be easy to estimate," he replied. "One needs to look at the revenues and profits of Alrosa."
The profits appear impressive. According to Russia's Ministry of Finance, in 2008, the diamond mining volume in Russia was approximately 162.9 million carats with an estimated value of $12.7 billion. In 2009, it was less -- about 120.2 million carats with an estimated value of $8.3 billion (https://www.gq.ru/person/kak-ustroen-almaznyj-biznes-v-rossii).
The magnitude of the potential profit is particularly impressive if, as Putin hoped, it would be possible to double it. And if one adds to it the blood African diamonds "laundered" through Russia and free port in Vladivostok, en route to Singapore? And what if we add gold? And the weapons destined for the various sides in the numerous on-going armed conflicts?
We know that diamonds were the primary focus since Rybolovlev's diamond-mining company Permgeologodobycha received its first extraction license in 2009 (Rybolovlev was involved in the diamond business since at least 2001). The license was issued for the development of the Rybyakov mine, which was estimated to hold approximately 127,800 karats. Rybolovlev subsequently obtained the second, and last, license in the Perm Region, thus monopolizing the regional diamond mining through becoming an owner of the only company, which held government licenses in the entire region. But the diamonds in the Perm Region accounted only for 1%-2% of the total diamond mining volume in Russia. This was not enough for Rybolovlev. Yakutia accounted for almost 80%; Arkhangelsk Region – for almost 20%.
Russian Federation Presidential Envoy to the Far Eastern Federal District Yury Trutnev. Photo by dfo.gov.ru
The main competitor of Rybolovlev when it came to diamond extraction in the Ural Region – Africa Israel Investment (owned by an Israeli-Russian businessman Lev Levayev) – was experiencing serious financial difficulties and sought the Russian Government's support – i.e., had to negotiate with Trutnev. The latter was also overseeing Alrosa, the diamond mining group of companies, which belonged to the Russian Government and the CEO of which (Fedor Andreyev) Trutnev has been trying to squeeze out for a few years in order to "install" his own CEO.
Indeed, there was enough to fight for: Alrosa mines approximately 95% of all of the diamonds mined in Russia and has a 25% share of the worldwide diamond mining volume. Alrosa is also estimated to account for one-third of the worldwide diamond stockpile.
Andreyev was summoned to Moscow for a "talk" in 2014. "I may have failed to introduce myself? My name is Yuri Trutnev, and I am the Deputy Prime Minister. I would like to remind you, that this is not your personal company but is a state enterprise." This was the opening line of Trutnev on that day.
Andreyev looked up from his mobile phone and replied to the Putin's assistant: "We shall see."
In September 2014, Andreyev was relieved of his post. In 2015, he died of cancer. On April 23, 2015, Andrey Zharkov was installed as the CEO. On November 16, 2015, Oleg Petrov became the CEO of one of the group companies of Alrosa, Unified Sales Organization. Petrov was a graduate of the Military Institute of the Ministry of Defense of Russia and was previously employed as a Director of Sales and Marketing of Uralkalii. The United Sales Organization was responsible for sorting, appraising, pre-sale and sale-related activities in connection with the diamonds mined by other companies in the Alrosa Group. In other words, Trutnev and Rybolovlev succeeded in asserting control over the Russian diamond trade starting at the end of 2015. This colorful picture should be augmented by one more detail: on March 13, 2017, a new president of Alrosa was appointed. It was Sergei Ivanov Jr., a son of the former Head of President Putin's Administration and a KGB/FSB General Sergei Ivanov.
By that time, the free port in Vladivostok was already set up. Putin already appointed the former Minister of Natural Resources and Ecology Trutnev as an Authorized Representative of the President of Russia (i.e., of Putin himself) in the Far-Eastern Federal District, which included Vladivostok. On December 4, 2014, Putin proposed to grant Vladivostok the status of "a free port with attractive and favorable Customs regime."
On January 9, 2015, as noted above, Rybolovlev initiated a legal proceeding against Bouvier. On July 13, 2015, Putin signed into law the proposed legislature "Regarding Vladivostok as a Free Port" (No. 212-F3). It was ratified by Russian Parliament on October 12, 2015, and went into effect.
Now with the ensuing madness, everyone wanted "in" on Trutnev-Rybolovlev's free port– including all of the Far-Eastern ports in Russia, submarine base of the Pacific Fleet, airport in Kamchatka. This is an excerpt from the Wikipedia description of the free port in Vladivostok:
"Immediately after the law regarding Vladivostok as a free port went into effect, the expansion of the free port regime to the key ports in the Far East started being discussed. […] Further, in accordance with the legislation, the free port regime could be extended to the submarine base of the Pacific Fleet in Viluchinsk and to the airport Elizovo in Kamchatka. The government of the Sakhalin Region proposed to include three seaports in Sakhalin into the Vladivostok free port regime project. In Khabarovsk Region, it was planned to include five seaports into the free port regime project, whereas in the Chukotka Autonomous District – four seaports."
But it had to be Bouvier who spoiled all the fun. Rybolovlev decided to play rough and tried to put Bouvier in jail through "his guys" in Monaco's law enforcement, knowing from his own experience full well that being in jail makes it harder to stand on one's principles. Bouvier was tricked into coming to Monaco where Rybolovlev had "his guys" everywhere, arrested and incarcerated in the hope that he would be denied bail and would have to remain in jail until the resolution of his case, which could take months. And while Bouvier is in jail in Monaco, Rybolovlev would, given the extent of his influence in Monaco, convince him to accept Rybolovlev's conditions. Such was a rather straightforward and foolproof plan of Rybolovlev. However, Bouvier got lucky: a judge who was not one of Rybolovlev's "guys" released Bouvier on bail. The pressure weakened: it is one thing to resist Rybolovlev from jail, and quite another is to do it when one is free. Bouvier countersued Rybolovlev. And at the end, Rybolovlev was not able to force Bouvier to accept his conditions.
By that time, the art world, probably not without Rybolovlev's "black PR" with respect to Bouvier, was abuzz with rumors that Bouvier sold all of the paintings to Rybolovlev at prices that were inflated two-fold, and now Rybolovlev, being in dire straits, had to sell his masterpieces at a significant loss. Still, it was then that the experts began suspecting that Rybolovlev's art purchases were made with ulterior motives that had little to do with collecting or investing. How else can one explain the $10.4 million purchase by Rybolovlev of a bronze Rodin sculpture that was produced in 2010?
Of course, it might behoove us to take a closer look at the transactions generating losses for Rybolovlev, so as to make sure that he was not selling masterpieces to himself through creative ownership structures. However, one thing is obvious: he does not, and did not, have any financial difficulties. Since when one does, they usually do not embark on an expensive long-term project, such as a construction of a 110-meter yacht in Holland, and do not invest more than $500 million in US biological and medical startups.
Rybolovlev does not seem to have any plans to retire. As stated by his press-secretary, Sergei Chernytsyn, when referring to his boss' future plans, "this story is not even near its climax." So, if one does not succeed in the East, one turns to the West. And Rybolovlev had an ally in the West who was much indebted to him – the Presidential candidate Donald Trump.
Rybolovlev himself insisted that he has never met Trump or had any dealings with anyone that were part of his campaign. Nevertheless, his jet and his yacht were spotted numerous times near Trump
The press could barely keep up with Rybolovlev's flight routes to destinations where he turned up at the same time as Donald Trump or his family members. According to one of the newspapers, during the period of 12 months, the private jet A-319 belonging to Rybolovlev with a number "M-KATE made at least 7 visits to New York City (EWR), spending several days or more on each visit, usually overlapping with Trump presence there, given his habit of flying back most nights during the campaign. M-KATE made two 1-2-day trips to Miami when Trump was at Mar-a-Lago, the first at Thanksgiving. […] M-KATE also made 7 visits to Moscow (VKO) […]. This could be coincidence, but the 12-month record shows clear patterns beyond a few simultaneous airport visits, easily able to support shuttle diplomacy."
Rybolovlev himself insisted that he has never met Trump or had any dealings with anyone that were part of his campaign. Nevertheless, his jet and his yacht were spotted numerous times near Trump, his family members, one of Trump's financiers Robert Mercer and one of Trump's personal attorneys, Michael Cohen. One of the authors writes:
"According to his flight plans, Rybolovlev started off in the Hamptons in early August" 2016 when Trump's longtime personal lawyer Michael Cohen was also in the Hamptons. "From there, Rybolovlev traveled to Dubrovnik, Croatia at a time when Ivanka Trump and Jared Kushner just happened to be vacationing in that same city. […] Days after surfacing in Dubrovnik at the same time as Ivanka and Kushner, the next destination for Dmitri Rybolovlev was Budapest, Hungary. That's very close to Prague, Czech Republic (85 minutes via air). This was at the same precise timeframe in which former MI6 agent Christopher Steele's infamous Trump-Russia dossier claims Michael Cohen was meeting with a Russian envoy in Prague to discuss the terms of the blackmail which Russia is holding over Trump (Cohen denies he's ever been in Prague, and apart from the dossier, there is no proof that any Prague meeting between Trump's people and Russia took place). […] This could all be one massive coincidence. But it also paints a picture of a two-week span in which 1) Dmitri Rybolovlev meets with Michael Cohen in the Hamptons to arrange or prepare for the Russia blackmail meeting, then 2) Rybolovlev travels to discuss the matter with Donald Trump's daughter and son-in-law, then 3) Rybolovlev travels to Prague to reunite with Cohen and meet with the Russian envoy."
In August 2016 in Dubrovnik (where Jared Kushner and Ivanka Trump were vacationing), Rybolovlev's jet and his yacht My Anna were both spotted. At the same time, Rybolovlev maintained that he has never met Kushner.
On October 30, 2016, Rybolovlev set out after Trump in Las Vegas but came too late: his jet landed in Las Vegas 37 minutes after Trump's jet took off.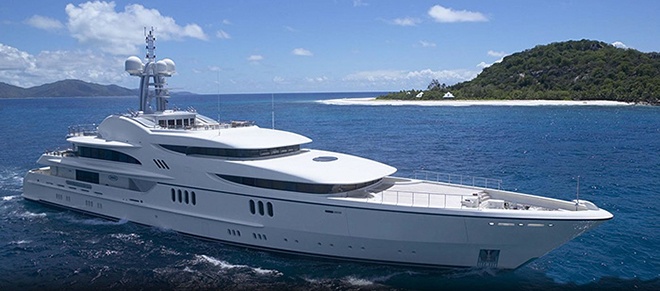 Rybolovlev's yacht My Anna. Photo by life.ru
On November 3, 2016, Rybolovlev's jet was seen next to Trump's jet in Charlotte (North Carolina), where Trump visited in connection with his Presidential Election campaign. In March 2017, Rybolovlev stated through his press-secretary that he and his plane were indeed at the airport in Charlotte, NC at the same time as Trump but that it was purely coincidental. "Particular attention has been focused on a trip made by Mr. Rybolovlev to North Carolina," said Sergey Chernitsyn. "He was in North Carolina for a business meeting and we can state categorically that he did not have any contact with Mr. Trump or any of his advisers at the time he was there."
That day Rybolovlev's jet was not only occupying the space at the airport that was adjacent to Trump's jet, but also was parked at a space belonging to their common acquaintance: future US Secretary of Commerce, Wilbur Ross, who, like Rybolovlev, was a co-owner of the Bank of Cyprus. In 2014, Ross invested €400 million into the Bank and became its Vice President. At that same time, Ross appointed Joseph Ackermann, a former Deutsche Bank Chief Executive, a Chariman of the Bank of Cyprus. For a number of years, Deutsche Bank was Trump's main creditor, having extended to him at least $300 million in borrowings. At the same time, Deutsche Bank was involved in a money laundering operation through the banks in Cyprus, Estonia and Latvia related to the $10 billion of the Russian money and had to pay a $630-million fine to the State of New York in January 2017, after Trump already won the Presidential Election.
During the week-end of February 11, 2017, Rybolovlev's jet was seen in Miami when Trump was entertaining the Prime Minister of Japan at Mar-a-Lago. On March 10-13, 2017, Rybolovlev's yacht "My Anna" turned up near Robert Mercer's yacht "Sea Owl" which was anchored off the North Sound near Virgin Gorda, British Virgin Islands.
According to the photographs and to Palm Beach Post, the two yachts were "separated only by a few sailing vessels between them. The two vessels were a couple hundred feet away from each other on Friday [March 10] and about 1,000 feet apart as late as Monday [March 13], according to data from www.marinetraffic.com." "Mr. Rybolovlev has never met Robert Mercer and has no relationship with him whatsoever," – stated Rybolovlev's representative, Brian Cattell, on March 14, 2017. Mr. Cattell, who used to write for the conservative site Breitbart News owned by Stephen Bannon, added that he himself has not met Mr. Mercer either, nor has he met Mercer's daughter Rebekah, "who played a major role in shaping Trump's Administration."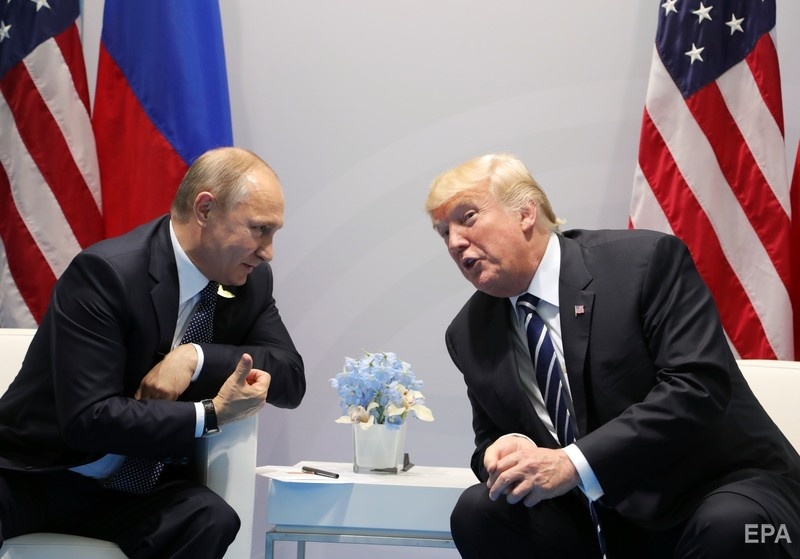 Felshtinsky: Putin also knew that Trump owed him personally. Photo by ЕРА
So what happened in August 2016 and why Rybolovlev started literally following Trump and his inner circle? Well, here is what happened: on July 19, 2016, Trump was nominated by the Republican Party as its Presidential candidate. Since that date, he became not just a businessman rescued from bankruptcy by Rybolovlev for unknown reasons back in 2008. Since July 19, 2016, Trump was a (potentially) future President of the United States. Now it was a whole different ball game. Trump owed Rybolovlev, and the "original" $95 million were now worth significantly more. Trump knew this. Rybolovlev knew this. Trutnev knew this. And, of course, Putin knew this. Putin also knew that Trump owed him personally since not a single large financial investment into Trump from Russia, beginning with the period of 2007-2008, happened without Putin's knowledge, consent and blessing.
Rybolovlev's jet was photographed on April 21, 2016, in Charlotte, North Carolina; then on November 3, 2016, in a nearby city of Concord (also in North Carolina); and then again in Charlotte, where, as it turned out, a business meeting took place involving the leadership of the Swiss company Alevo and the leadership of its US affiliates, Alevo USA Inc. and Alevo Manufacturing Inc.
Alevo Group SA was established in Verbier, Switzerland, in 2009; it engaged in development of the energy storage systems employing GridBank technology. The company announced construction of a high-tech factory for the production and manufacturing of batteries, and a planned investment of CHF 400-500 million into business. Rybolovlev, who bought $35 million worth of shares in 2016, was the main shareholder of Alevo. On November 3, 2016, he made a strategic decision to transfer the production and manufacturing facilities to Concord, North Carolina and transferred there three of his trusted managers – Kuzma Marchuk, a former Chief Financial Officer of Uralkalii who took the company public and received a $12 million bonus; Elena Samsonova, a former Chief Human Resources Officer of Uralkalii; and Mikhail Sazonov.
The business plan of Rybolovlev consisted of counting on the help of President Trump (who owed him) and of Wilbur Ross (Rybolovlev's co-investor in the Bank of Cyprus, who was nominated by Trump to the post of US Secretary of Commerce on November 30, 2016, and confirmed as a US Secretary of Commerce in February 2017) to obtain US Government contracts for Alevo. In addition, Rybolovlev's company was hoping to get North Carolina State tax incentives. Indeed, Cabarrus County Commissioners and Concord City Council approved the package of tax incentives for Alevo totaling almost $10 million, while the North Carolina State Economic Investment Committee has voted to give Alevo more than $2.6 million in Job Development Investment Grants for expansion.
In February 2017, after accepting $13.2 million in North Carolina state and local incentives, Alevo pledged to spend $251.5 million to build a new battery assembly line at its Concord plant and to add more than 200 jobs over the next five years, employing more than 500 people by 2022. However, instead of the promised 500 employees, the company had only 140, and no additional investments were made. Unpaid contractors had filed $4.3 million in liens against the company, which asserted it would settle the claims with new financing.
By March 2017, Alevo already had 215 employees and stated that it continued hiring for jobs in manufacturing, engineering, maintenance, logistics and supply chain, in anticipation of the Government contracts.
In order not to bring attention to the connection between the anticipated US Government contracts for Alevo and Rybolovlev, who rescued Trump from bankruptcy and was a co-investor in the Bank of Cyprus with Wilbur Ross prior to his appointment as the US Secretary of Commerce, Rybolovlev's ownership of Alevo was kept secret from everyone, including North Carolina State officials. Robert Carney, executive director of Cabarrus Economic Development, said that they were unaware of Alevo's relationship with Rybolovlev. Beth Ann Gargan, of the North Carolina Commerce Department, also said the State never had any involvement or communication with Rybolovlev.
On March 21, 2017, about a month after it won the tax incentives from North Carolina, Alevo announced that it had appointed Vladislav Baumgertner as its new CEO. Baumgertner was a CEO of Uralkalii from 2003 until 2013 when Rybolovlev, as its largest shareholder, took the company public on the London Stock Exchange. At the same time, Baumgertner was the subject of a high-profile corruption probe in Belarus and Russia. He was arrested in Minsk in August 2013, and put in a solitary confinement. In November 2013 he was extradited from Minsk to Moscow and placed under house arrest. He was released on bail 11 months later. On February 23, 2015, the criminal charges against Baumgertner had been dropped.
However, neither Baumgertner's arrival nor the potential tax incentives managed to save Rybolovlev's company. In March 2017, it became known that Rybolovlev, who previously bought Trump's villa and who was now chasing Trump and his inner circle, was the owner of Alevo. Thus, the expectations of the lucrative Government contracts had to be abandoned. Indeed, being in the public eye and a focus of so much attention by the Congress, neither Ross nor Trump could have anything to do with granting Government purchase orders to a company of the Russian oligarch Rybolovlev.
In August 2017, not having existed even a year under the new management, Alevo USA Inc. and Alevo Manufacturing Inc. declared bankruptcy and laid off their entire workforce (approximately 290 people by then). While Alevo was operating in the US, only one GridBank battery designed for storage of solar-generated power was launched in Hagerstown, Maryland.
According to the bankruptcy filings made with a North Carolina bankruptcy court, Alevo USA Inc. and Alevo Manufacturing Inc. each had assets with a value "between $1 million and $10 million" and liabilities "between $10 million and $50 million." Rybolovlev was not able to realize the return on his Trump investment through the Government purchase orders.
Having prevailed in purchasing the painting over the UAE competitor, the Crown Prince gifted it to the museum in the UAE. And this really serves as the best evidence of the fact that the bidding war was a well-executed theatrical spectacle
It became necessary to look for other avenues for the return on his investment. They were soon found: Rybolovlev began acting through Arab sheikhs, which made sense since Trump's first foreign trip as a President was to Saudi Arabia on May 20, 2017. At the end of October, Jared Kushner unexpectedly arrived in Saudi Arabia for a meeting with the Crown Prince. It is not clear what was discussed by Kushner and the Crown Prince bin Salman. But on November 4, a week after Kushner's return to Washington, the Crown Prince commenced his anti-corruption campaign, which included arrests of 200 members of the Prince's family and their detention at Ritz Carlton Riyad.
One can suppose that Kushner's visit to Saudi Arabia somehow provoked the coup; that the coup was discussed with the government of the United Arab Emirates and that the support for the coup expressed by Trump via Twitter on November 6 was not coincidental. The coup might have been agreed upon among Abu Dhabi, the Crown Prince of Saudi Arabia Mohammad bin Salman and Trump. In exchange, the two Arab governments would help Trump with a small and trivial matter – to settle finances with Rybolovlev, once and for all. On November 15, 2017, the Crown Prince of Saudi Arabia began bidding at Christie's through an intermediary for the painting depicting Jesus Christ, which was called Salvator Mundi and which was attributed to Da Vinci.
The opening price of $100 million was increasing rapidly since the Crown Prince suddenly had an unknown and a previously unidentified competitor. The bidding ended at $450.3 million. An unknown competitor who at the end lost out to the Crown Prince turned out to be the representative of the United Arab Emirates. The Saudi Arabia and the UAE were bidding against each other for the Da Vinci, inflating the price in order to get it to the level that would be satisfactory to Rybolovlev in terms of settling Trump's debt. This was a thank-you from the Crown Prince to Trump for Washington's support of the coup in Saudi Arabia.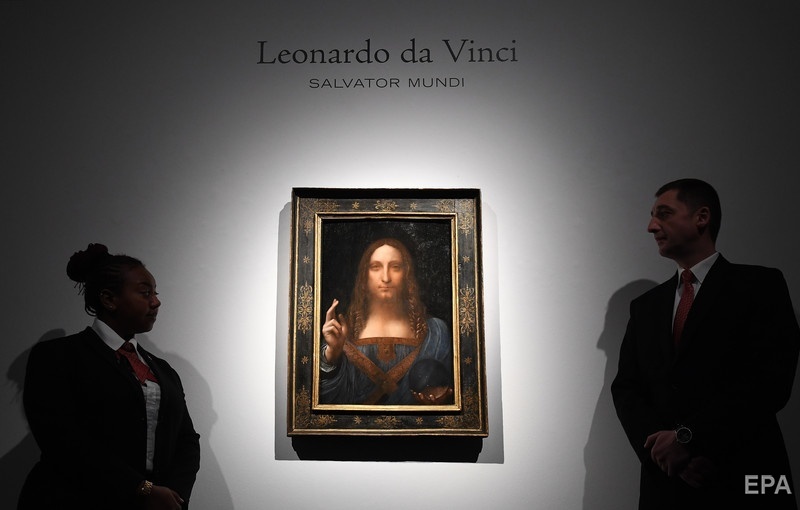 Felshtinsky: The sale of Salvator Mundi was neither random nor the last money-laundering operation by Rybolovlev through his paintings. Photo by ЕРА
Having prevailed in purchasing the painting over the UAE competitor, the Crown Prince gifted it to the museum in the UAE. And this really serves as the best evidence of the fact that the bidding war was a well-executed theatrical spectacle. Abu Dhabi received the painting from the Crown Prince also as a thank-you for the support of the coup and for recognizing the Crown Prince as the new legitimate ruler of the Saudi Arabia. Therefore, on November 15, 2017, two birds were killed with one stone at Christie's. But, most importantly, Rybolovlev had finally stopped chasing Trump and his inner circle (as, after that date, Rybolovlev's jet had not been spotted anywhere in Trump's vicinity).
The third "bird" was killed in March 2018, when the Crown Prince paid a return visit to Washington. The parties discussed arms purchases, as well as investments of hundreds of billions of dollars into the US economy. In view of the magnitude of these figures, $450.3 million purchase price of the Salvatore Mundi was a mere trifle, which could be easily incorporated into the overall negotiation pricing  for government contracts for hundreds of billions of dollars between the new government of Saudi Arabia and the Trump Administration.
The sale of Salvator Mundi was neither random nor the last money-laundering operation by Rybolovlev through his paintings. After the auction, Rybolovlev sold to the "Arab sheikhs" additional paintings for about $300 million. Who were the buyers and which specific paintings were sold is not known. The same group of "angel investors" who became suddenly enamored with Rybolovlev, offered to buy from him the soccer club Monaco for $500 million given that he encountered serious difficulties in Monaco: because of the corruption scandal, he fell out of favor with Prince Albert and the latter refused to grant him citizenship, hinting that Rybolovlev should leave.
Having instead obtained the citizenship of Uruguay (which does not subscribe to the international laws of extradition), Rybolovlev is now in the process of purchasing, through his son-in law, an Uruguayan businessman Juan Sartori, a British soccer club Oxford United, which is the third largest club in the British Soccer League. Rybolovlev must be still feeling slightly competitive with Abramovich. He must be aware, however, that Abramovich's application for Swiss citizenship was recently rejected; that he encountered problems in the UK; and that he managed to get only the Israeli citizenship on the basis of the Israeli law of return which applies to persons of Jewish descent.
The Uruguayan passport should protect from the extradition, of course. But after a fallout with Bouvier and after a failure of the project to create a free port in Vladivostok, Rybolovlev may become a liability for Putin and for Trutnev, who could negotiate the Vladivostok project directly with Bouvier, sidestepping Rybolovlev. In addition, Rybolovlev has two "Achilles' heels."
The first one was already mentioned: Mikhail Sazonov, his long-time aid, who was responsible for all of the financial operations for Rybolovlev's business and who was a co-director of some of Rybolovlev's offshore companies, including Xitrans Finance Ltd., a holding entity for Rybolovlev's art collection that he amassed through Bouvier. For that reason, Rybolovlev's accountant who is familiar with the cash flows of his boss' business is avoiding everyone out of fear that he could be questioned by the law enforcement agencies in Europe and in the US.
The second "Achilles' heel" are Rybolovlev's Cypriot bank accounts since they were the source of funds Rybolovlev used to make all his payments – to companies and individuals – and not all of these payments are likely to be legitimate. Many of them could prompt questions from the same law enforcement agencies in Europe and in the US.
It is unlikely that petty Rybolovlev can count on Trump's support after having chased him for a while to get back his $95 million – Trump does not owe him anything anymore. But the partnership between Putin and Trutnev on the one side, and between Trutnev and Rybolovlev on the other side, is cemented with finances of significant enough magnitude that Putin and Trutnev cannot afford to break with Rybolovlev. Thus, please stay tuned for the continuation of this dramatic story about everlasting Russian President Vladimir Putin, his loyal aid in the Far East Yuri Trutnev, a Monacan wannabe Dmitri Rybolovlev, a friendly and modest Swiss owner of international free ports Yves Bouvier, without whose skill and experience, as it turned out, Russia was unable to establish the Vladivostok free port to trade diamonds and gold with the whole world and, of course, Donald Trump who still might have to answer some questions about his relations with Rybolovlev.