Advisor To The Mayor Of Mariupol: The Russians Have Completed The Removal Of Bodies From The Drama Theater. We'll Never Know How Many People Died There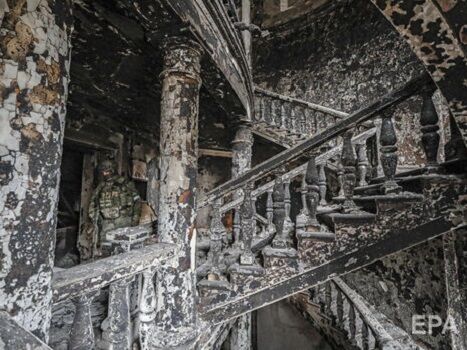 The invaders dropped a bomb on the Mariupol Drama Theater on March 16
Photo by EPA
The Russian occupiers have completed the removal of the rubble of the drama theater in Mariupol, Donetsk region, which was destroyed as a result of a strike by the Russian military. This was announced by the
adviser
to the mayor of Mariupol Petr Andryushchenko on Telegram on May 20.
"Today, the occupiers have completed clearing the rubble and removing the bodies of the dead from the drama theater. The equipment has been removed, the area has been opened. Now we will never know how many Mariupol civilians were actually killed by a Russian bomb in the drama theater. The dead are buried under nameless numbers in a mass grave in Mangush. If there is a greater war crime against humanity in the 21st century, I don't know which one," he wrote.
On March 16, after another bombardment in Mariupol, a drama theater was destroyed, in which local residents were hiding from shelling. After the bombing, the central part of the theater collapsed, and the entrance to the bomb shelter was blocked by debris. Satellite images of the American company Maxar Technologies showed that near the theater, on which the occupiers dropped a bomb, there were large inscriptions "Children".
An Associated Press investigation published on May 4 said that the bombing of the theater killed about 600 people inside and near the building.