Argentem Creek Partners organized a disinformation campaign against GNT Group – Policy Director of Committee for a Constructive Tomorrow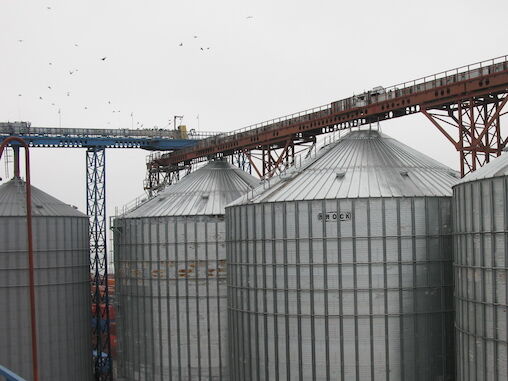 The grain terminal has been idle for six months since the start of the war


Photo: agroportal.ua
American hedge fund Argentem Creek Partners (ACP) has launched a multilingual and multinational press disinformation campaign against the rightful owners of GNT Group, the company that operates a grain terminal in the Odesa port. This was stated in an article for the International Business Times by Duggan Flanakin, Policy Director of the Committee for a Constructive Tomorrow (CFACT).
He claims that the ACP is trying to capture a company that has become a regional leader in the field of processing and storage of agricultural products through its network of internal branches and has expanded the capacity of the Odessa grain terminal from 90 thousand metric tons to 200 thousand. Now GNT Group faces problems in managing and expanding its business.
Falankin notes that GNT Group signed a $75 million deal with Argentem Creek Partners in December 2019, but when Russian military forces invaded Ukraine, Odesa also came under attack and has been hit by multiple rocket attacks ever since. As a result, the grain terminal was idle for six months until the "grain agreement" was signed with the participation of the UN and the agribusiness supply chain began to work again. These circumstances prevented the GNT Group from repaying its debts, the expert says.
After the resumption of the port's work, the GNT management decided to allocate part of the storage facilities to third parties, who made an advance payment for storage and $17 stevedoring fees per ton of grain.
GNT Group offered Argentem a one-time payment of between $10 million and $15 million to demonstrate good faith, followed by 50% of GNT's monthly profits (about $4 million per month) to allow ACP to recoup its investments in interest and principal. Argentem declined the offer on December 20.
While GNT Group was recovering its loan repayment capacity, an Argentem representative allegedly traveled to Vienna and held secret meetings with both Ukrainian businessmen and politicians about their loan in Ukraine, after which he initiated a sudden asset seizure procedure, the author writes.
Falankin claims that Argentem has organized a disinformation campaign that he says is being spread by people of Kateryna Zasukha, a Ukrainian businesswoman, owner of Borg Expert, and wife of Valentin Zasukha, a lawyer at Hillmont Partners, which is helping ACP seize GNT Group assets.