Batsman announces that she is leaving 112 Ukraine TV channel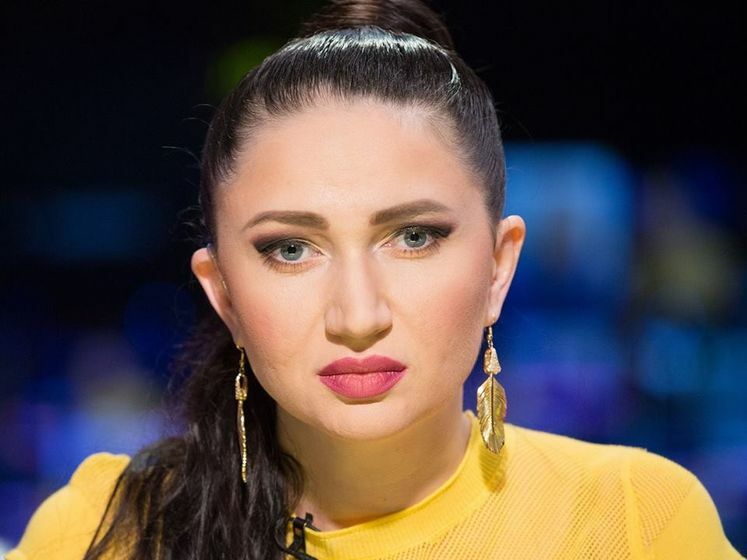 Alesia Batsman: In my programs the things unpleasant for Medvedchuk's and Poroshenko's ears were constantly said.
Photo: Alesia Batsman / Facebook
Ex-head of Administration of President of Ukraine, whose child has Russian President Vladimir Putin for a godfather, Viktor Medvedchuk started to make so many appearances on the TV channels he controls that it has become counterproductive and detrimental to share TV platform with him, declared Alesia Batsman, editor-in-chief at internet media GORDON.
Alesia Batsman, editor-in-chief at internet media GORDON, informed that her program will no longer be on the air of 112 Ukraine TV channel. She said it during live broadcasting of her project.
On her Facebook page she described in details the reasons for her leaving.
"Dear friends, today's BATSMAN program was the last one on 112 Ukraine. I and Dmytro Gordon are leaving the channel. Dima has already commented on the air this decision. I will describe my motives below. In 2017 I was invited to the channel to produce my own format, I was invited by [channel CEO] Egor Benkendorf and [ex-main producer of 112 Ukraine] Serhii Logunov, people who I respect and love. I am used to journalist's freedom and I am used to be the only one who defies the limits for my freedom of speech. Keeping that in mind we agreed that the channel would not pay me but there would be absolutely no interference in what I would do, – not in choice of guests, not in the things we would talk about. The channel provides me with its prime time and its technical abilities. I make them for free a high quality resonance product that as a rule has got ratings higher than competitors'." – Batsman wrote.
The project's author reported that the reason for her leaving the TV channel is an influence of Viktor Medvedchuk, ex-head of Administration of President of Ukraine, and a person close to Russian President Vladimir Putin.
"Before Medvedchuk obtained control over 112 their editorial policy mostly coincided with my vision of the state of society. After Medvedchuk's initial large interview on 112 channel my first impulse was to leave. It was natural emotion of a person that does not want to have anything in common with values and ideas fostered by Viktor Medvedchuk. But as a journalist, as a citizen, and most importantly as a media manager, I always supported the necessity to spread my views and to tell people the truth using all available information platforms, even ones I don't like. To quit was the easiest thing to do but it would have let the Kremlin's "Russian world" ideology promoted by Medvedchuk to fill entire media space and to win peoples' minds", – stated GORDON's editor-in-chief.
She emphasized that as a guest of TV shows she expressed without any restrictions her opinions on Medvedchuk as well as on sitting President Petro Poroshenko.
"I must say that 112 management has never breached our no interference agreement. That's why in my programs things unpleasant for Medvedchuk's and Poroshenko's ears were constantly said. (In a minute you will understand why I mentioned Poroshenko.) In addition, channel's edition invited me as a guest for prime time programs every week, and I didn't repress my opinions neither about Viktor Volodymyrovych nor about Petro Oleksiiovych. Prior to the elections they ceased to invite me as a guest. "That's weird" I thought because as a speaker I had highest TV ratings in my slot. Later I discovered that I was banned as a guest from the shows and that the ban was imposed by the owner and the sitting President. I confess that I was flattered by such an attention", – Batsman wrote.
She denounced as fake the information circulated in media during the election campaign that Gordon and presidential candidate and former SBU chief Igor Smeshko allegedly were "Medvedchuk's people".
"But there comes a time when apart from information work decisive actions are needed. Viktor Medvedchuk's presence on the air of both his channels become so unnaturally excessive these days that I find it counterproductive and detrimental for me to remain on the air on these channels. I am leaving with a light heart and in a good mood. The blunt fake "Gordon and Smeshko are Medvedchuk's people since they are having PR boost on his channel" was invented during electoral campaign in attempt to lower Smeshko's rating. It casted doubts in a certain number of adequate people. And every fake should be destroyed not only with words but with deeds, too. That is what we have done today!" – reported the journalist.
She thanked channel's team, Benkendorf and Logunov for collaboration.
"I am very grateful to Egor and Serhii, and to the entire creative team of 112 channel with whom we worked together for these two years, and with many of whom we become friends. Guys, in any case, internet media GORDON always keeps the door open for talented and honest journalists. My programs and communication with viewers don't stop. I am going to dedicate more time to my YouTube channel, and I promise you that soon it will be very interesting there. Subscribe here. Hugs and kisses! Ukraine will win!" – Alesia Batsman summed up.