Defenders Of Azovstal Changed The Course Of The War – Office Of The President Of Ukraine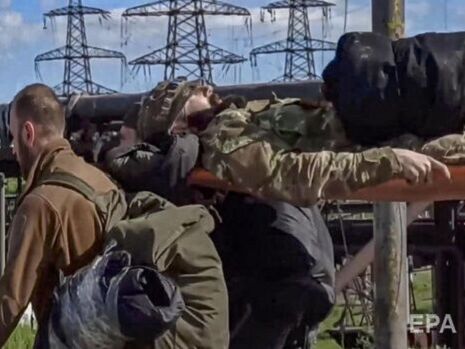 On May 16, 264 Ukrainian servicemen were evacuated from Azovstal, including 53 seriously wounded
Photo by ЕРА
The defenders of Mariupol, Donetsk region, destroyed the plans of the Russian army to seize the east of Ukraine and showed the world the real combat capability of Russian military personnel. This was announced on May 17 on Twitter by the adviser to the head of the Office of the President of Ukraine (OPU) Mykhailo Podolyak.
"The 83 days of the defense of Mariupol will go down in history as Thermopylae of the 21st century. The defenders of Azovstal broke the enemy's operational plans to seize the east of Ukraine, pulled back the huge enemy forces and proved to the whole world the real "combat capability" of the Russians," Podolyak wrote.
He added that the fight of the Armed Forces of Ukraine against the invaders in Mariupol changed the course of the war.
83 дні оборони Маріуполя увійдуть в історію як Фермопіли XXI століття. Захисники «Азовсталі» зламали оперативні плани противника із захоплення сходу * , відтягнули на себе величезні сили ворога та довели всьому світу реальну «боєздатність» росіян. Це абсолютно змінило хід війни.

— Михайло Подоляк (@Podolyak_M) May 17, 2022
War of Russia against Ukraine. Main (updated)
The Azovstal plant is the last facility held by the Ukrainian military in Mariupol. Among them are fighters of the National Guard, including the Azov regiment, SBU officers, military personnel of the Armed Forces of Ukraine, border guards and policemen. There were also hundreds of civilians in the bomb shelters of the plant until recently.
On May 2, the invaders broke into the territory of Azovstal, active battles began there, but the Ukrainian defenders hold the line, although they lack water, food and medicine. The fighting continues to this day.
On May 7, the evacuation of civilians from the territory of the plant was completed. With the support of the UN and the Red Cross, about 300 civilians were taken from the plant, mostly women and children, the President's Office said.
On May 10, Vice Prime Minister - Minister for Reintegration of the Temporarily Occupied Territories of Ukraine Iryna Vereshchuk said that more than 1,000 Ukrainian servicemen remained at the plant, including hundreds of wounded.
The defenders of Mariupol are asking to evacuate those at Azovstal by applying to them the extraction procedure (moving to a third country), which guarantees that they will not return to Ukraine until the end of the war. However, Russia refuses such a procedure, Vereshchuk said.
The General Staff of the Armed Forces of Ukraine reported on May 16 that 264 Ukrainian servicemen, including 53 seriously wounded, were evacuated from Azovstal. They were transported to Novoazovsk and Olenovka, which are located on the territory controlled by the "DPR" militants. The General Staff of the Armed Forces of Ukraine and the Ministry of Defense of Ukraine reported that they plan to exchange the evacuated defenders of Mariupol. Some soldiers still remain at Azovstal, but the General Staff did not specify exactly how many.
On the night of May 17, President of Ukraine Volodymyr Zelensky announced the start of an operation to rescue the defenders of Mariupol. According to him, it "requires delicacy and time."