Fights With Russia Reached Maximum Intensity, Enemy Storms Positions Of Armed Forces Of Ukraine In Several Directions At Once – Ministry Of Defense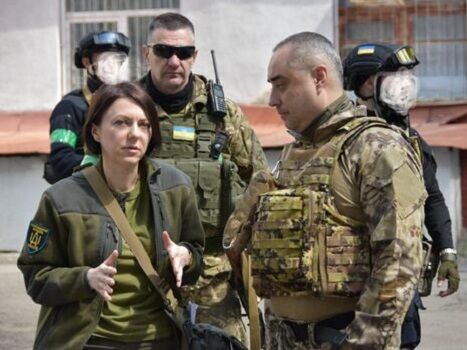 Maliar: An extremely difficult and long stage of struggle awaits us ahead
Photo by Ганна Маляр / Facebook
Fighting with the Russian occupying army in eastern Ukraine has reached its maximum intensity. This was announced on May 26 at a briefing in Kyiv by Deputy Minister of Defense of Ukraine Anna Malyar, a correspondent of the GORDON publication reports.
The Russian invaders are firing along the entire line of collision and in the depths of the defense of the Armed Forces of Ukraine in the Donetsk Operational Area, using tactical missile systems, aircraft and artillery, said Malyar.
"The situation remains difficult and has signs of further aggravation. The enemy has used all his forces and means to capture our territory and encircle our troops. The fighting has reached its maximum intensity today, the enemy is storming the positions of our troops simultaneously in several directions. An extremely difficult and lengthy battle lies ahead of us. And we must understand that this is a war and, unfortunately, losses on our part are inevitable," she said.
Since mid-April, the invaders have focused on the offensive in eastern Ukraine. "Russian troops have begun the battle for Donbass, which they have been preparing for a long time," Ukrainian President Volodymyr Zelensky said. He stressed that the Ukrainians will defend themselves and "the only question is time – when the entire territory of the state will be liberated."
On April 28, the General Staff of the Armed Forces of Ukraine reported that the invaders were increasing the pace of the offensive operation in Ukraine. According to Zelensky, Russia "does everything to destroy any life" in the Donetsk and Lugansk regions.